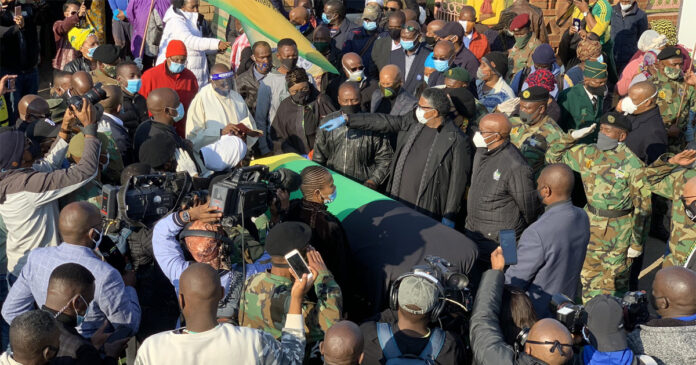 The South African Police Service said today that it had received numerous requests that people attending the funeral of African National Congress stalwart Andrew Mlangeni outside his Soweto house on Tuesday be arrested for contravening the lockdown regulations, and was investigating the complaints.
"The Regulations in terms of the Disaster Management Act 57 of 2002 makes provision for the dispersing of crowds who gather illegally and to hold accountable a person or persons who convenes or organizes illegal gatherings," the police said in a statement.
At the same time, a video has circulated of SA National Defence Force members caught smoking during the televised tribute to Mlangeni today. Numerous people online questioned about how they got cigarettes four months after the sale of tobacco had been banned in South Africa.
BATHONG!! In front of #AndrewMlangeni vele🙆🙆 pic.twitter.com/tO9WhsC5ey

— ⚽TUMI⚽ (@Itu2mee) July 29, 2020
Mlangeni, the last survivor of the Rivonia Trial, died last week, aged 95. The police said that on completion of the investigation, the docket would be submitted to the Directorate for Public Prosecution for a decision.
@YCLSA [uFasimba] is disappointed by events surrounding the funeral of Isitwalandwe/Seaparankwe #AndrewMlangeni which characterize defiance and lack of adherence to the regulations announced by the government in line with the Disaster Management Act 57 of 2002.@LivePretoria pic.twitter.com/L3mljSKcNf

— Pretoria LIVE (@LivePretoria) July 29, 2020