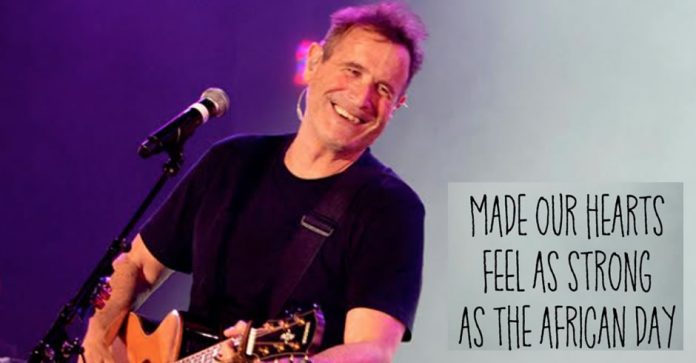 As the Johnny Clegg Tribute concert at Emmarentia Dam has had to be postponed due to Covid Lockdown, the producers are taking this show online for his fans on Friday 31st July… which is a bonus for all the Scatterlings of Africa who will be able to watch too now!
Johnny Clegg had the special quality of being able to unite people across all backgrounds and generations with his music. His music has always been a beacon of hope and inspiration and in a time when South Africans and the world need it the most, the lyrics to Great Heart stand true.
In a fitting tribute to one of the most iconic figures in South African music history, the Johnny Clegg Tribute Show is going digital, featuring some of South Africa's top performers as well as some international big names, this digital experience has been moved up to 31st July… and you can watch from the comfort of your own home.
Johnny Clegg captured the hearts of a nation and the digital tribute concert will feature fellow musicians that will commemorate his life and his musical career.
Featuring Artists at the Johnny Clegg Tribute Concert:
Zolani
éVoid
Jesse Clegg
Ard Matthews
Dan Patlansky
Karen Zoid
Sipho Mchunu
Ross Learmonth
Arno Carstens
Soweto Gospel Choir
Shekhinah
Tresor
Majozi
Kahn Morbee
Francois van Coke
Anna Wolf
Nicholas Petricca of WALK THE MOON
Ticket Types for the Johnny Clegg Tribute Concert
R100 Tribute Virtual ticket – Ticket to the livestream.
R150 Competition Virtual Ticket – Ticket to the live stream and stand the chance to win a personalised Limited Edition Johnny Clegg Final Journey Tour jacket
R200 Donation Virtual Ticket – Ticket to the livestream and a donation of R100 to the Smile Foundation.
Purchasing a ticket will give you access to the Digital Concert on the 31st July 2020 at 8pm.
The Concert will be available for rebroadcast from the 1st -8th August 2020 if you have a ticket.
Ticketshop https://tickets.heroticket.co.za/thero/shops/37a4cd7
Live Stream Dashboard https://login.heroticket.co.za/thero/JC
P.S. Can't resist including this video – you can never watch it too many times: