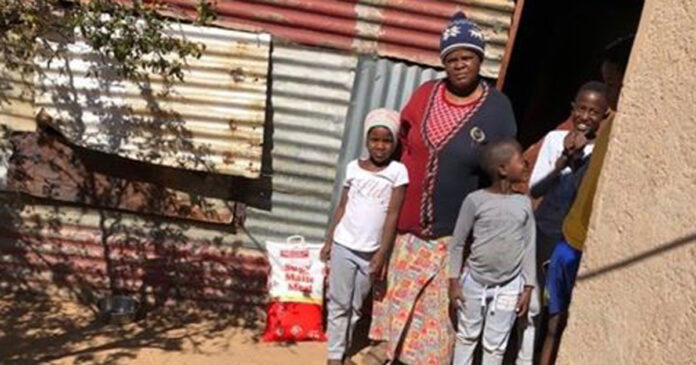 In these challenging times I would like to share the power of hope, trust and connection with you… writes Kate Crossland, a South African expat in the UK who has been a longtime SAPeople contributor. 
On the 6th of June I replied to a comment on an SAPeople post of Mr President's weekly letter. He had stated that every community had access to water and food parcels as relief during CV19. Kelly had commented that in the community she was trying to help that was certainly not the case.
As I have grown up in South Africa and feel deeply connected to SA, I am always open to reaching out to people in need, as I know a few pounds can go a long way. I asked Kelly which charity she was working with. Kelly then PM'd me to say there were no charities in the area and that she was trying to help the community of Allemansdrift B (in Mpumalanga), as her retired housekeeper Lydia lives there. Kelly said that she had a list of families that had no food and little or no income. (The list totals 627 families.)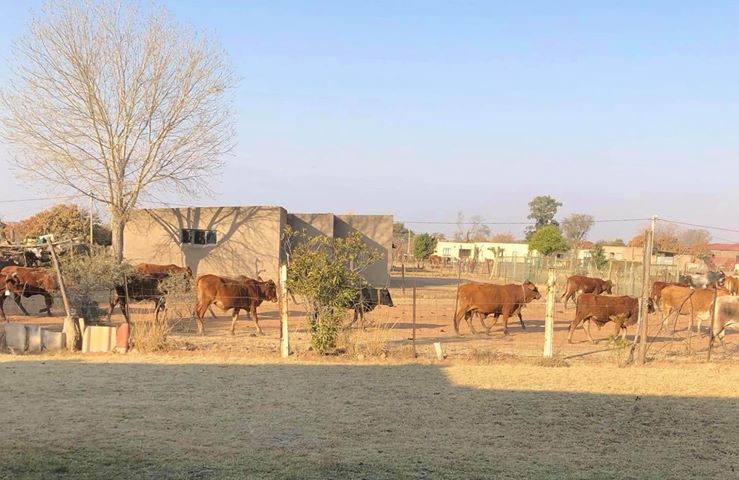 Lydia had contacted her to see if Kelly could use her previous NGO experience to try to improve the erratic water supply (sometimes water was not available for over a month) and then more recently with the CV19 situation, to try to help source food relief. The community has little opportunity for employment, high casual labour (all dried up in CV19) high mortality, a high number of child- and grandparent-headed households with no parents present.
Kelly and I started a messenger conversation and over the last few months have found we have so much in common despite living in very different circumstances. I cannot explain why I responded to Kelly's comment but to say I wanted to connect with her; and the more I learn about what she is trying to achieve with Lydia in Allemansdrift B, the more I am in awe of her determination to keep chipping away at the list of people that need help now.
Everyone knows that sustainable, long-lasting solutions are the way eventually but right now, people have no food on their tables and that is what her and Lydia are trying to alleviate.
I said I would send what I could as Shoprite vouchers to her phone… and soon after received the photographs of the families that my money had helped. The following month I did the same thing but realised that my small contribution would not touch the surface and so reached out to my friends in the form of a fundraiser.
PLEASE DONATE TO THE ANGELS IN ALLEMANSDRIFT B HERE.
I decided to also message Jenni of SAPeople, I have been an avid reader and shared relevant and not so relevant (but very funny) posts via messenger on a fair few occasions with SAPeople and also engage with the sites' posts. I explained to Jenni how I had "met" Kelly and what I was trying to achieve and that I believed that some in the SAPeople home and expat community may want to help. Jenni contacted Kelly and felt the same connection that I did and agreed to share the fundraiser. I didn't realise until she replied to some challenging comments on the post, what a privilege it was to be supported by the site but am so grateful to Jenni and all the donors.
The first evening that SAPeople shared the post was one I will never forget! As the support rolled in, I dared to dream big and reset the target the next day to accommodate food parcels for all of the families on Kelly and Lydia's list. Currently we are at £2,104 but still reaching for the £7,500.
Within the comments on the trail that evening was a message from Robyn of Eniwe Children's trust, asking me to email her as her fund would like to help. Robyn and I exchanged a few emails and worked out a way that the fund could donate through a Paypal account I have set up, and then I would make the donation to the fundraiser. The fund is based in Australia but supports children in need in SA. There were a couple of tense days when a large sum of money was floating around somewhere between Australia and the UK and this money will shortly clear the fundraiser into my account so that I can buy more Shoprite vouchers sent directly to Kelly's phone, so that she in turn can order more food to be made into food parcels for more needy families.
Shoprite are now making up the parcels and delivering the food. Previously Kelly was hiring a taxi with Lydia's son and grandson and they were making a 3 hour round trip to buy the food.
Every donor has taken a leap of faith and felt a connection with our fundraiser; and I am so grateful to each of you, that in this day and age of scams and mistrust, you have been willing to tune into and trust your instinct and believe Kelly and I are two people, on opposite sides of the world, who connected through a comment on a post and are acting on our desire to help people have a better life. By sharing or donating you are doing the same thing and we thank you.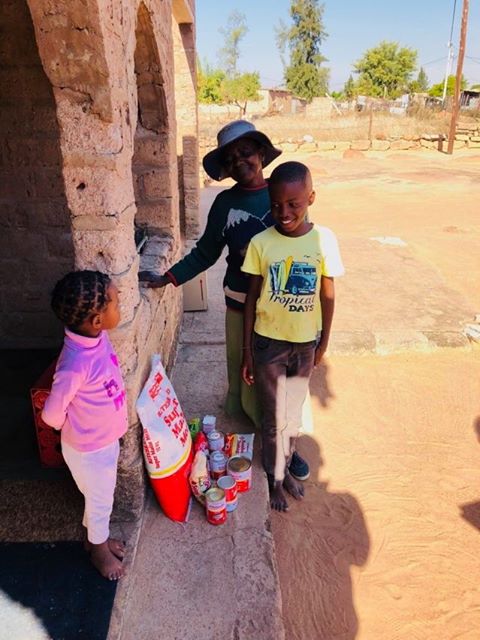 As the funds clear and the wonderful process of buying and distributing food starts, I have set up a group that you can join to keep you in touch with how your donations are being distributed – you can find it here.
PLEASE DONATE HERE: And should you have read this and not yet known of the fundraiser, the details are here. Every £11 buys a food parcel for a family in need.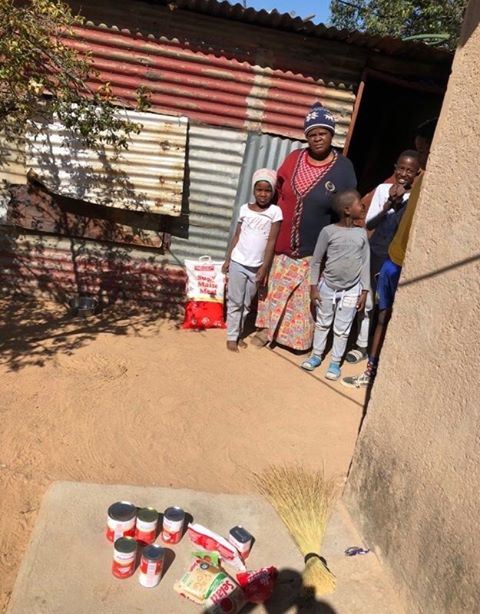 P.S. This week Kelly was able to go to Siwabwusa to order the food for 100 parcels!
Kate Crossland is normally a yoga teacher. She says "one of the meanings of yoga is action ? ."