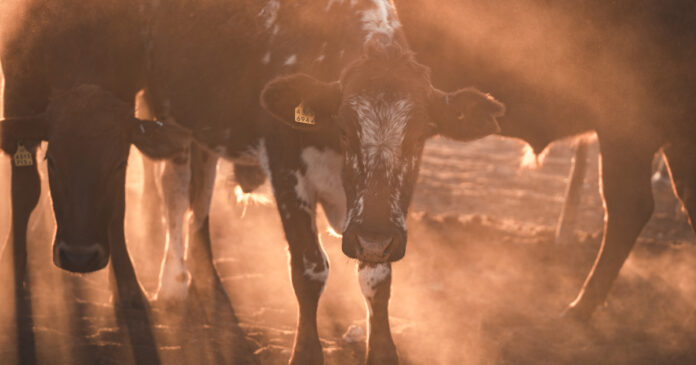 It has been reported that "more than 35 rural black farmers" have so far been killed in eMangweni village in the KwaZulu-Natal Midlands, in violence linked to stock theft.
The area has been beset with stock theft incidents fuelled by family rivalry and political in-fighting for decades. However a more sinister force could be involved too, according to locals, with an escalation in murders in the last three months, with heavily armed criminal syndicates apparently terrorising the region, reportedly "killing livestock owners and members of associations formed to fight stock theft". The associations themselves (known as izikebhes) have occasionally been accused of heavy handedness in their attempts to crack down on stock theft… leading to their being dismantled, leaving the emerging farmers and villagers more vulnerable to even brazen day-time attacks from the syndicates… without the budgets of commercial farmers in South Africa who are able to hire private security firms.
According to journalist Sandile Motha, writing on Mukurukuru Media, the latest shooting happened on a farm, where a herd of cattle – which the gunmen wanted – were being loaded onto a truck. An emerging stock farmer, Mtholephi Luthuli, told Mukurukuru Media: "This year alone, we have lost 16 livestock farmers who were ambushed and killed. Some were attacked in their homes and some at their places of work. Most of the deceased had been in the forefront in the fight against stock theft."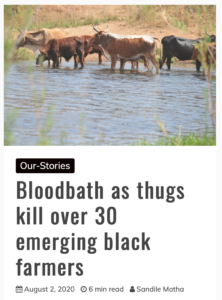 Whilst South African Police Service (SAPS) Minister Bheki Cele announced on Friday (31 July) that the 2019/2020 crime stats show that stock theft has decreased by 4.2%, areas of KZN are still being hard hit.
Desmond Khumalo of the eMangweni Farmers Association revealed that four members of one homestead were ambushed one night last month, fatally shot and their house set on fire… before the gang took off with their herd of cattle.
"We are pleading with government and the police to hear our cries. We are black farmers who are desperate, livestock is our gold and only source of income for our families," Khumalo told Mukurukuru.
He said there had been no arrests for the murders, and that very few of the stolen livestock are ever recovered, which hugely affects the farmers' financial situations as livestock auctions are their main source of income.
Minister Cele was apparently scheduled to visit the village in April, before Covid-19 put an end to those plans. The area is desperate for 24-hour police monitoring, and there are suspicions that some of those involved are using the cattle to exchange for guns to be used in the taxi wars.
A provincial team has been sent to investigate the eMangweni incidents, together with the SAPS who last month managed to confront stock theft suspects in the area. One suspect reportedly died in the gunfire; the others fled.
Chris Pappas – DA KZN Spokesperson on Agriculture and Rural Development – said the DA in KZN strongly condemns any violence and lawlessness especially if it involves the loss of life.
"Our rural and farming communities have seen a surge in violent crimes and crimes in general over the last few months and this has serious implications for us as a country.
"While the details and cause of the violence in the eMangweni area is not yet fully understood we call on local police as well as national crime intelligence to put an end to what is not an isolated incident in this area. Workers and farmers must be able to live and work in safety."
The DA (Democratic Alliance) has compiled a list of "workable solutions to rural crime and violence", which it says President Cyril Ramaphosa and the KZN Premier need only act on and "show political will to make rural and farming communities safer".
The DA solutions to rural crime and violence include:
the direct Subsidizing of farm patrols, farm watches and other private security initiatives
the introduction of properly resourced rural safety units under a Provincial rural safety directorate.
Wider use of technology such as license plate recognition and CCtv cameras
Declaring farm attacks/murders a hate crime
"South Africans are urged to unite behind the issue of safer rural and farming communities and not be divided along racial lines on an issue that touches us all," said Pappas, adding that he will be submitting Parliamentary questions on it to get more information.
Read the full story here.