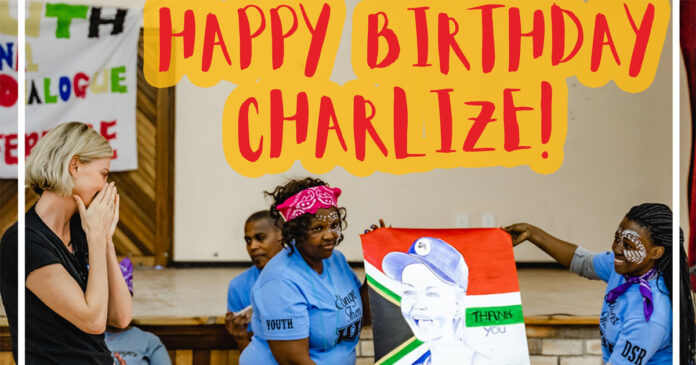 Birthday wishes have poured in for South African expat and Oscar-winning actress Charlize Theron.
Her African Outreach Project (CTAOP) said: "As we continue to push forward through these challenging times, there is NO ONE we'd rather have leading our tribe. Your sharp wit and sense of humor always keeps us on our toes. Your integrity and passion to make our world safe and equitable for young people everywhere radiates off you––inspiring all those around you."
Charlize's African Outreach Project helps empower youth, particularly in South Africa, to live healthy, productive HIV-free lives.
Her staff at the Project posted the above photo and said: "We hope that you ALWAYS feel the love and appreciation that you did in this moment with Help a student (Department of Social Responsibility) back in 2018, during one of our cherished annual visits to your homeland and to our extended CTAOP family. We can't wait for the day we can travel together again! You are truly an inspiration to us all – thank you for being you Charlize Theron. ? Your CTAOP Fam"
Good Morning America praised Charlize for being able to "truly transform into any character" and posted this video tribute:
Fake posts about Charlize Theron cause ongoing backlash
Gauteng publicist Georg Knoke posted birthday wishes to the actress earlier on Friday, and was shocked by the backlash… unfortunately created by fake posts years ago where Charlize's Outreach Project T-shirt and a sign she was holding to support youth in the 2012 photo below were photoshopped to look as if she was supporting the EFF; and a picture of her speaking at a Human Rights Campaign event in LA was photoshopped too. For a small – but very vocal – group of South Africans these photoshopped pictures incensed them wildly… although their anger would probably be better targeted at whoever photoshopped the pictures and created the anti-Charlize campaign in the first place.
We join Georg in saying: "Happy 45th birthday Charlize Theron! You're a proudly South African ambassador! Always stylish and elegant!"