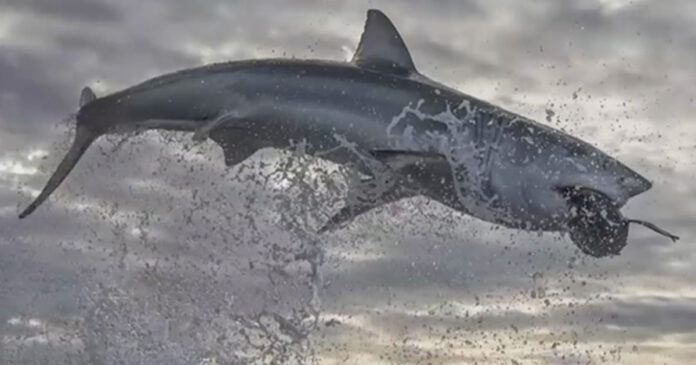 An incredible shark breach has been captured by well known South African photographer Chris Fallows near to Mossel Bay, in the Western Cape. A video of the taking-of-the-photo has gone viral since it was broadcast by Discovery channel on Sunday, astounding viewers around the world.
Discovery's 'Shark Week' returned on Sunday with 'Air Jaws: Ultimate Breach' – in which shark experts compete to capture the best photos of sharks breaching near Seal Island. There were several amazing shots – but Chris' pic with his tow camera is a breach above the rest.
According to Discovery, the 15-foot breach was a new series record. Read Chris' amazing description of photographing the Great white shark, below the video.
WATCH VIDEO Record-breaking shark breach caught on camera by Chris Fallows in South Africa
Chris Fallows describes taking photo of record-breaking shark breach
Chris said afterwards that it was "the photo you dream of. They say a picture is worth a thousand words. Well, that picture is worth a thousand breaches."
Writing on Facebook on Monday afternoon, Chris posted the photo (see below) and said: "This is possibly the most beautiful image I have ever taken of a breaching Great white shark…" He described how he works, constantly conceptualizing new ways to stay ahead of the pack, designing boats to enable him to shoot from different angles, "been towed behind our boat on a sled to get closer and I have constantly and diligently applied intense focus to using whatever palate nature gives me each day by way of clouds, waves and vistas to create a canvas that is worthy of having such a compelling subject jump into it. I think above all I have learnt what the sharks are comfortable with, and where their thresholds lie in terms of what I respectfully can and can't do."
He said while his photo of a spectacular 10 foot high breach in 2008 is one of his favourites, "I always felt I could do better. I wanted to look up to the shark from water level, never down."
He spent "literally thousands of hours" lying on his stomach, camera in hand, waiting to recreate the shot. For days he and his crew towed the sled and there were moments he thought he had drowned his camera.
"We knew that there were great whites in the area, but they were not uninterested and for one or other reason didn't push home an attack on the decoy. On the second last morning of a two week Discovery Channel Shark Week film shoot that was dominated by clear sunny skies, this particular morning dawned with an ominously moody sky. This was the exact sky I wanted, it was a scene giving depth, emotion and drama to the image. How many times I must have internally begged a shark to jump on this morning, I couldn't tell you. The stage was set."
Chris describes the taking of the photo: "Coming down the West side of the Island I asked our captain to try keep just a little of the seal encrusted island in frame, thereby giving the interesting element of the prey in frame and putting the situation into context. It's all about the finer details that lift an image from good to great. It all looked too good to be true, we had the perfect canvas but no subject. But then, as if an illusion, it happened… WHOOSH …
Suddenly a torpedo shaped head began to break the ocean's surface, followed by pectoral fins, and finally the entire body of a great white shark arced 10 foot clear of the water like a jet fighter hanging momentarily as if in suspended flight. Was this a dream? I pressed the trigger for all I was worth, hoping, praying that the signal would be relayed and the camera would fire.
"Bamn! The shark slams back into the sea, a torrent of water cascades over my camera like a chandelier shattering on a dance floor. Elated I shout, fist pumping the air like Tiger Woods having sunk a 15 foot putt on the 18th green to win the Masters. Adrenalin surges through my veins, a welcome but seldom encountered companion that is only reserved for a few select moments where I have witnessed and photographed something incredibly special. When I feel this rush, I know it is an image I need to have nailed. I tremble, not knowing if I got the shot or not. My sled still bobs about, and the decoy surfaces still intact behind it. I look away to the captain asking him to help me retrieve the sled. In that fleeting moment of distraction, the shark jumps for a second time, another spectacular breach. Aaargh, I missed it! The expletives rain down like an Indian monsoon, I didn't press the #$$%#!! trigger!
"I console myself with the fact that I did at least push the trigger on the first breach. We pull the sled in. A lot could have gone wrong. The camera is covered in water from the splash of the shark landing so close to it. BUT it is working, and remarkably I can still hear the shutter going. With two left hands I shake trying to extricate my camera from its box. I begin to scroll through dozens of test shots…… Woooohoooo I got it !!! Wait, that's the second beach. I scroll further … WOOOOOOOHOOOO, I got the first breach as well! An incredible stroke of blind luck had allowed me to get not only one, but two incredible moments as the camera's trigger had jammed open."
Chris says the first breach, "The Pearl", is one that symbolizes his career – one of pushing boundaries, trying new things and never being afraid of taking high risks. "It also is a reflection of a life working with predators, getting to know them, understanding what their comfort levels are, and what the thresholds are within those comfort levels. I truly feel that with this image I am taking my audience into the ocean with the shark at eye level, and showcasing the athleticism of the incredible Great White Shark in all its predatory glory.
This Limited editions Fine Art Print is available from Chris' website:
https://www.chrisfallows.com/the-pearl/
Read Chris Fallows' full description of the incredible event below:
WATCH Another Shark Breach off Seal Island, Mossel Bay: