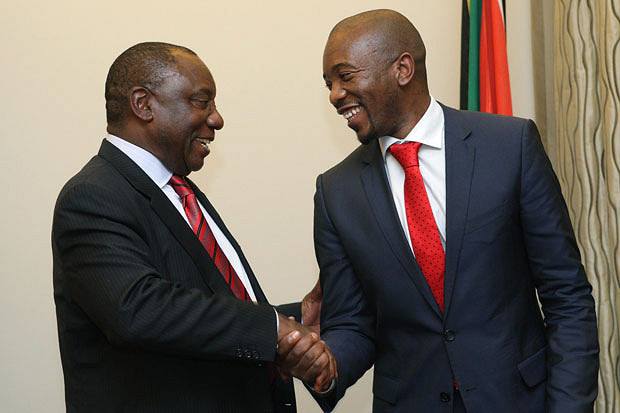 Former DA Mayor of Johannesburg, Herman Mashaba, has announced that his new political party will be launched on 29 August… while former DA Leader Mmusi Maimane has also spoken out about the new kind of leadership required in South Africa.
Maimane, who now leads One South Africa Movement – a grassroots activist movement aiming to unite a "broad coalition of South Africans who want to see change in SA" – said this week that South Africa doesn't need more political parties but rather real leaders.
Maimane said on Wednesday: "I must admit that I, like many of you, was optimistic when Cyril Ramaphosa was elected President. He had a great chance, but he's blown it.
"We need a President with integrity and courage. One who represents all of South Africa. That is why changing the way we elect our leaders had already begun! It's time for independent individuals, free from political parties, to stand up and lead. We don't need more political parties. We need real leaders ??"
Maimane also reminded South Africans yesterday that on the day that Ramaphosa was elected President, he delivered a speech in Parliament warning against the "saviour complex" of Ramaphoria.
On the day, Maimane said: "We don't have a Jacob Zuma problem, we have an ANC problem." Yesterday he said: "910 days later, the truth is evident for all to see."
Meanwhile Herman Mashaba said this morning (Saturday 15 August) that the political party he will be launching on 29 August 2020 will be grounded in the idea of ACTION. "We will not play the political games that South Africans are tired of," Mashaba said in a post on FB. "We will say what we mean and do what is needed to fix this country."
In a statement on The People's Dialogue, Mashaba said South Africans are frustrated and do not want more talk, they want action.
"It is time that we have a political movement in South Africa that speaks the truth. We need a new kind of politics in South Africa, one which paints a vision for our country, presents the blueprint to achieve it, and galvanises South Africans around a plan in which we can all play our respective roles," said Mashaba.