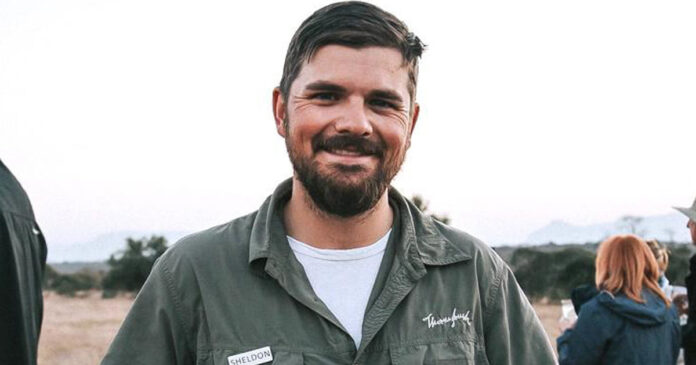 Tributes have poured in for a young safari field guide, Sheldon Hooper (27) who has tragically been killed by an elephant in a luxury private game reserve adjacent to South Africa's famous Kruger National Park.
The devastating incident took place at Thornybush River Lodge on Tuesday morning. According to local reports Sheldon and a colleague were doing a routine fence patrol when a female elephant, which had managed to get on the inside of the electric fence, attacked him. The elephant was apparently part of a herd of nine, including two other cows and six juveniles. It's possible that Sheldon got too close to a six-month old calf, the Reserve's CEO Trevor Jordan told TimesLive.
Jordan told the newspaper: "The elephant tusked him on the knee and just above his heart. It left two holes and he was bleeding profusely. The man who was with him ran to get help. The elephant left the scene. He succumbed to the wounds within 20 minutes. Paramedics came as soon as they could and they did all they could to stop the bleeding."
Unfortunately Sheldon's life could not be saved. His colleague was not harmed. Jordan said that the elephant herd is currently relaxed so "we decided against euthanising the elephant".
Thornybush posted a statement on Thursday afternoon, saying: "As a guest or a friend of Sheldon's, you would have had the pleasure of experiencing his incredible kindness, infectious smile and love of the bush. His repertoire of knock-knock jokes couldn't help but make you chuckle, no matter how you were feeling, and the adaptation of his signature fist-bump or high-five greeting, to a foot bump during COVID, would have been seen all over Waterside Lodge, which is where he was stationed."
During Lockdown, Sheldon struggled like many South Africans in the tourism industry when he was temporarily laid off, but instead of giving up, he began a Java programming course "to potentially become a Software Engineer if the floor falls out from beneath me", and started a fundraiser ("Help Shelly through Covid") to help pay the bills. He had already raised almost R20,000.
But mostly he was a passionate, talented guide who loved being in the bush.
Sheldon joined Thornybush in July 2019, and "fast made his way into the hearts of his colleagues, with his quirky sense of humour, the respect he showed those he worked with, his dedication for conservation and his talent for story-telling", said Thornybush.
"His keen eye behind the camera was also noted early on – as was his willingness to share his knowledge with guests of all ages, as well as his team members. Sheldon was also a gifted writer, contributing to our Thornybush blog. Sheldon's life was a celebration of his passions and he is sorely missed by all."
The reserve posted photos of Sheldon, as well as some of the incredible photos he captured of his beloved bush.
Tributes have poured in from guests, friends and team members.