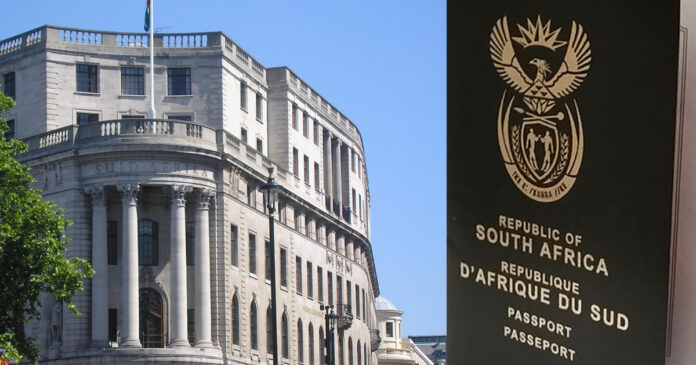 South African citizens in the UK, with passports that are expiring, have inundated SAPeople with desperate messages after saying they have been unable to get hold of anybody at the SA Embassy in London for months. Phones have gone unanswered. Offices have been closed. And since around 12 August, the website no longer exists. We therefore contacted South Africa's High Commissioner to the UK, Nomatemba Tambo to get some vital answers for South Africans in the UK…
1. What can South Africans in the UK do who urgently need their passports renewed?
An appointment is required to lodge passports applications. (Please see the exact procedure, as provided by the High Commissioner, below.)
2. Is there any plan to at least stamp their current passports with an extension, exactly like is being done in SA for foreign nationals' visas?
There is no directive in this regard. (As per the udate above – please sign the petition for a Passport Emergency Extension for South Africans living abroad.)
3. When will the website be back up?
When the problems have been resolved. (UPDATE: the news site is now up. Please see the link here.)
4. When will the office be working again?
The office is open, clients are attended to by appointment. Postal applications are also accepted.
5. Why has it taken so long? Are there problems? Are things changing?
The office needs to be Covid 19 secure for officials and applicants.
6. Who can these desperate South Africans get in touch with – which email address, which phone number?
For Civic Services: London.Civic@dirco.gov.za
For Immigration: London.Visa@dirco.gov.za
Switchboard number 15h00-17h00: 0207 925 8900
Services at 15 Whitehall (Home Affairs) – Procedure you should Follow
Services at 15 Whitehall (Home Affairs) are now rendered strictly by appointment. 
Please follow the steps below:
Step No 1: Request application forms by sending an A4 Self-addressed pre-paid (1st class Large stamp) envelope (per applicant) with a note requesting forms. The note must state:
Type of service required (e.g. Adult passport or ID or Birth Registration)
Date of birth
Forms and guidelines will be posted to you within 5 working days of receiving the request.
NB: Royal Mail: If the postage stamp on the envelope is insufficient or the envelope is the wrong size, the forms will NOT be mailed to you.
Step No 2: Complete all forms received and prepare your supporting documents per guidelines received.
Step No 3: Send your request for an appointment at: Civic.appointments@dirco.gov.za, quoting your form's reference number. For forms received without reference please provide DHA 9 or DHA 24 unique bar code number. The request must include Full names and ID number of the applicant as well as the type of Service required. 
Please do not request an appointment if you are NOT ready to lodge / submit your application.
Confirmation for your appointment will be communicated to you within 2 working days from date of receipt of your requests.
POSTAL APPLICATIONS
Please follow Step No 1 & 2 and post the application.
PASSPORT COLLECTION
Passport collections are strictly from 1400 to 1500 hours Monday to Friday, except on Public holidays. No other services will be rendered during the time allocated for passport collections.
No application forms will be handed out.
In order to minimise the number of people visiting our office, and to keep everyone safe, we encourage postal applications where possible.
Address
South African High Commision
15 Whitehall
London
SW1A 2DD
If you are still having problems, and would like to receive updates about the situation, email us at admin@sapeople.com