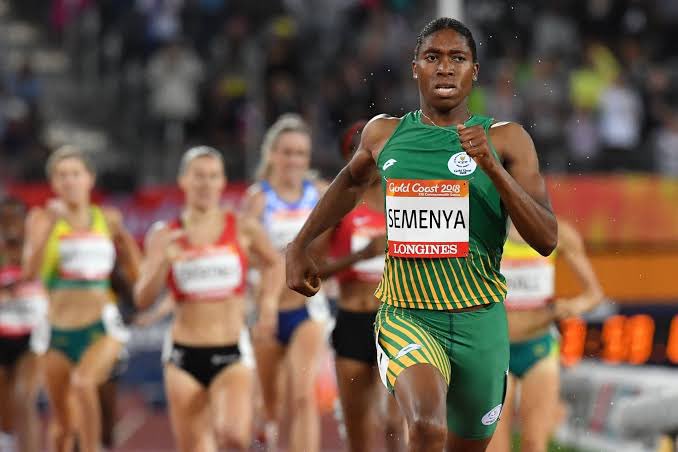 South Africa's Olympic and World Champ athlete, Caster Semenya, has responded philosophically to the latest disappointment in her running career.
It was announced yesterday that Caster (29) has lost her appeal to Switzerland's Federal Supreme Court. The appeal was against the restriction of testosterone levels in female runners. The loss means Caster will not be allowed to enter 400m to 1 mile races without taking drugs to reduce her high levels of testosterone (hyperandrogenism). Caster has indicated she will not take the drugs, so subsequently she won't be able to defend her 800m title at the Tokyo Olympics next year.
UPDATE 17 NOV '20: Caster Semenya is taking testosterone ruling to European Court of Human Rights
Writing on Twitter, Caster told her fans: "Chills my people, A man can change the rules but the very same man can not rule my life, What I'm saying is that I might have failed against them the truth is that I have won this battle long ago, Go back to my achievements then you will understand. Doors might be closed not locked."
Caster has had a controversial career because of her differences in sexual development (DSD). Gender testing was conducted a decade ago, and reportedly showed that Caster had both male and female characteristics, with higher levels of testosterone than normal for a female, according to the BBC. However these results have never been made public.
Caster admitted yesterday that she was "very disappointed", but added "I refuse to let World Athletics drug me or stop me from being who I am."
According to World Athletics, athletes like Caster with DSD have a competitive advantage because of their higher testosterone levels. (Research in 2017, commissioned by the IAAF, claimed that high testosterone led to a 3% improvement in runners.)
Semenya said: "Excluding female athletes or endangering our health solely because of our natural abilities puts World Athletics on the wrong side of history."
The Swiss Supreme Court said: "Fairness in sport is a legitimate concern and forms a central principle of sporting competition. It is one of the pillars on which competition is based."
World Athletics added in a statement that it has fought for equal rights and opportunities for all women and therefore welcomed the Swiss Federal Tribunal's decision "to uphold our DSD regulations as a legitimate and proportionate means of protecting the right of all female athletes to participate in our sport on fair and meaningful terms."
Caster says: "I will continue to fight for the human rights of female athletes, both on the track and off the track, until we can all run free the way we were born. I know what is right and will do all I can to protect basic human rights, for young girls everywhere."
The South African athlete still has her eye on the 200m in Tokyo.
We are #CasterSemenya & the whole nation is behind her. 🐍 pic.twitter.com/yVzCn8yM15

— Mbuyiseni Ndlozi (@MbuyiseniNdlozi) September 9, 2020