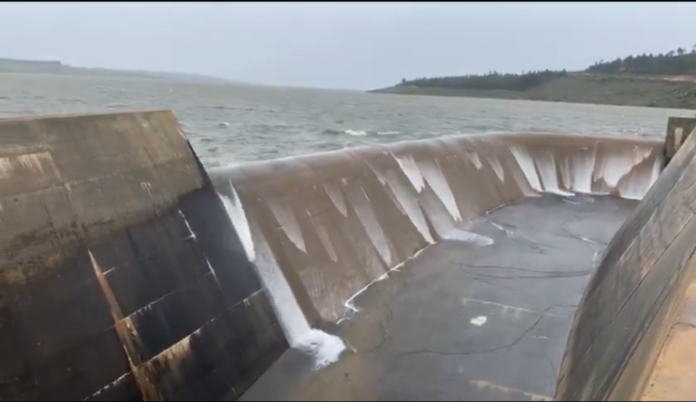 After stunning rains across Cape Town this winter, the largest dam serving the region, Theewaterskloof, started overflowing today, for the first time since 2014 and barely two-and-a-half years after Day Zero loomed. (Update 28/09/20: Theewaterskloof dam has not yet officially overflowed. It turns out it only appeared to do so because of the wind blowing the water over the wall. It is very close though – see photos here!)
By yesterday, the dam level was at 98.5 percent capacity, according to the City of Cape Town. Steenbras Lower and Berg River dams were already over 100 percent, and the total of all major dams in the area was at 98.5 percent. Satellite pictures posted by weatherblog.co.za showed the same dam, Theewaterskloof, on 22 January 2018, with only a fraction of the water in it. April 12, 2018, was meant to be Day Zero for Cape Town, after three years of poor rainfall.
The below video captures the goosebump moment when the dam appears to overflow. It was filmed by Ryan Larkman from Cape Canopy Tour (@capecanopytour). Ryan told SAPeople they filmed it this afternoon (Saturday 26 September 2020). "We're all so excited about the water levels," says Ryan. The last time the dam was over 100% full was in 2014.
WATCH Wind Makes Theewaterskloof Dam Overflow for First Time Since 2014
Absolutely beautiful 🙌🙌#SaveWater 🥰🥰 https://t.co/blmDxqOYTU pic.twitter.com/ZzYEmm5pII

— Ricardo Mackenzie (@ricardomackenzi) September 26, 2020