Residents of Cape Town were Saturday night told to "exercise caution" after an earthquake of 6.2 magnitude was measured off the South African coast.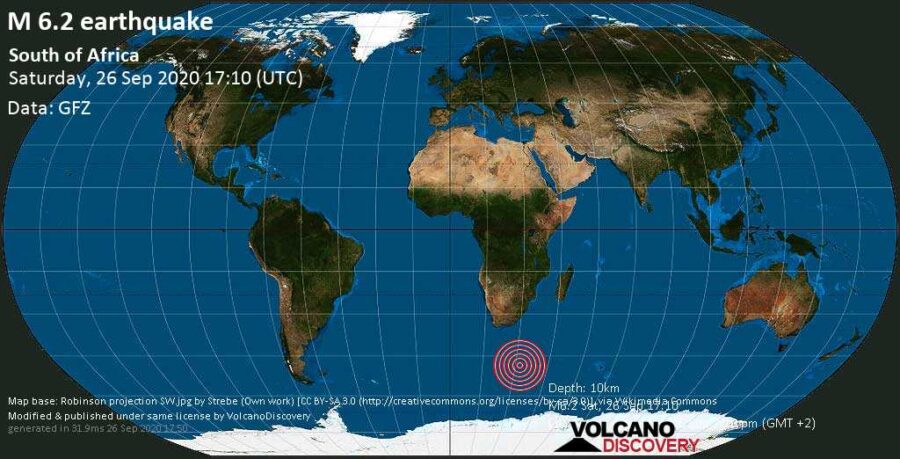 A WhatsApp Advisory message went viral at around 20h10, announcing the earthquake had struck approximately an hour before on Saturday, 26 September 2020.
The message said that according to the US Geological Survey, the tremor originated approximately 994 miles (1,600km) south-east of the country, at a depth of six miles (10km). "There are no immediate reports of casualties or damage, and no tsunami warning has been issued," it said.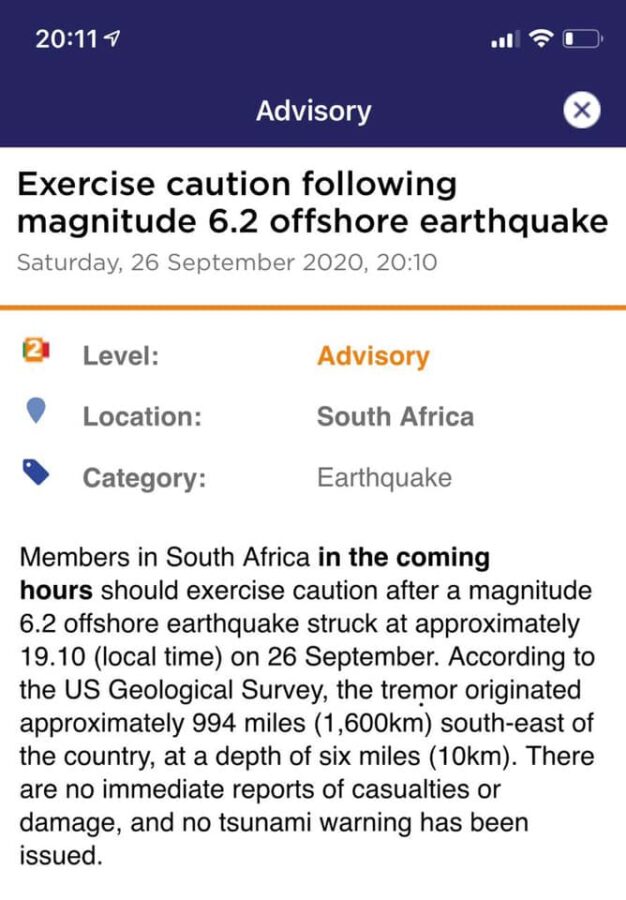 The message said to "expect aftershocks, which can cause further damage to already weakened structures".
UPDATE SUNDAY 27 SEP 2020: The Council for Geoscience has confirmed there was another smaller earthquake near Durbanville, Cape Town, on Saturday evening. The messages below relate to that earthquake (although at the time the residents thought it was the larger quake, further away, that they had felt). There has also been another earth tremor in the area near Durbanville today, Sunday.
Several people in the Western Cape have left messages on VolcanoDiscovery.com with reports of experiencing moderate to weak shaking, lots of rattling of windows, a sound like thunder, to nothing felt. Here's a sample:
Felt like an explosion not a quake. Single shockwave that rocked the house. We all thought the local oil refinery had experienced an explosion. Felt like a pulse of sound.
I was scrolling on tik tok then i heard a bang then i thought Jesus was coming then i felt a weak shaking then i started praying then my cat jumped on my lap then my light glitched
At first we wondered if it could be thunder, then an explosion far away, then perhaps a Harley Davidson driving past. Never would have imagined an earth tremor.
Sounded like a dull explosion from afar. Almost sounded like something exploded, heard it coming at an extreme velocity. When it hit, i was sitting down, so i felt the ground shaking and rumbling for about 10 seconds. Ran outside, bewildered. Saw nothing. It was over just as quick it hit.
Honestly, did not feel anything. Might be due to the distance and perhaps the direction it was going…
Very loud noise, slight vibration under the feet. Only lasted a few seconds. Occurred at approximately 20h44 South African time.
We felt a tremor an hour and a half after the earthquake. It lasted about 10 seconds, sounded like loud thunder and felt like the earth moved under my feet.
Windows rattled severely Foundation shook. Loud loud rumbling like an explosion. 20h43, possibly the shock from the earthquake when it reached us 1h40 mins later.