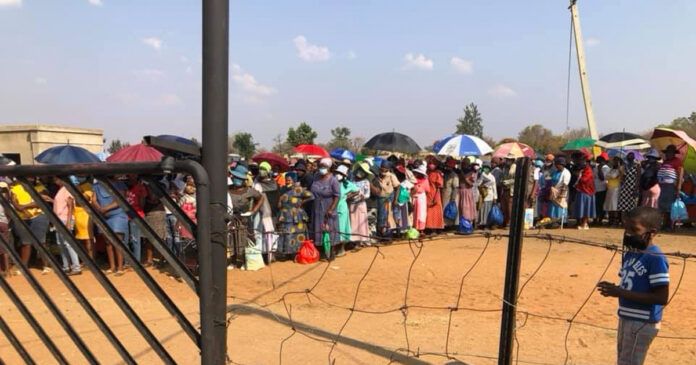 Here's the latest update from Allemansdrift B (in Mpumalanga, South Africa) where over 600 families were facing starvation until the kind intervention of strangers on three continents who have bandied together to bring food, hope and now water to the local residents.
It started in South Africa with retired housekeeper Lydia Mashaba (nearly 70) who reached out to her former boss Kelly Szabo, founder of an HIV/Aids Foundation, for help to use her NGO experience to try improve the erratic water supply to her ancestral village Allemansdrift B. Sometimes water has not been available for over a month!
Kelly left a message on an SAPeople post about the desperate situation, and longtime SAPeople contributor (and yoga teacher) Kate Crossland, an SA expat who lives in the UK, contacted her and pledged her (passionate!) support. They set up an Angels in Allemansdrift B fundraiser on Facebook (which ends in a few days time – so PLEASE donate now if you can!).
Within days they were contacted by Robyn Gibson Borruso, a South African expat in Australia, and CEO of Eniwe Children's Fund. Eniwe began donating immediately to help feed the villagers who were starving during the lockdown.
We have water…
A few days ago, Kelly made the exciting announcement: "We have WATER thanks to the generosity of Robyn Gibson Borruso CEO of #eniwechildrensfund." Lydia Mashaba's dream is coming true!
Vegetable gardening programme
With the help of the #EniweChildrensFund & #TheThreeMusketeersFoundation, groundwork for a vegetable gardening programme, seedlings programme and floristry programme will now be possible.
Three 25,000 litre water storage tanks will be installed – each has individual pumps in place to provide the requisite drip irrigation system throughout the entire property (4500 square meters).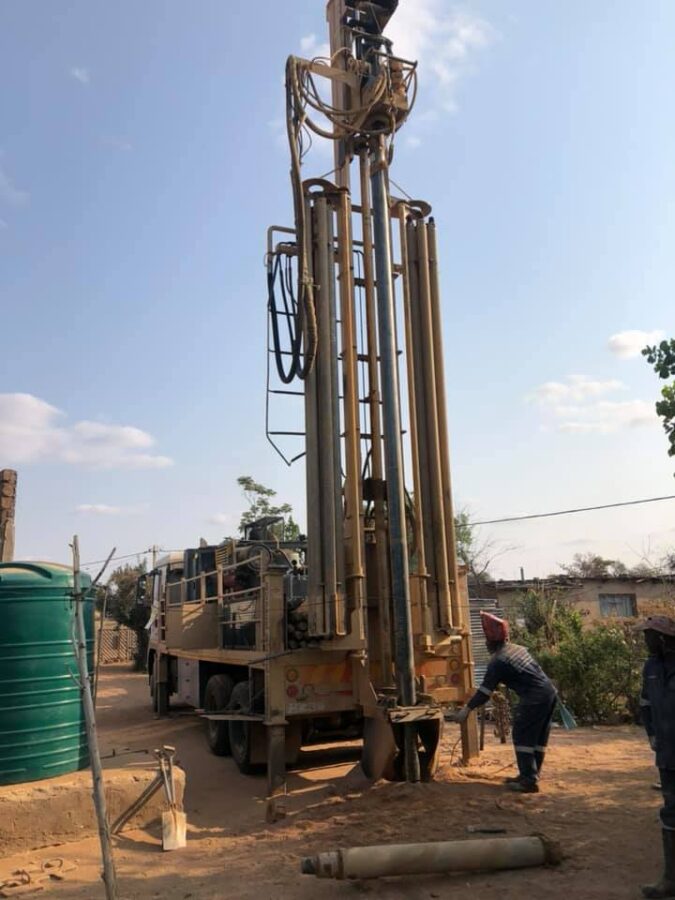 This will ensure the viability of the programmes… "all of which will be income-generating and as a result contribute towards ensuring the financial viability of the overall project going forward."
Installation of the tanks, pumps and irrigation lines starts this week!
Kelly says: "Providing a SUSTAINABLE food security plan for this impoverished community is one of mine and Kate's principal objectives going forward… To date we have fed 1009 families for the entire duration of South Africa's protracted lock down. No mean feat from such a small grouping of concerned individuals."
Food Parcels Project ending soon
Their Food Parcels Project ends on 4 October (according to Facebook fundraising regulations). Kelly says: "We are going to make ONE last concerted effort to distribute food parcels on the 3rd of October to the many families who have pleaded for a last chance to obtain some basic groceries for their households."
Thank you
Kelly thanked all those who have donated so far: "Without YOU. Each and EVERY one of you this village might well have slipped into obscurity / become a tragic consequence / statistic of the global COVID 19 pandemic. Instead of which we are rising up and showing what we are capable of, which is courage in the face of adversity, strength when challenged and that MOST IMPORTANTLY Together we share UBUNTU irrespective of our race / color / religion or creed because we are being 'The Change We Want To See' Thank You. Thank you. Thank You. May your blessings be returned in abundance ❤️"
If you wish to be part of this amazing success story
If you wish to donate towards the last 'Food Parcels' Distribution on 3 October or to the overall project you can do so via the following link:
http://www.facebook.com/donate/624396034950653/
JOIN the Facebook Group
Join Friends Of Allemansdrift B to keep updated or donate in the future. Kelly says: "There are NO overheads associated with Allemansdrift B. Everybody concerned donates their time / energy / expertise towards the greater good meaning all monies raised go towards our mutual objective, that of helping to put food into hungry stomachs."
Join here: https://www.facebook.com/groups/283888782942286/
More info about Allemansdrift
Cape Town-based Kelly paid Lydia a surprise visit to Allemansdrift in 2018 and was "shocked to see the current living conditions of the many hundreds and hundreds of elderly residents in the area".
Allmansdrift B is part of a former 'homeland' that still has a Chief and tribal authority. The area is two hours drive from Pretoria with minimal infrastructure in the form of either factories or industry to support the younger generation, which means they tend to migrate to the cities looking for a better quality of life after finishing high school, leaving their often elderly parents to look after children / great grandchildren – using social grants to do so, says Kelly.
Many of the aforementioned parents simply do not come back hence the very elderly population base on the one hand and the much younger generation on the other.
Kelly returned to Allmansdrift B during the course of 2019 with the intention of addressing two critical issues – the chronic water shortages that Allmansdrift B experiences on an ongoing basis, and the need for supplementing people's diets by means of food parcels and creating food gardens in the community.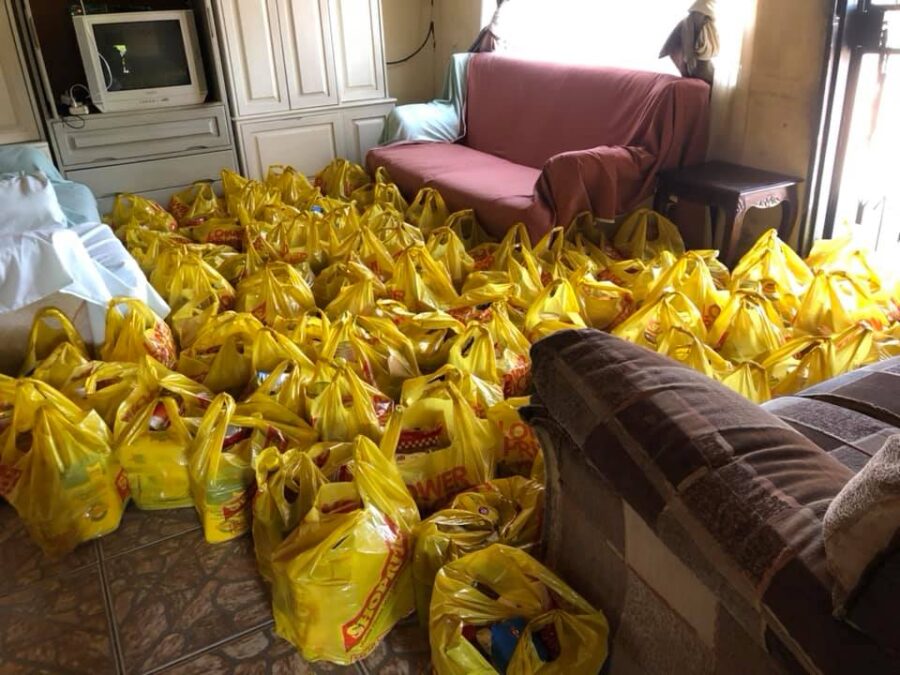 Other generous donors supporting Lydia's efforts have included Ashraful AID, Chad Nathan from Raising Hope, Shoprite and the local taxi drivers association which provides hugely discounted transport to collect foodstuffs.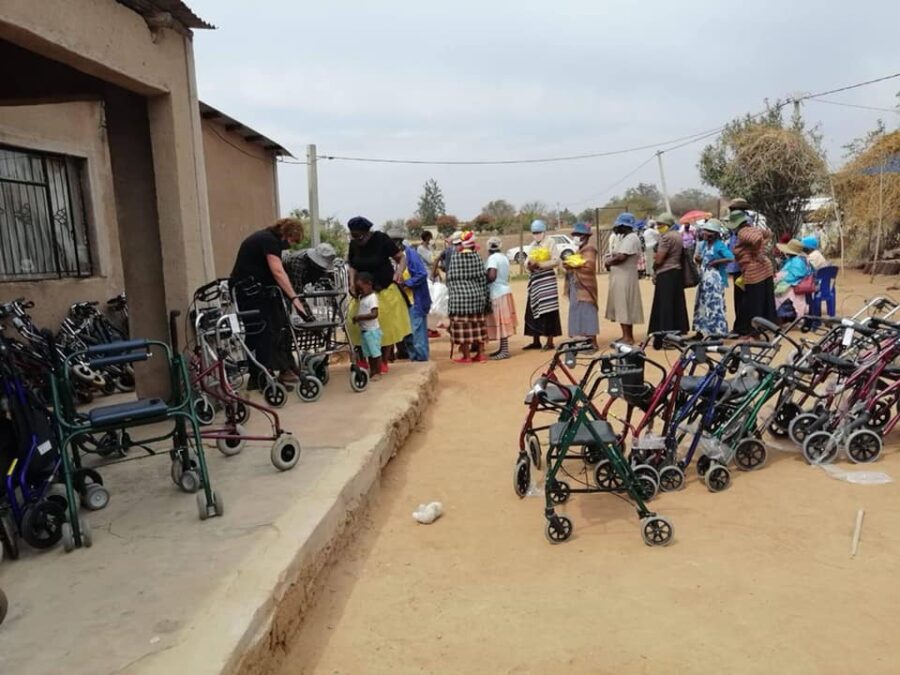 While Kelly has been described by others as "one of the most inspiring women you'll ever meet", she insists the driving forces have been Lydia, Kate and Chad.
She adds: "Funding from Expats can make a HUGE difference due to the favorable exchange rates. An example being that 50 GBP can feed four families for a two week period!"
Join the FB group here / Donate here before 4 October 2020