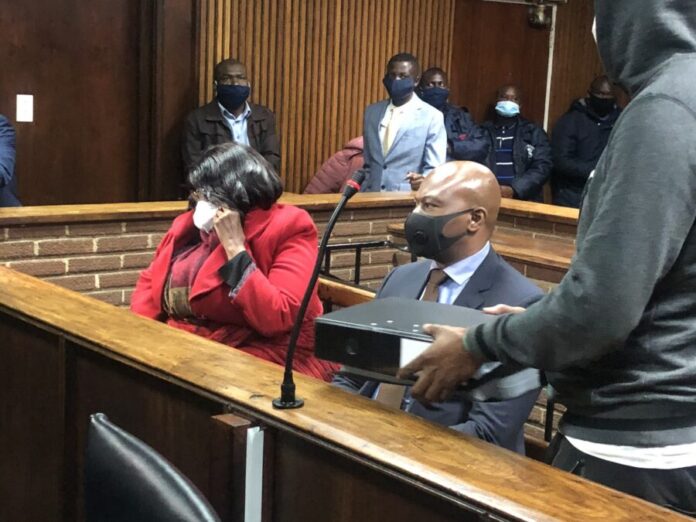 It's been an incredible week for anyone interested in the sight of politicians and businesspeople being arrested, charged and even sent to jail for their role in state capture and corruption. Friday ended with the bizarre news – even for South Africa – of a former police chief of KwaZulu-Natal "at large" after not turning up for her first court appearance.
A rundown of this week's arrests after combined investigation by the Hawks, the National Prosecuting Authority and the Special Investigating Unit:
The Free State/asbestos 7
They were arrested earlier this week over the R255 million asbestos deal in 2014  that was paid for but never materialised, and today were granted bail ranging from R50,000 to R500,000.
Edwin Sodi, tenderpreneur and owner of Blackhead Consulting; Sarah Mlamleli, former Mangaung (Bloemfontein) mayor; Nthimotse Mokhesi, head of Free State Department of Human Settlements; John Matlakala, also in Human Settlements; Abel Manyeki, businessman from Pretoria; Sello Radebe, businessman from Johannesburg; Thabane Zulu, formerly in Free State Human Settlements.
By Friday the Hawks had reportedly started seizing property valued at R300 million of the 7, including Rolls Royces, Ferraris and palatial homes.
Former ANC MP Vincent Smith
Vincent Smith, a former ANC MP, was arrested at the Alberton police station in Gauteng on Thursday morning and charged with fraud and corruption relating to benefits worth R870,000 he allegedly received from Gavin Watson's company Bosasa. Bail was set at R30,000. Charges were also filed against Angelo Agrizzi, Bosasa whistleblower at the Zondo State Capture Commission, although he couldn't appear because of ill health.
The KZN four
KwaZulu-Natal Thoshan Panday and police colonel Navin Madhoe were arrested  to face 261 charges of fraud and corruption relating to a R47 million contract for police housing during the 2010 Soccer World Cup and a bribe to stop an investigation into the contract. Two more accused, including a former KZN police chief, Mmamonnye Ngobeni, could not be found and the National Prosecuting Authority was quoted saying she was considered "at large." Panday and Madhoe were released on bail of R100,000 and R10,000.
Another kzn four
The Hawks today arrested an official in the KwaZulu-Natal premier's office and three suppliers over a fraudulent R20 million catering contract from 2019.
#BREAKING: The Hawks in KwaZulu-Natal have arrested a senior official in the office of KZN Premier Sihle Zikalala and three suppliers. The four accused face corruption charges linked to a R2.2m tender. WATCH as KZN Hawks spokesperson, Simphiwe Mhlongo explains. @NkoRaphael pic.twitter.com/kLeGeKqfOq

— EWN Reporter (@ewnreporter) October 2, 2020
#AsbestosArrests
Suspects arrive in Bloemfontein court @nthakoana pic.twitter.com/52Pehi2s0J

— EWN Reporter (@ewnreporter) October 2, 2020
Sources include: Acumen Media Report by Tonya Khoury