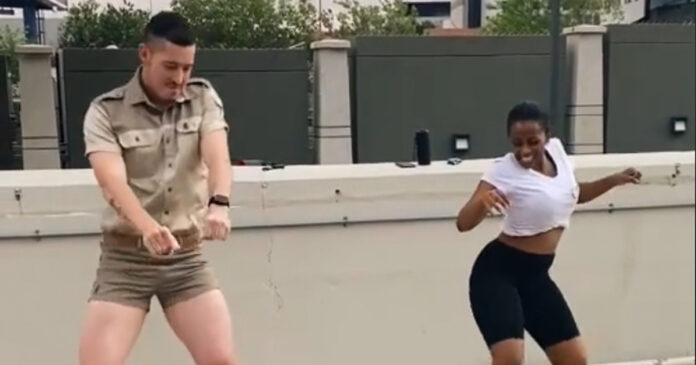 A 22-year-old from Pretoria, Juandré Nortje, has turned into a sensation on TikTok after he posted numerous videos of himself dancing, his most recent where he is dressed in a khaki outfit, with extremely tight shorts, which has been viewed 1.7 million times in several days.
Clearly one of his favourite songs to dance to, "Amanikiniki" by local dance duo MRF Souls, he said in an interview that he found African and hiphop dance styles appealing.
Nortje, who works in insurance and models and dances parttime, is not actually from farming stock, nor does he ever wear clothes like that. He told Maroela Media that he was dressed up to dance for a music video for the artist Jan Jan Jan in their brand of clothing, Boerboel Wear. On the sidelines, he and a friend did a TikTok video in their khaki getup and veldskoene.
Even though some people on social media misinterpret his clothing and read something political into it, Nortje has said he is blown away by the encouragement people have given him and can't believe so many people have watched the videos. He has joked that he will keep wearing the tight shorts until SA performer Kamogelo Mphela follows him back.
after music video shoot tik toks in our boerboel wear 🔥 #amanikiniki #proudlysouthafrican 🇿🇦

Posted by Juandré Nortje on Sunday, September 27, 2020
@juandreee

ye, the pants do be tight though, but i will forever post videos of me dancing to this song until @kamomphelaxx follows me back, PERIODT 👏🏼
Below he dances with a friend to "Masupa" by South African DJ Kabza De Small: