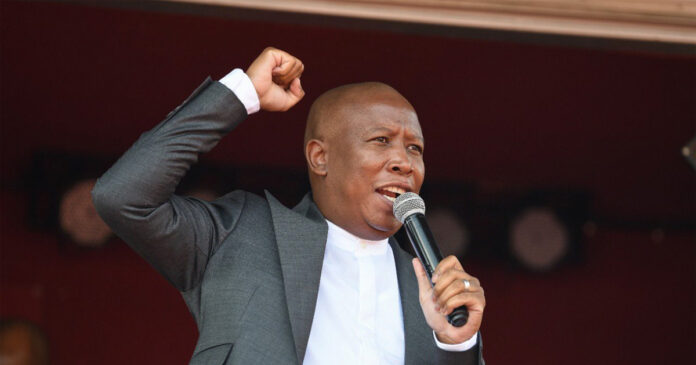 EFF Leader Julius Malema has announced that the Economic Freedom Fighters will be in Senekal in the Free State on Friday, where two suspects are due to appear in court charged with the murder of young farm manager Brendin Horner… and where a peaceful protest is planned against farm murders and violence.
Addressing a crowd of supporters outside Randburg Magistrates Court – after his court hearing regarding an assault charge was postponed – Malema accused white people of bringing rape and murder to South Africa; and accused the police of being cowards for not arresting all the "white terrorists that burnt the van and entered the court in Senekal through violent means" last Tuesday when the suspects first appeared. He said the Senekal crowd's action – overturning a police vehicle and setting it alight – means "you have declared a war against the state".
Malema said "it reminds us that violence came here on a ship in 1652 through a white man".
Malema said the police officers failed to restrain the white people, "yet when black people gather for peaceful protests there you will find police presence". Inciting anti-police sentiment, Malema said it "shows how law enforcement officers hate black people". He did not mention that Andre Pienaar, who was arrested for the Senekal incident, was denied bail today.
The EFF leader went on to say "we are not scared of white people", and that "we are going to Senekal on Friday". Addressing his followers he said: "Comrades, on Friday we are in Senekal." However, he stressed: "We are not there to protect a murderer that killed a white farmer. We've no business with murderers. That black boy who killed a white man must go and rot in jail. It's not our problem. We do not protect criminals."
Meanwhile AfriForum announced earlier today that it is going ahead with a peaceful protest against farm murders in Senekal on Friday. Well known evangelist Angus Buchan has called on South Africans to remain calm, pray and not seek revenge.
CIC @Julius_S_Malema says when you overturn a police vehicle, stand on top of a police vehicle, enter the courts through violent means, you have declared a war against the state and the state must use whatever means necessary to protect itself and its citizens. #HandsOffCIC pic.twitter.com/ziSxMUTvQH

— Economic Freedom Fighters (@EFFSouthAfrica) October 13, 2020
CIC @Julius_S_Malema reminds us that violence came here on a ship in 1652 through a white man.

Rape was brought by a white man, abuse was brought by a white man, murder was brought by a white man, killing of children was brought by a white man here in South Africa. #HandsOffCIC pic.twitter.com/VTw4JWWSfF

— Economic Freedom Fighters (@EFFSouthAfrica) October 13, 2020