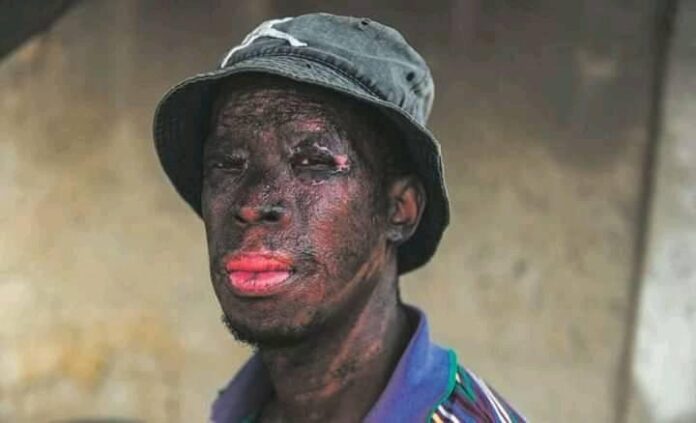 Tributes and donations have poured in for a humble hero in South Africa – Zikhaya Sithole (38) – who literally went through the flames of hell and suffered third degree burns in August to try rescue two children.
South Africans have rushed to call Zikhaya a "hero amongst ordinary men", "a guardian angel" and a reminder that "not all heroes wear capes". Letters have been written to President Ramaphosa urging him to award Zikhaya South Africa's highest medal of honour for bravery.
The two young boys were trapped inside a burning shack in Orange Farm, a township south of Johannesburg in Gauteng. Zikhaya, who was on his way back from the shop, saw the smoke, heard the mother's screams for help, and without a second thought to his own safety, courageously rushed in to try save the boys. He succeeded with one, but tragically was unable to save the other child.
Zikhaya told the Daily Sun in early October: "When I got inside the shack, I heard the children crying. I grabbed the child who was on the bed and ran out, but when I wanted to go back for the other one, the flames were too strong."
The paper says his partner couldn't believe it when he returned home with third degree burns, and immediately called paramedics. Zikhaya's injuries from his selfless deed were so severe that unfortunately he can no longer work, his hands too damaged to continue the welding work he usually does.
However, he told the Daily Sun he never regretted entering the shack: "I have saved a child. I wish I could have saved them both."
His heroic act has again been brought to the nation's attention in the past few days by City Press who said: "Zikhaya Sithole's scars go deeper than those visible on his face and limbs. But when he plunged into a burning shack to try to save two young children, his own safety and livelihood were far from his mind."
Zikhaya's plight has also been further highlighted this week by well known human rights lawyer Tumi Sole, founder of Country Duty, who posted donation details:
A/c no: 1710153421
Bank: Capitec
Branch code: 470010
Tumi also called for help in finding a specialist for Zikhaya, and yesterday announced the good news that he's been connected with plastic surgeon Dr Phiri who will have his first consultation with Zikhaya this week. Tumi will be posting updates as the matter progresses.
Tumi spoke to Zikhaya yesterday and says: "Zikhaya sends his gratitude for all the help thus far…"
#ThankYouZikhaya #ThankYouTumi #ThankYouEveryoneWhoCanDonate #ThankYouEveryoneWhoCares
#BlackTwitter meet:#ZikhayaSithole a hero who got burned trying to save kids from a shack fire, he sacrificed his body,got burned.

This man is everything good that can be said of a human being. We need to recognize his selfless & brave act. May he be be blessed abundantly. pic.twitter.com/lboN8Fp4nr

— Pan Africano🇿🇦 (@PanAfricology) October 26, 2020
PICS: HERO ESCAPED FLAMES!https://t.co/mO5UcWKxFY pic.twitter.com/XnPTuIAdll

— Daily Sun (@dailysunsa) October 8, 2020