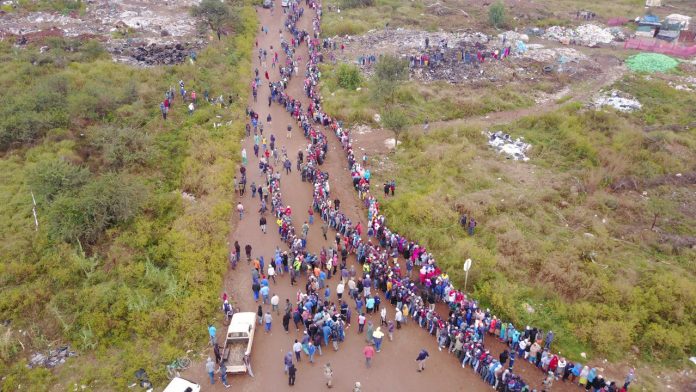 Leading South African scientists have told Sky News that SA may have inadvertently established herd immunity to Covid-19 during its super strict, but perhaps inadequate, Lockdown Level 5.
This, they say, would help explain why South Africa's high Covid-19 figures in June and July suddenly plummeted. At that point SA's rate of infection had been so high that it featured in the Top 5 countries most hit by Covid in the world. And then the figures inexplicably dropped.
Vaccinologist, Professor Shabir Mahdi, told Sky that – following a series of studies in the Western Cape and Gauteng – he believes the coronavirus triggered a level of immunity in about 12 to 15 million South Africans. (Please note: SA has a population of 58 million.)
The professor said: "What has happened in SA today, the only way to explain it, the only plausible way to explain it is that some sort of herd immunity has been reached when combined with the use of non-pharmaceutical interventions… like the wearing of masks, physical distancing, ensuring ventilation when indoors and so on."
Researchers in Cape Town, testing blood samples of pregnant women and HIV patients, found around 40% had developed coronavirus antibodies, with most being unaware they had been infected. Similarly in Gauteng, a third of those whose blood samples were studied had been infected… without knowing.
Virologist Dr Marvin Hsiao told Sky: "When we analysed the data it become clear, this immunity within the population level (linked to) the big surge infections is probably the main reason why we've seen the decrease of numbers of infected."
In response to the study by Imperial College in London which found that Covid-19 antibodies decline over time, Dr Mahdi said antibodies only evaluate one part of immunity, and that "T-cell immunity likely lasts for 2-3 years".
Dr Mahdi says: "This waning of antibodies does not really inform what to expect without adequate interrogation of other components of the immune system. Experience with common cold and SARS coronavirus is that T-cell immunity likely lasts for 2-3 years."
The SA researchers told Sky it could be SA's Lockdown Level 5 which inadvertently triggered an accelerated rate of infection. While SA's lockdown was famously one of the strictest in the world, it wasn't necessarily the best implemented. People – particularly in densely-populated townships – were forced to lock down in crowded conditions, and to queue for food and social security payments.
Dr Mahdi said the fact that SA's lockdown failed to keep Covid-19 cases down, could have benefitted the country with the unintended result of immunisation.
He said: "This inadequacy in terms of adherence of the lockdown, where inadvertently we've had transmission taking place, has resulted in a high percentage in densely populated areas becoming immune."
Read the full story on Sky here.