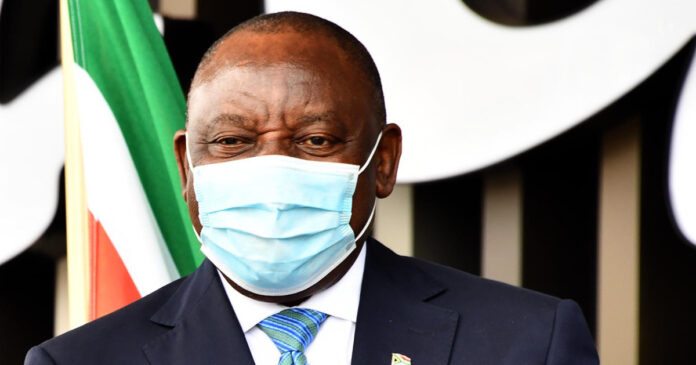 South Africa's President Cyril Ramaphosa has begun a period of self-quarantine following the positive COVID-19 diagnosis of a guest at a dinner attended by the President on Saturday at a Johannesburg hotel.
The President has wished the guest, who is receiving medical attention, a safe and speedy recovery. He also wished other guests good health.
The event was a fundraising dinner for the Adopt-a-School Foundation, which is a partner entity of the Cyril Ramaphosa Foundation. The event was attended by 35 guests who were the only people hosted by the establishment; and adhered to stringent COVID-19 protocols, according to the SA government news service.
"As was the case with all guests, the President himself removed his mask only when dining and addressing the guests," said the Presidency.
The Adopt-a-School Foundation advised dinner guests on Tuesday, as soon as it found out, that a guest had shown symptoms on Sunday, and had been tested on Monday before receiving a positive result yesterday.
The news came just hours after President Ramaphosa had unveiled another statue of OR Tambo at Joburg's international airport, and official opened a new Radisson hotel and convention centre in Ekurhuleni in the morning.
The President, who is screened regularly by the South African Military Health Service, is showing no symptoms and will be tested should symptoms manifest. He will continue to perform his duties remotely.
Lockdown not on the cards for South Africa
Meanwhile the SA Government has also denied any truth in rumours of a second hard lockdown. The rumours were sparked by comments made by the KwaZulu-Natal premier that hard lockdown could be reintroduced if there was no change in behaviour and coronavirus figures continued to escalate.
President Ramaphosa said yesterday: "I don't want to be alarmist. I don't want our people to be alarmed with rumours such as that we are going to level three.
"That is simply not true and I want to assure everyone that that is not true. If it ever gets there, I will be the one to advise the nation where we are and where we are going. For now, all we need to do is to adhere to our preventative measures – wear your mask." (Read more: President Ramaphosa dispels rumours of South Africa moving to Lockdown Level 3)
– SAnews.gov.za