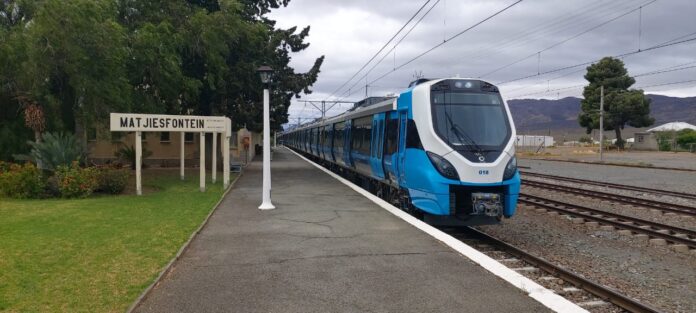 As the countdown continues for the Metrorail divisions in the Western Cape and Gauteng to roll out the new commuter trains, the blue EMUs, the latest few sets have passed through Kimberley and Matjiesfontein – an unusual sight, because only long-distance trains usually pass here – on its way from the factory in Gauteng to Cape Town.
The trains, made by the South African-French company Gibela, started test runs in October on the Cape Town-Retreat line and Pretoria-Pienaarspoort in Gauteng. The Passenger Railway Agency of South Africa has to slowly start getting more sets of trains from the factory in Dunottar, Nigel, down to Cape Town. The very long one in the video below and pictures is one of them.
Matjiesfontein, the very small tourist spot 260 km from Cape Town, is usually a stopover for luxury long-distance trains like Rovos Rail and the Blue Train, so the blue EMU was a strange sight indeed.
Gibela has a R51 billion contract to deliver 600 sets – one engine and about six coaches per set – by 2029, according to a recent report in Railways Africa. The company has apparently made 49 sets so far, and hopes to produce at least 50 sets in 2022.
Watch the long train arriving in Kimberley:
Not my video. But had to share pic.twitter.com/ob9wtyQsXb

— Antifreez Mogale City (@Antifreez777za) November 6, 2020