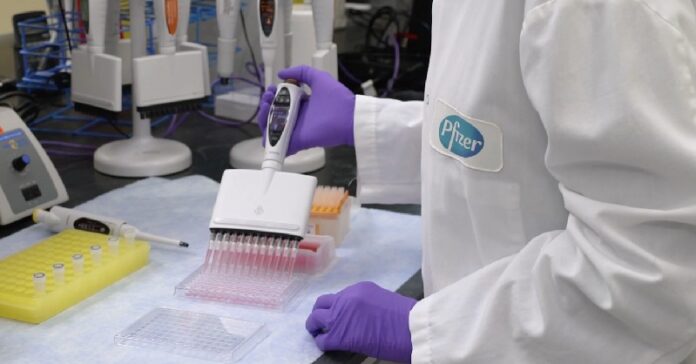 German biotech company BioNTech and US pharmaceutical Pfizer announced on Monday promising early results from their phase 3 clinical trial for a vaccine against SARS-CoV-2, the virus that causes COVID-19. (See main points at bottom of article.)
These early results are what is known as an "interim analysis". It's an early look at the data before a study is complete, to understand if there is any indication of whether the vaccine might work.
Currently, this trial has enrolled 43,538 volunteers (including participants in South Africa as well as the US, Germany, Brazil and Argentina), giving half the volunteers two doses of the vaccine and the other half two doses of a placebo. These volunteers then continued their normal lives, but they were monitored for any symptoms that could be COVID-19, with testing to confirm.
Analysis of 94 volunteers with confirmed COVID-19 suggests the vaccine has an efficacy of over 90%.
This means that if you took ten people who were going to get sick from COVID-19 and vaccinated them, only one out of ten would now get sick.
Can we get excited about the Pfizer Vaccine yet?
There is more data to come. This is a press release and the data have not undergone "peer-review" through scientific publication, although it has been assessed by an independent monitoring board. The study also won't be complete until 164 volunteers have confirmed COVID-19, and the estimate of efficacy may therefore change. Finally, the volunteers must be monitored for a defined period of time after vaccination for any side effects and this must be completed.
Important questions also remain. It's unclear how long protection will last, as this study has only been underway for three months. It's unclear if this vaccine protects against severe disease or if this vaccine will work equally well in everyone. For example, a phase 1 clinical trial with this vaccine showed that immune responses were lower in older people.
But 90% efficacy is striking. To give some context, the US Food and Drug Administration indicated they would licence a SARS-CoV-2 vaccine with 50% efficacy. The flu vaccine often provides around 60% efficacy and the mumps vaccine, which is currently the fastest vaccine ever made at four years, provides around 88% efficacy.
The BioNTech/Pfizer vaccine could outstrip that, after just nine months of development. This level of efficacy means virus transmission could be very effectively controlled.
That has the research community excited. It bodes well for other vaccines currently being tested for SARS-CoV-2 and we could end up with multiple successful vaccines. This would be great because some might work better in certain populations, like older people.
Multiple vaccines could also be manufactured using a broad range of established infrastructure, which would accelerate vaccine distribution.
Harry Al-Wassiti, Bioengineer and Research Fellow, Monash University; Colin Pouton, Professor of Pharmaceutical Biology, Monash University, and Kylie Quinn, Vice-Chancellor's Research Fellow, School of Health and Biomedical Sciences, RMIT University
This article is republished from The Conversation under a Creative Commons license. Read the original article.
***
In case you missed it, Pfizer said in a press announcement on Monday:
Vaccine candidate was found to be more than 90% effective in preventing COVID-19 in participants without evidence of prior SARS-CoV-2 infection in the first interim efficacy analysis
Analysis evaluated 94 confirmed cases of COVID-19 in trial participants
Study enrolled 43,538 participants, with 42% having diverse backgrounds, and no serious safety concerns have been observed; Safety and additional efficacy data continue to be collected
Submission for Emergency Use Authorization (EUA) to the U.S. Food and Drug Administration (FDA) planned for soon after the required safety milestone is achieved, which is currently expected to occur in the third week of November
Clinical trial to continue through to final analysis at 164 confirmed cases in order to collect further data and characterize the vaccine candidate's performance against other study endpoints
UPDATE: We are proud to announce, along with @BioNTech_Group, that our mRNA-based #vaccine candidate has, at an interim analysis, demonstrated initial evidence of efficacy against #COVID19 in participants without prior evidence of SARS-CoV-2 infection.

— Pfizer Inc. (@pfizer) November 9, 2020