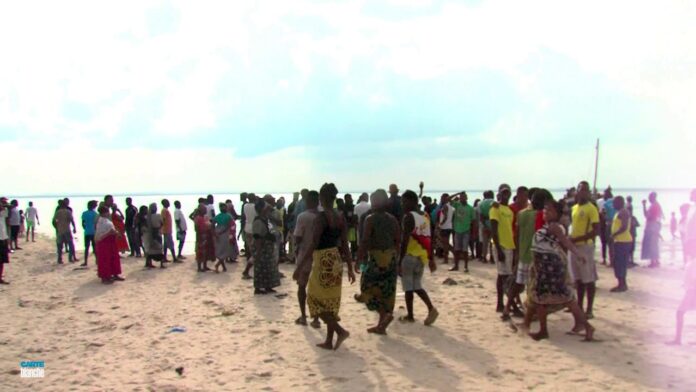 More than 50 local people were forced onto a football field in a village in dream-holiday destination Cabo Delgado province in Mozambique this weekend, and executed, according to international reports.
The bodies of Muatide villagers who had tried to escape were decapitated and "chopped up" between Friday night and Sunday on the sports field, said several reports. They weren't the only ones murdered. In another village, gunmen shot at locals, beheaded two people, set homes alight, and abucted several women (and children allegedly) in the latest horrific attacks on what was once a popular holiday location for many South Africans.
Mozambique's police chief Bernardino Rafael told reporters that extremists attacked several villages in the Miudumbe and Macomia districts. Rafael said: "They burned the houses then went after the population who had fled to the woods and started with their macabre actions."
As reported by Carte Blanche in September: "A dark shadow has stealthily crept over popular dream-holiday destination of Cabo Delgado province in northern Mozambique over the last three years." The show asked: "The conflict in Mozambique's Cabo Delgado province has escalated dramatically in recent months. But is this a localised revolt or a full-fledged invasion by extremist groups?"
This weekend's events further fuel fears that the insurgency marks the Islamic State (IS) gaining a foothold in Southern Africa. Since 2017, and before this attack, an estimated 1,500 people had been killed in gruesome attacks (50 shot and beheaded in April, another nine beheaded earlier this month) and 200,000 displaced in skirmishes between security forces, civilians and the Islamist militant group Ansar al-Sunna (known locally as al-Shabaab which means 'youth'), said Carte Blanche.
Cabo Delgado province is not only sought-after as a holiday escape, but is also rich in rubies and gas… but the locals have complained they have not benefitted from these industries, and the suspected Daesh/ISIS-aligned militant group has apparently been exploiting the "poverty and unemployment to recruit youth in their fight to establish Islamic rule in the area", says the BBC.
The state-owned Mozambique News Agency reported that armed attackers chanted 'Allahu Akbar' (God is Greatest). The government has appealed for international support and training for its troops.
French President Emmanuel Macron said today: "In Mozambique, more than 50 people have been beheaded, women kidnapped, villages looted and then set on fire. Barbarians hijack a religion of peace to sow terror: Islamist terrorism is an international threat that calls for an international response."
UK Foreign Secretary Dominic Raab tweeted: "The UK is appalled by reports of the beheading of dozens of civilians in Cabo Delgado province. This is part of a pattern of escalating attacks in north-east Mozambique. We remain in close contact with the Mozambican ?? authorities to tackle the root causes of conflict."
Switzerland's defence ministry announced today that it will send at least two members of the Swiss army to join the UN programme aimed at "disarming, demobilising and re-integrating former rebel forces into society".
Zimbabwe President Emmerson Dambudzo Mnangagwa said yesterday on Twitter: "I am deeply shocked by recent reports of terrorist activity in Mozambique. These acts of barbarity must be stamped out wherever they are found. Zimbabwe is ready to assist in any way we can. The security of our region is paramount in the protection of our people."
There was no statement yet from South Africa at the time of publishing this article, nor from the African Union, of which Mozambique is a member and President Cyril Ramaphosa is chairperson.
A Catholic bishop in the capital, Pemba, said the number of deaths being reported cannot be verified. Luiz Fernando Lisboa told DW – "I cannot confirm the number because in these villages all the people are gone, died or fled. So it's hard to say if there were 40 or 50 people. I just spoke to a young man from that village [Muatide] who had an uncle and brother who were killed, but he doesn't know the number of people who died. The news is not accurate, but there were attacks in 11 villages and deaths. In one of the villages, 15 young people were killed, from 12 to 15 years old, who were in the initiation rite. We have heard several sources confirm this."
The BBC says: "Human rights groups (including Amnesty International) say Mozambican security forces have also carried human rights abuses, including arbitrary arrests, torture and killings, during operations to curb the insurgency."
According to DW, about 435,000 peple have now fled rural parts of the province and 11,000 arrived in Pemba in the past three weeks… so emergency shelters are overflowing. Human Rights Watch expert Zenaida Machado told DW that in some households, 50 people are living together.
UN Secretary-General Antonio Guterres expressed shock over the reports of massacres, beheadings and kidnapping of women and children, strongly condemning the "wanton brutality" and urging Mozambique's authorities to "conduct an investigation into these incidents, and to hold those responsible to account". He reiterated the UN's support for Mozambique in urgently addressing humanitarian needs and to "prevent the spread of violent extremism".
WATCH CARTE BLANCHE MOZAMBIQUE VIDEO, SEP 2020: The Ignored War: Islamic State in Southern Africa?
If you're in SA – you can watch Carte Blanche on DStv Now.
If you're living abroad – you can stream #CarteBlanche from Tuesdays, plus thousands of other popular local South African shows & movies by subscribing to Showmax International. You can try it FREE for 14 days.