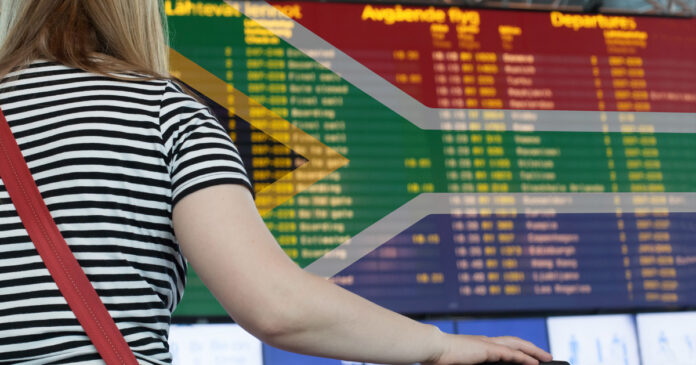 Travel experts have welcomed the announcement by South Africa's President Cyril Ramaphosa that tourists from all countries will be welcomed to SA's sunny shores with an amendment to the Alert Level 1 lockdown rule that had certain high risk countries placed on a banned 'red list'.
Addressing the nation on Wednesday evening, the President said: "We are also opening up international travel to all countries subject to the necessary health protocols and the presentation of a negative COVID-19 certificate.
"By utilising rapid tests and strict monitoring, we intend to limit the spread of the infection through importation by those who will be travelling to our country."
The President said the government expects that this measure, along with the normalising of trading hours for selling alcohol, will assist the tourism and hospitality industries.
Response from Tourism Experts
Otto de Vries, CEO of ASATA said: "What this does is provide clarity, consistency and a real opportunity for people to make confident choices to travel to South Africa, knowing exactly what the basic requirements are and without constantly worrying whether they will or not have travelled to a country that within a 14-day cycle could be accepted, than not accepted.
We need to congratulate our Government for the way in which it has responded to the pandemic…
"This will make a huge difference to ensuring South Africa's recovery as a primary long-haul destination on the African continent. We need to congratulate our Government for the way in which it has responded to the pandemic and where we are today, recognising their efforts in balancing economic requirements with the safety of South African residents. This needs to be celebrated and should be seen as a key factor in instilling confidence that we are a safe destination to travel to."
SATSA CEO David Frost, said: "The President's announcement has delivered the certainty our international guests and customers have been actively seeking since South Africa introduced Level 1. As such, SATSA welcomes the President's announcement and looks forward to promoting Destination South Africa as the ultimate destination for travellers seeking the open-air, fair weather, low density tourism which a COVID world demands. To this extent, South Africa's tourism sector has instituted stringent health and hygiene safety protocols and we are travel ready to welcome guests safely and in comfort."
Jeremy Clayton, Chairperson of FEDHASA Western Cape, also welcomed the news, saying: "We are pleased that Government are following the recommendation of industry partners and enabling an industry that can rapidly grow and provide jobs. By applying common sense protocols we can ensure SA is positioned as a leading global SAFE destination that offers an abundance of tourism opportunities, world class service and experience."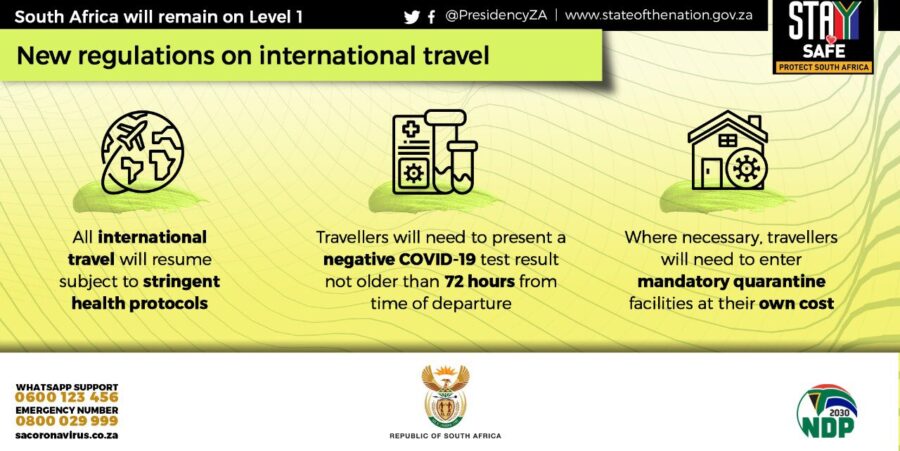 What you need to know about travelling to and from South Africa
According to the amendment, in the Government Gazette on Wed 11 November, these are the most important things to know:
Travelling to and from South Africa
This is allowed as long as:
the traveller produces a valid certificate of a negative Covid-19 test which was obtained not more than 72 hours before the date of travel; and
if the traveller fails to submit a certificate as proof of a negative test, they will be required to quarantine themselves as their own cost.
South African Airports for International Air Travel:
OR Tambo International Airport (Gauteng):
King Shaka International Airport (KZN); and
Cape Town International Airport (Western Cape).
South Africa's Land Borders
The 18 land borders which were partially operational, will be fully operational
The 34 land borders which were closed, will remain closed.
SA Seaports
All commercial seaports will be opened. Small crafts will be allowed entry into seaports, in line with health and border law enforcement protocols.
Visa Applications
The resumption of services for visa applications is to be determined in directions issued by the Cabinet member responsible for home affairs.
International Travel Containment Protocols
According to the gazette, relevant Cabinet ministers in home affairs and health and transport will develop International Travel Containment Protocols to "ensure that entry into South African ports of entry will only be allowed subject to adherence to ensure COVID-19 positive travellers are not allowed into the Republic.".