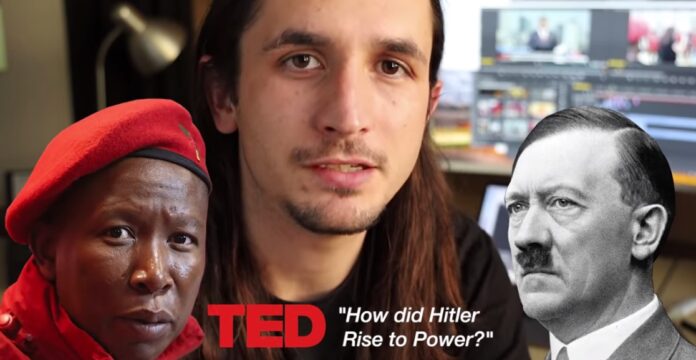 Western Cape musician and entertainer David Scott, aka The Kiffness, has posted a video exploring the parallels between Germany's Nazi leader Adolf Hitler and the EFF's Julius Malema in their rise to power.
"Is it fair to compare Malema to Hitler?" The Kiffness tweeted, after the Democratic Alliance (DA) tweeted last Monday (9 Nov): "The Nazi's had the brown shirts that went around terrorising minorities. South Africa has the red shirts. #BrackenfellHigh". The DA tweet was a response to the EFF presence at Brackenfell High School in the Western Cape, where a private matric party had been held to which only white students allegedly attended.
The Kiffness says as an effective way of comparing the leaders, he has taken the audio from an existing video (a TED talk) "which summarises Hitler's rise to power, and (spliced) videos and pictures of Julius' rise to power and put it alongside the audio."
WATCH VIDEO: The Alarming Parallels between Hitler & Malema's Rise to Power
Scott asks viewers to note: "The parallels drawn are my own interpretation & not necessarily based on factual comparison or similar time frames. For the sake of brevity, the audio has been edited, but the order in which the audio appears has not been altered. The order of the videos of Julius jumps between years on occasion for the sake of comparison."
He has also included a list of references to each of the videos and images included in his production.
This morning Malema retweeted somebody else's response to the video, which said: "F*** white people honestly."
BLA says EFF's Julius Malema fit to serve JSC
Meanwhile, in other Julius Malema news, the Black Lawyers Association (BLA) says it now believe Malema is fit to serve on the Judicial Service Commission, following a meeting with the EFF. The BLA says it realises that Malema was not generalising black people as incompetent when, after being criticised on social media, he defended his use of white lawyers.
MORE