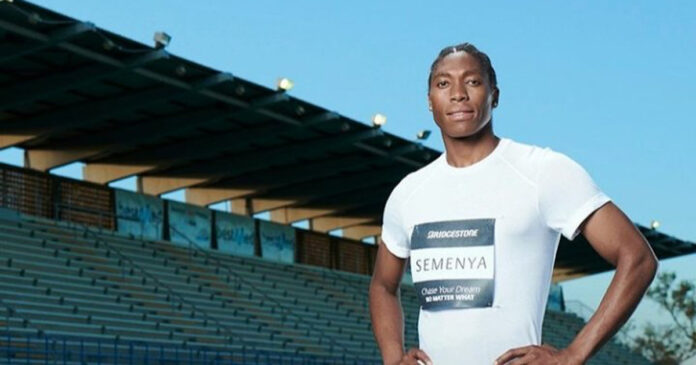 Just like when she takes to the track, and gives it her all, a determined Caster Semenya is not giving up her fight to win the right to compete with other female athletes in the 800m event. Undaunted by the loss of recent appeals, and egged on by the support of her Parliament, and fans across South Africa, Africa, and the world… Caster will be taking her fight to the European Court of Human Rights in Strasbourg, France.
The South African athlete's lawyers – Norton Rose Fulbright – announced in a statement on Tuesday "we will be taking World Athletics to the European Court of Human Rights" and said that "public support goes a long way to help show how the rules from World Athletics are against public interest".
At the centre of Caster's dispute is World Athletic's regulation which no longer allows female athletes who have Differences in Sexual Development (DSD) to compete in events from 400m to 1600m… unless they take medication to suppress their testosterone levels.
Previous appeals – in the Court of Arbitration for Sport (CAS) in April 2019 and in the Swiss Federal Supreme Court in September 2020 – have failed, fuelling the Double Olympic track champion's decision to take the matter to the European Court of Human Rights.
After the Swiss loss, Caster said: "Doors might be closed not locked." She said she refused to allow World Athletics to "drug me or stop me from being who I am" and declared "excluding female athletes or endangering our health solely because of our natural abilities puts World Athletics on the wrong side of history." According to the BBC, gender testing conducted a decade ago reportedly showed that Caster had both male and female characteristics, with higher levels of testosterone than usual for a female. However these results have never been made public.
According to World Athletics, athletes with DSD have a competitive advantage because of their higher testosterone levels. (Research in 2017, commissioned by the IAAF, claimed that high testosterone led to a 3% improvement in runners.)
World Athletics said in a statement in September that it has fought for equal rights and opportunities for all women, and "the right of all female athletes to participate in our sport on fair and meaningful terms".
South Africans have proudly defended their champ, and the SA Parliament passed a motion condemning World Athletics and calling the restrictions an "injustice and violation of human rights", said the Olympic Channel.
Norton Rose Fulbright's Africa head, Greg Nott, said on Tuesday:
We greatly appreciate the support of the Parliament of South Africa, the highest legislative body in South Africa, and commend their willingness to take action by resolving to help protect the rights of a fellow South African

With growing support from institutions and bodies across the globe, we remain hopeful that World Athletics will see the error it has made and reverse the prohibitive rules which restrict Ms Semenya from competing…"
The statement referenced Caster's race, saying:
The increasing number of institutions that have shown their support for Ms Semenya reinforces that it is not acceptable to require a black, or any other woman, to either have invasive surgery or unethical hormonal treatment to curtail natural biological functions, to compete. We remain inspired by Ms Semenya's indomitable spirit and will remain steadfast in our stand against discrimination until she is allowed to run free from persecution…
He added: "We encourage everyone to help create a more equal world by showing their support on social media and by putting pressure on their sporting bodies to embrace and apply internationally accepted human rights values in their activities and rules."
On Twitter on Tuesday, Caster retweeted a video from months ago reminding the world just exactly who she is:
Caster is unstoppable. Watch this film and you'll understand why.

— @BridgestoneSA (@BridgestoneSA) March 20, 2020
— Caster Semenya (@caster800m) September 28, 2020