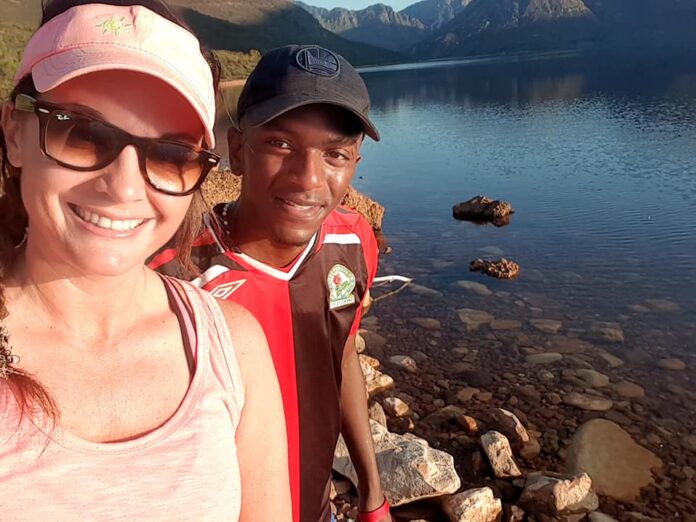 Sometimes there's a story that touches everyone. This is one of those. It's about people with dreams and hearts so big, they could power Eskom… and about a nation that has been humbled to help one brave young man, Themba, and one amazing woman, Adrienne; a nation that at its core cares more for its fellow citizens than politicians care to admit. It's about South Africa.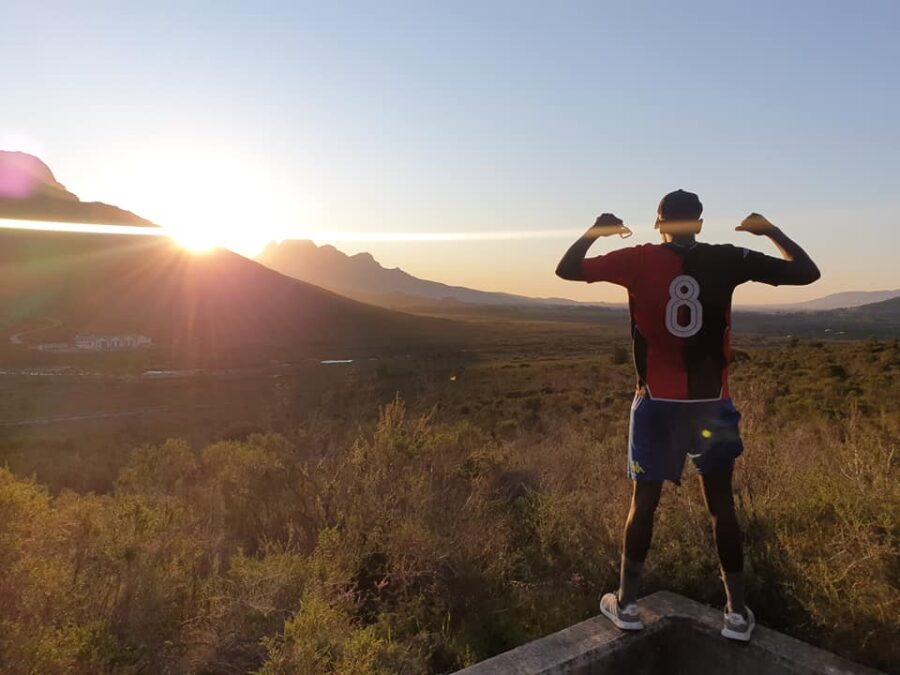 Cape Town business woman and influential leader Adrienne Westman told SAPeople today that Themba is overwhelmed by all the love he has received since she posted his story on Facebook on Tuesday night. The post detailed how they met, his dream, her promise… and how he was brutally attacked this week. After the outpouring of support from South Africans, she says: "I know he was trying his best to hold back his tears whilst I read him the messages of encouragement from Facebook. ❤🥰"
Themba's face may be fractured in three places… but his dreams are in tact, being lifted higher by the well wishes he's floating on from people around the country. (See latest update at bottom of page.)
This is Themba's Story… as told by Adrienne on 17 Nov:
My heart is 💔… about 9 years ago, I was parked outside a primary school and this young tall athletic boy was standing outside the school with his friends and something about him grabbed my attention. I was very intrigued. I watched him as he interacted with the other kids. I could tell that all the kids respected him and wanted his affirmation. This young man with a lion heart of kindness towered over them.

It was quite late in the afternoon and all the kids were waiting to be collected by their parents. Something told me that his parents were not coming.
As I was there collecting other kids at the school that afternoon, I asked him if he was alright and if could I perhaps give him a lift home? His eyes lit up, as if I had just bought him a brand new bicycle.
I spoke to him a little… excited to find out more information about this incredible dynamic young man.
He is one of 5 brothers, of which he is the oldest.
They live together in a tiny home in the township.
All the 5 brothers share one bed.
All the 5 brothers share all their clothes, shoes etc.
All the 5 brothers play football.
Their mom (Eunice) runs a crèche for small kids in the township who don't have parents during the day with little to no income. (Even worse now due to COVID)
Adrienne – one of those special humans with the heart of an angel, who cares about everyone from the president to the man sleeping under a bridge – decided then and there that she was going to do her part for "this young gifted and talented boy".
I decided that I would pick him up every morning en route to school.
I decided that 3 weeks before his exams he would come and stay with us and I would help him to study and prepare for his exams.
I decided to gift him and his family with as much as I could. I decided to love him as if he were my own son.
I invited him and his family for lunch the following Saturday afternoon and I asked Themba and his parents if that was alright with them? If I may, please help out where I could. They, of course, agreed, with lots of thank you's and appreciation.
Adrienne says that from the moment she saw Themba standing outside the school gate, she knew that they would be intertwined in each other's lives in some shape or form.
Themba has subsequently become a super achiever in football. He was invited to play football in Germany for a short stint and he has achieved numerous football accolades. Football is his life.
And then… at 06:00 on Tuesday morning, as he was en route to his daily training session, this happened:
4 young men attacked him! Themba knows these guys, as they played football together growing up!? They hit him with a hammer numerous times to the face and head, stabbed him and left him to fend for himself in a critical condition. I think they ran away when he finally blacked out due to the multiple blows to his head.
This brave, courageous young man found the strength to pick himself up and find his way home bleeding and unable to see.
Adrienne rushed him to medi clinic so he could get the urgent and best care he required. "He is so so brave," she said, and asked readers to pray with her so he didn't lose his eye. The doctors were worried about the swelling of his eye (and his head).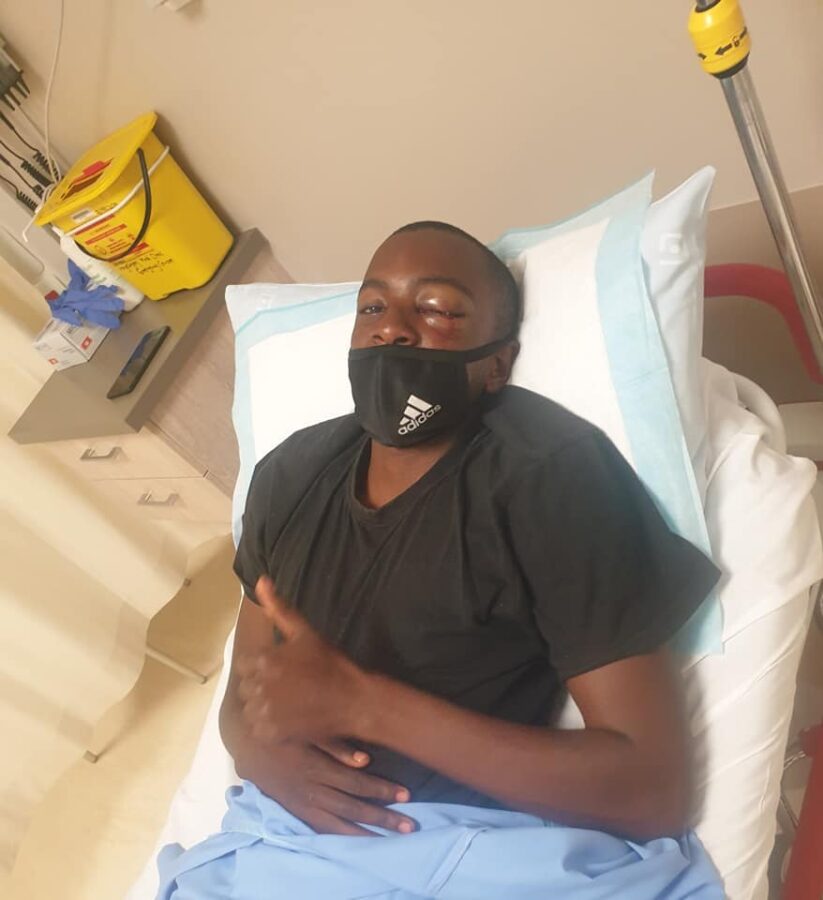 Themba asked Adrienne: "Ma, what do I say when I see these guys again in the streets?"
This is what she told him:
I told him to use all this anger that he is feeling right now to push harder and to motivate himself to get him and his family out of the township. He must become the soccer star he believes he will become.
He should work towards buying his family a bigger home, in a safer area.
He should think of ways to help his community. Perhaps, start a self defence and a soccer academy in the townships to help other kids who fall victim to such horrendous crimes.
Then, when he sees these guys again, he can smile and thank them for pushing him to become an even greater man despite the challenges he has had to overcome.
As an aside, to her readers, Adrienne said: "How do you fight with guys who are not afraid of going to jail? My heart is broken. Thank you allowing me to share my heavy heart with you."
She invited those who wanted to, to help her in supporting this "kind yet determined young man and his family", no matter how big or small the help.
Adrienne suggested: "Anything from food parcels to clothes for him and his family, to financial contributions for his hospital bills, to a soccer sponsorship!? Every bit counts. Together we are stronger. Perhaps sharing this message? Who knows, what random acts of kindness could help to support this special family; close to my heart."
Update on Themba's Recovery & Dreams, 19 Nov…
Themba's face is fractured in three places, his head is bruised, swollen and his eye is in bad shape but thankfully the functionality of his eye has not been completely damaged.
"The doctors hope & believe that his eye will make a complete recovery so that he can get back onto the field. 🙏 ❤," Adrienne says. "Even the doctors were saying things like: "We want to see you on TV soon!" and "You show them!" They made him feel loved and special too. We really do have beautiful people in South Africa. 🌈❤💖💗"
Adrienne says all this love is making Themba even more determined to focus on his training and to "get signed into a club ❤🙌🏻😇🙏 ". She thanked everyone for their love, support and donations.
Adrienne's Dream for South Africans…
"I would love to somehow to use this opportunity to encourage other people to love and mother or father other kids in the same way," says Adrienne. "At the same time, showing the community how we are prepared to rise and help each other. We all need love and support. Let's rise together…"
We all need love and support. Let's rise together…
If you'd like to support Themba…
Just in case you would like to assist financially towards Themba's Hospital Bills etc, here are Adrienne's bank details:
Account Holder: A V Westman
FNB
Account Number: 62153406212
Branch Code: 250655
Cheque account
You can view Adrienne's original post here, along with all the wonderful messages of support and encouragement.
We wish Themba a full and speedy recover! We cannot wait to watch you on the field…