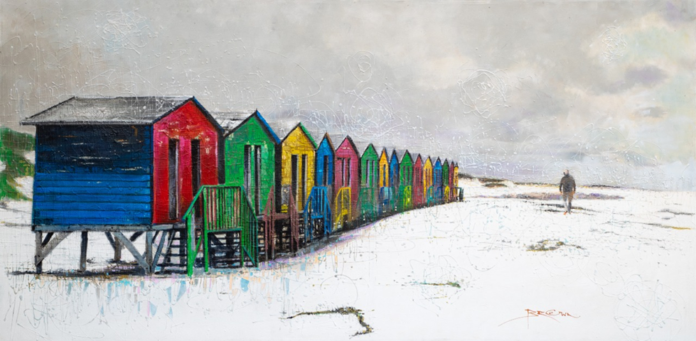 A fabulous large painting of Muizenberg's iconic beach huts was completed this weekend by talented artist Cliffy Brown, as a captivated crowd watched at the Blue Route Shopping mall in Cape Town, South Africa. The large 2.5 x 1.5 metre painting is based on a photo by Western Cape photographer Angela Gorman, and whoever buys the artwork will not only become the proud owner of an exquisite piece of South African art… but will be helping to save the huts themselves!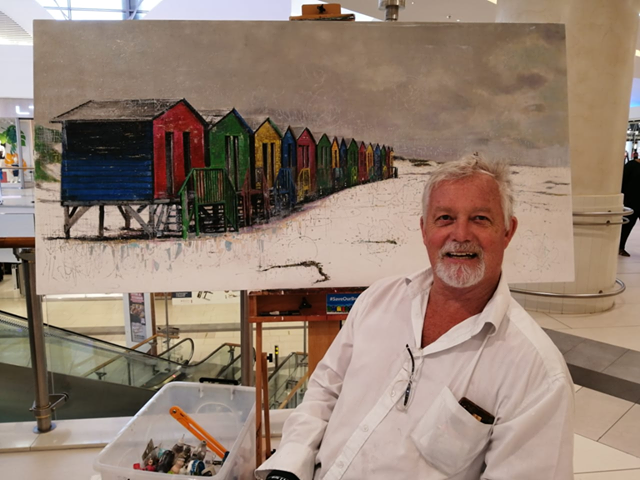 As reported in September, Angela has spearheaded the Save Our Muizenberg Huts fundraising and awareness drive to help save the world famous beach huts from disintegration. "Wind-sea-bad weather and vandalism" are taking their toll, says Angela. The huts are a popular destination for local and international tourists, and used as a symbol of SA in thousands of ad campaigns promoting South Africa… but if nothing is done to restore them, they will collapse and be forever gone.
Iconic Muizenberg painting could be yours…
A Save Our Beach Huts stand was installed at the Mall this weekend to raise awareness amongst locals about the need to help renovate and repair them. Shoppers were also able to watch former rugby player turned incredible artist Cliffy Brown painting the beach hut scene. The artist hopes to sell the large artwork outright (or auction it off) for at least R35,000. For a homesick South African living abroad, this could be just what they need –  a "splash of an iconic SA image to grace their wall!" (Contact saveourbeachuts@gmail.com or phone Angela on 079 504 1933 if you'd like to purchase this painting for yourself, or your office.)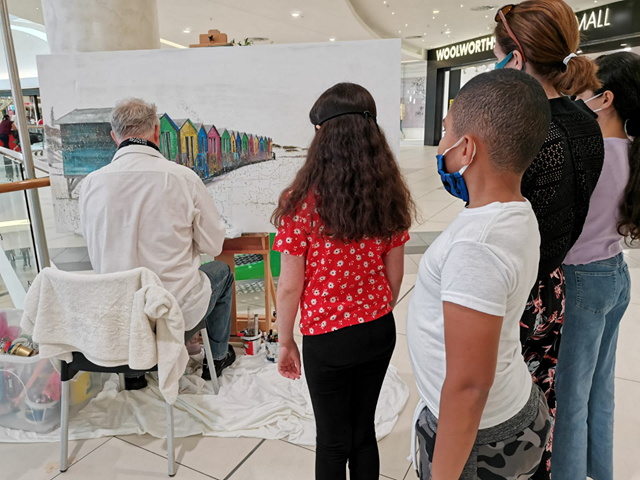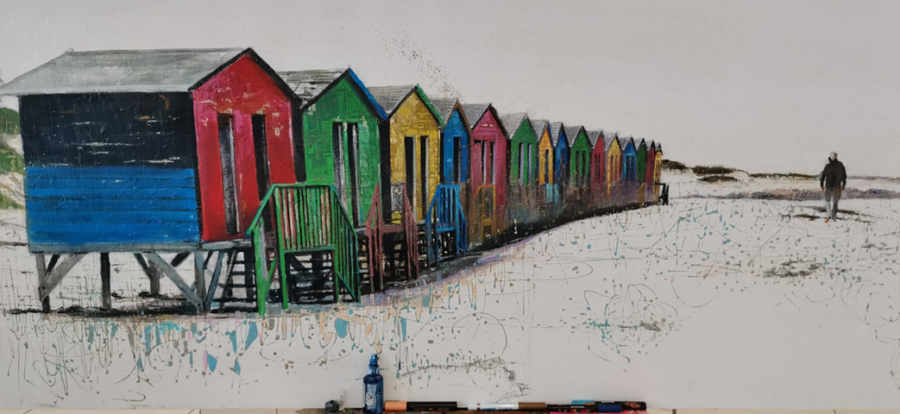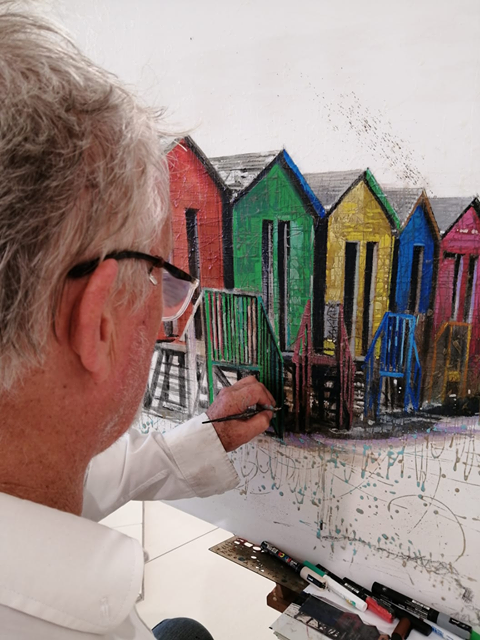 The campaign is also selling Muizenberg buffs – in the 4 colours of the huts; A4 beach hut calendars, cute beach hut Christmas decorations and gorgeous carrier bags made specially for the campaign by Pick 'n Pay. "We also have bumper stickers, how better to show your support!" says Angela.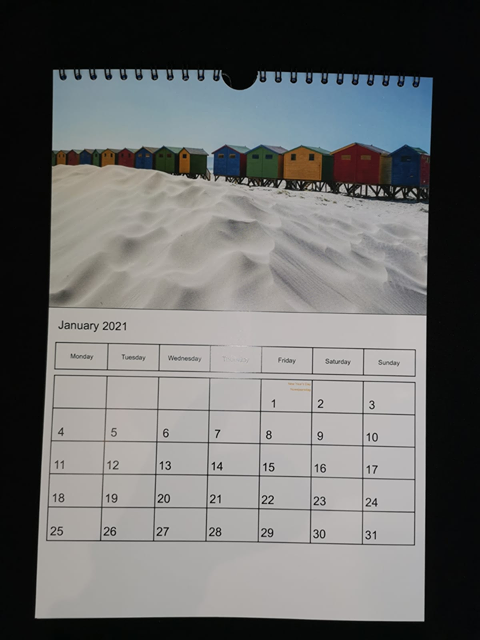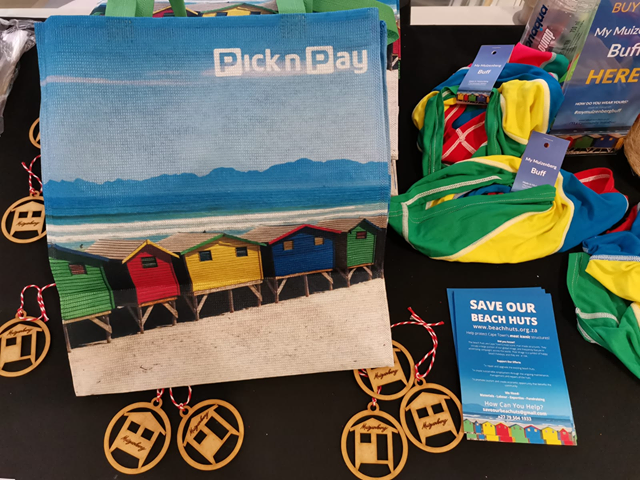 The initiative, which is supported by the Cape Town City Council and the Historical Society of Muizenberg, is on a fund-raising mission to buy supplies to restore the huts. They've already completed one beach hut. Just 30 more to go! ""And Everite has donated all the really expensive Nutec board for the 30 remaining huts… so it is a very reachable goal!" says Angela.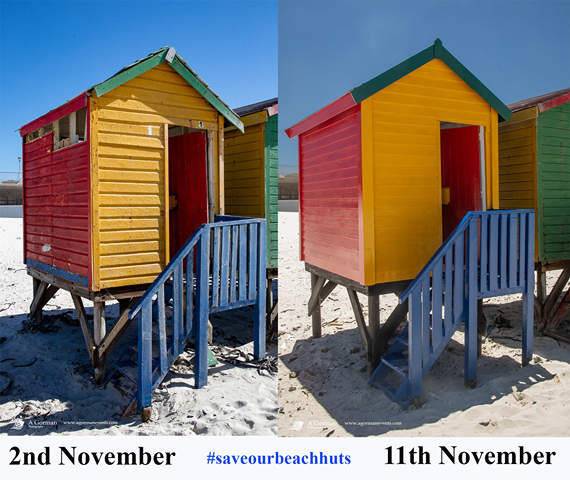 MORE INFO
If you're interested in purchasing the painting (or entering an auction), please contact

saveourbeachuts@gmail.com

or phone Angela:

079 504 1933

Donate here.