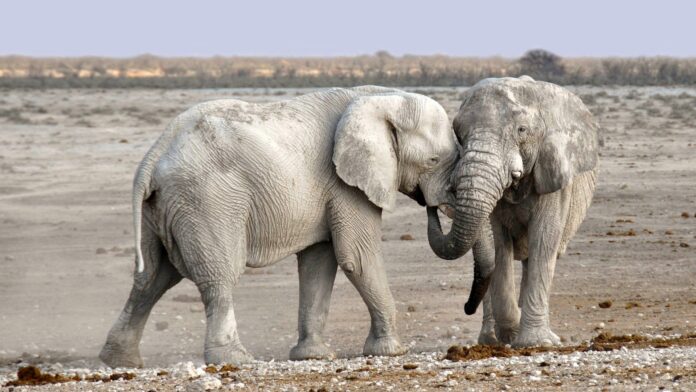 Namibia's Department of Environment, Forestry and Tourism has posted an advert in the state newspaper putting 170 of their "high value" elephants up for sale.
The advert in New Era newspaper on Wednesday explains: "Due to drought and an increase in elephant numbers, coupled with human-elephant conflict incidences, a need has been identified to reduce these populations." According to reports, Namibia is home to about 24,000 to 28,000 elephant. Thanks in part to international support, Namibia's elephants have thrived, growing from only 7,500 in 1995, according to the government. But now with what's claimed to be the worst drought in a century, the elephant are facing starvation and are encroaching on local communities' land.
Namibia has invited tender offers with specified requirements such as import and export permits needed from international buyers. All buyers need to be able to prove they can provide quarantine and their properties have a game-proof fence. According to Reuters: "Namibia's elephants are among a number of species facing risk of extinction due to poaching, illegal wildlife trade and ecological factors."
The elephants for sale would include entire herds in order to preserve social structures in elephant communities, reported Africa News.
The deadline for potential buyers to make an offer is 29 January 2021.
In 2019, Namibia authorised the sale of over 1,000 wild animals that faced starvation because of the drought in the semi-arid country. The sale of the elephant, buffalo, giraffe and impala was also promoted as a means to raise over $1-million for conservation in the country. In November 2019, another South African neighbour – Zimbabwe – announced its plans to enforce a mass migration because thousands of its animals were at risk of death by starvation due to the El Nino-induced drought. Two hundred elephants had already died in Zimbabwe because of the drought, at the time of the announcement.
Namibia has expressed its wish to introduce trophy hunting in order to raise funds to help protect the species. This is not the first time it has auctioned off animals in a bid to ease the pressure on land.
WATCH VIDEO Namibia to sell 170 elephants to protect its wlildlife