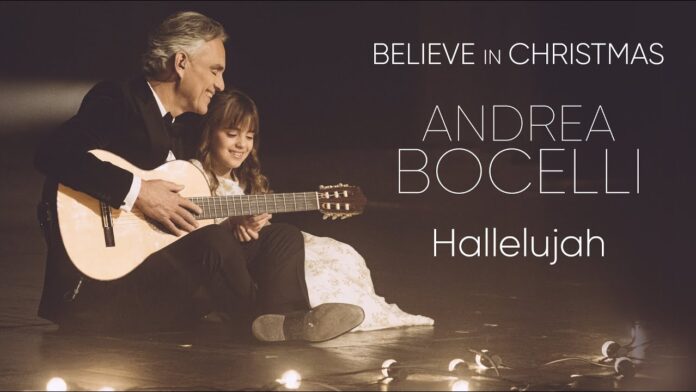 Andrea Bocelli and his 8-year-old daughter Virginia have performed an exquisite version of Leonard Cohen's Hallelujah. The hauntingly beautiful rendition was recorded over the weekend in Italy, as Bocelli lifts spirits again just as he did with his record-breaking special Easter concert in Milan.
The weekend concert – 'Believe in Christmas' – took place on Saturday at the Teatro Regio di Parma opera house. Watch below as famous father and daughter sit beside one another, surrounded by lights on the stage, singing and harmonising together as he strums on his acoustic guitar.
Bocelli (62) said on Instagram: "A magical place where humankind tell their story and put their values on the stage: there is no better place than the theater to experience Christmas together, along with everything it brings, from deep, sacred aspects to those that awaken the privilege of the childish naivety we once had."
He explained that "to 'Believe in Christmas' means to believe in the miracle of life and the love that protects it."
Aside from the classic Hallelujah, Bocelli also performed traditional Christmas songs like 'White Christmas' and 'Amazing Grace', as well as a selection from his new album 'Believe'.
Bocelli, who had Covid-19 himself, said the concert served to underline one thing: "Life triumphs. It's my way of embracing you, one by one, and wishing you, once more, 'Merry Christmas.'"
The magical concert, produced with Cirque du Soleil creative director Franco Dragone, was streamed live to fans around the world.
As one fan said on YouTube: "It was more than obvious, that this beautiful moment had to be shared… Andrea and his daughter Virginia singing together this fantastic Halleluja, it is all that is right in the world ❤❤❤❤❤❤"
WATCH VIDEO Andrea Bocelli with daughter Virginia – Hallelujah (live at Teatro Regio di Parma)
Follow Andrea Bocelli on Facebook.
Watch Andrea Bocelli's Easter concert