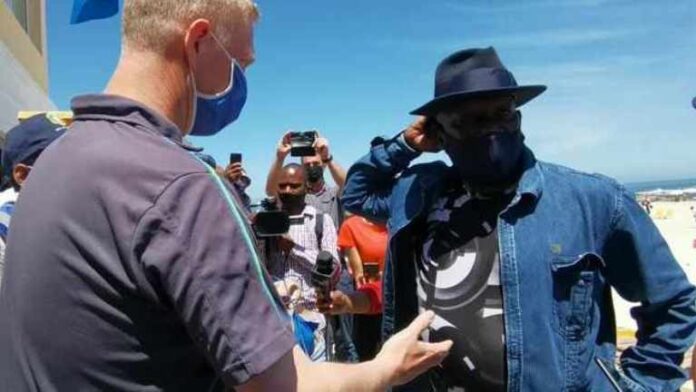 The Democratic Alliance (DA) says it will lay a complaint with Parliament's Ethics Committee against the Minister of Police, Bheki Cele, after he appeared to issue unlawful operational instructions to South African Police Service (SAPS) officials to shut down a film shoot at Camps Bay beach on Wednesday.
The incident occurred yesterday when the Police Minister and SAPS management conducted 'spot checks' on Cape Town beaches to make sure locals and tourists were adhering to lockdown regulations.
Minister Cele apparently instructed 16 police officers to shut down the film shoot, despite the filming crew being in possession of a legal permit from the City of Cape Town, says the DA.
Andrew Whitfield – DA Shadow Minister of Police – said in a statement on Wednesday: "We believe that these instructions by Cele was an overreach of his powers as Police Minister and that he is not legally authorised to issue operational instructions to members of the SAPS.
"In what seems to be a clear attempt by the Minister to grandstand in front of the cameras, he completely disregarded his Ministerial mandate and the extent of his authority. Cele appears to be confused as to whether he is the Minister of Police or the National Police Commissioner. This is exactly what happens when politicians are unduly referred to as "General"."
Referring to Cele's "cowboy antics", the DA said it will fight to ensure he is charged.
WATCH VIDEO: JP Smith and Bheki Cele confrontation at Camps Bay re: film shoot
#JpVsCele This is the earlier confrontation between JP SMITH AND BHEKI CELE ON CAMPSBAY. REGARDING THE FILM SHOOT.. @BOSBEER2006 @1SecondLater @MARIUSBROODRYK @News24 @SAPoliceService @eNCA @SABCNews @CityofCT pic.twitter.com/UGzoOW7XyE

— BOSBEER.COM (@BOSBEER2006) December 16, 2020
The DA's Natasha Mazzone also tweeted this photo of the police on Cape Town beaches, and called on President Ramaphosa to rather have the police on the streets fighting against gender-based violence.