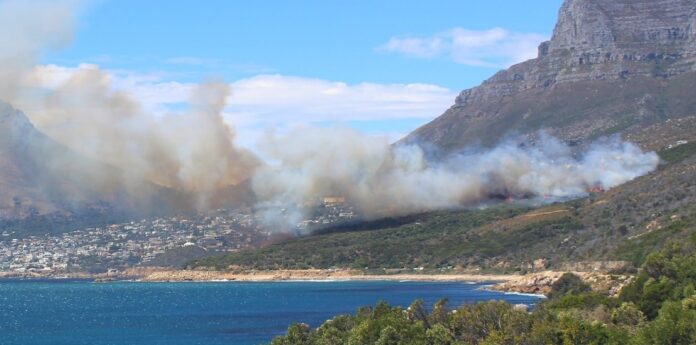 A massive fire, fuelled by gale force winds, tore through approximately 1,000 dwellings in Masiphumelele informal settlement yesterday. An appeal has been issued by the City of Cape Town to please donate essential items to the Living Hope organisation (details below) in Masiphumelele, near Fish Hoek. Fortunately nobody was injured.
Several Western Cape fire and emergency teams including City of Cape Town Fire Services, Disaster Risk Management and Human Settlements teams were on the scene. Firefighters battled to bring the fire under control because of gale force winds. It was finally extinguished at 01h00 this morning.
Bakoven Fire
Meanwhile fire fighting teams were also deployed yesterday afternoon to a fire on the mountain above Victoria Road, between Bakoven and Llandudno. At one point, due to the strong winds in the Camps Bay area, Working on Fire reported that two choppers and a spotter had to be stood down. Firefighters were photographed still working hard at 23h00 last night, and some residents were evacuating as the fires burned closer to their homes. However, fortunately it's reported this morning that the fire has been contained and that there was no damage to property.
Volunteer Wildfire Services (VWS) took the opportunity to point out the increased flame height due to the dense alien vegetation. "This alien fuel burns much hotter than indigenous #fynbos," said VWS.
17.12.20 – camps bay fires 11pm. Firefighters are still working hard while some residence are evacuating as the fires inch closer to homes#campsbayfire #capetownwildfire #bakovenfire #campsbay #cityofcapetown #cityofcapetownfireandrescue #fireandrescue pic.twitter.com/VoZhqZY3c0

— Adi Marcus Wilson (@adiwilsonnnnn) December 17, 2020
Cape Town mayor to declare local disaster
Councillor Malusi Booi, is visiting Masiphumelele this morning to get a first-hand account of the damage. The City will commence a verification process of the affected residents and they will be issued with proof of residence certificates for future rebuilds and emergency kits. According to a witness, firefighting efforts were also hampered by angry residents throwing a brick through the window of a fire engine and cutting hoses.
"The City's Executive Mayor, Alderman Dan Plato, has indicated that he will declare a local disaster within the next 72 hours and the Western Cape Government has been engaged already for an emergency gazetting of the local disaster, which is expected by next week. Thereafter, funds for the emergency relief material will be able to be accessed. The City will do its best to expedite the process as far as it is within its power to do so," the City said in a statement.
According to Councillor Booi, this is in terms of a new process. "Due to National Government budget cuts, the City is no longer able to offer the extra service of providing fire and flood kits to residents outside of declared disasters. For more than a decade, the City delivered a unique service by issuing emergency fire building kits to residents as soon as they had been affected by a fire. Cape Town is the only metro in South Africa that offered this additional service outside of declared disasters.
"The National Department of Human Settlements however has drastically reduced housing funding to all provinces due to the National Government's weak financial situation. The City continues to call for conditional grants not to be cut and for other solutions to be found nationally," said Councillor Booi. The City says it is doing "everything humanly possible" to assist the affected residents, many of whom will be staying with friends and family in the area.
To donate, please contact Living Hope who is coordinating the relief efforts: 082 465 9067.  Essential items that are requested include: blankets, baby food, nappies, baby milk and non-perishable food.
Some photos of the #wildfire near Camps Bay taken earlier by @KMijlof showing the flame height in the dense #AlienVegetation. This alien fuel burns much hotter than indigenous #fynbos. https://t.co/ydT6F0a2vd

— VWS Wildfires (@vwsfires) December 17, 2020
⚠️WC Fire Alert⚠️
?#BakovenFire – Table Mountain
The two choppers and a spotter that had been dispatched this afternoon, have been stood down due to strong wind.
The fire continues.

? Chopper leaves Newlands Base to fight the Bakoven Fire.@CityofCTAlerts pic.twitter.com/s93AVsJEd0

— Working on Fire (@wo_fire) December 17, 2020
A chopper is assisting with water bombing at the Masiphumelele fire in Cape Town.

Video: City's Fire and Rescue Services pic.twitter.com/pEB5ItkgFj

— Athi Mtongana (@Artii_M) December 17, 2020
#Wildfire Alert ?: A new wildfire started in Bakoven / Oudekraal area near Camps Bay. @cptfrs and @TableMountainNP are on scene. Please be careful if driving on Victoria Drive. pic.twitter.com/UYf7Rbhgv9

— VWS Wildfires (@vwsfires) December 17, 2020