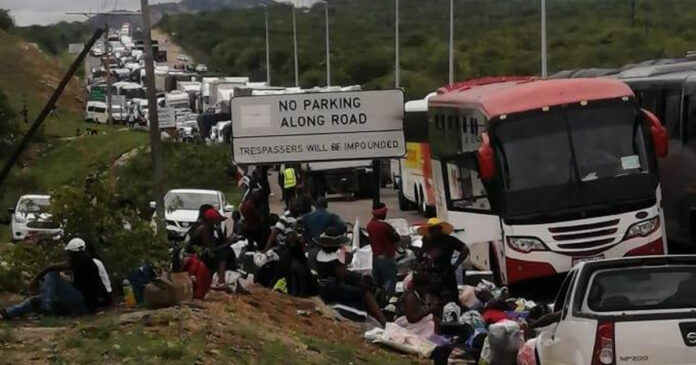 Travellers between South Africa and Zimbabwe, making their way home for the festive season, have been stuck in long traffic jams (some for five days) at the Beitbridge border post, in incredibly hot conditions without easy access to water, food and other amenities. This has led to the tragic death of at least four people from dehydration, which has fuelled calls from organisations like the SAAFF (SA Association of Freight Forwarders) for SA's Health Minister Dr Zweli Mkhize to intervene.
The delays and long queues that stretch up to 20 kilometres, have been caused by border officials trying to ensure compliance with the COVID-19 regulations. Travellers are required to produce their COVID-19 results to port officials prior to embarking on their journey, but many haven't had the documentation. Curfews have also meant borders posts closing early.
On Christmas Eve, Chairperson of the Portfolio Committee on Home Affairs, Advocate Bongani Bongo, called for urgent intervention. "While we understand the need for stringent health checks necessitated by COVID-19, we are also cognisant of the strategic importance of the Beit Bridge crossing to trade in Africa. It is in this context that strategies should have been put in place to mitigate such an occurrence, especially in relation to reducing operating hours," Advocate Bongo said.
Limpopo's Health MEC Phophi Ramathuba advised travelers to plan ahead and prepare their travel documentation in time to ensure smooth processing at the border.
The SAAFF said today that five have died in the traffic with "fears of more deaths" (according to an eNCA report at least 15 people have died during the past week whilst waiting in the "scorching heat") and the long queues have cost at least R700-million.
News24 reported yesterday that the Health Department has suspended screening at the border to ease congestion, and according to an EWN report today there has been some progress in reducing the backlog… but SAAFF spokesperson, Lin Botha said government still needs to urgently intervene.
"The backlog is only about 4.9 kilometres as of this morning for the northbound traffic," said Botha. "Unfortunately, the southbound traffic that is within Zimbabwe trying to get into South Africa is a bit longer than that. It's in the region of about 20 odd kilometres because there are two roads that led into Zimbabwe-Beitbridge."
In an open letter to Dr Mkhize the transport and freight forwarding industries have called for urgent intervention as "a humanitarian disaster is unfolding" and say there is a threat of further spread of Covid-19, as well as an outbreak of cholera, according to a Times Live report.
WATCH VIDEO: Traffic update outside the Beitbridge border post, Christmas Day 2020