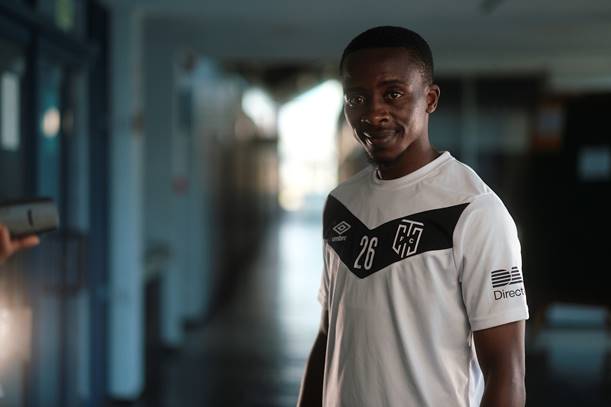 Cape Town City and Bafana Bafana midfielder Thabo Nodada takes a long view of professional and personal success, even if that means making difficult decisions and putting hard graft before glitz.
His isn't a typical football story, nor is his approach to money that of the stereotypical big-spending soccer star.
At school he was a good rugby player, something that was encouraged at King Edward VII School (KES), one of the top boys' schools in the country and one with a rugby tradition dating back to 1932.
He'd train with his rugby teammates during the week and after the match on Saturday would indulge his real passion – football.
Even at the age of 14 Thabo knew that the time would come when he'd have to decide between what he was passionate about and what he felt was expected of him.
He also understood that the decision may have consequences. At best his coaches and teammates would feel let down.
He takes the same approach to managing his finances.
Although there are people who expect a PSL and Bafana player to live a flash lifestyle and impress everyone by buying expensive cars and clothes, Thabo isn't worried about image or what people think of him.
"I use a little bit here and there and keep some on the side… So tomorrow or the next day I'll still have some to enjoy the future."
He knows the value of playing the long game.
"Every day I practice to chip the ball over 100 times. In a game six months from now I'll get it accurate."
Thabo was one of the Cape Town City players, who during lockdown participated in a special financial education course by sponsor DirectAxis.
It's something the financial services company offers all the players, its employees and which, together with partners The Clothing Bank and gold-youth, is rolling out in underprivileged communities.
"We didn't need to teach Thabo much," explains DirectAxis head of financial education Shafeeqah Isaacs.
"His considered approach to money, being prepared to put in the work, make the hard decisions and thinking about the future, not just the here and now, are exactly the sort of behaviour our Me and My Money course aims to encourage. We want our sports stars to be successful beyond their sporting careers."
"What the course did make me pay attention to is the importance of terms and conditions in a contract and how compound interest can escalate debts over time," says Thabo.
To see Thabo telling his story of football and finance visit https://www.directaxis.co.za/about/sponsorships/ctc-fc-fantv-off-the-field