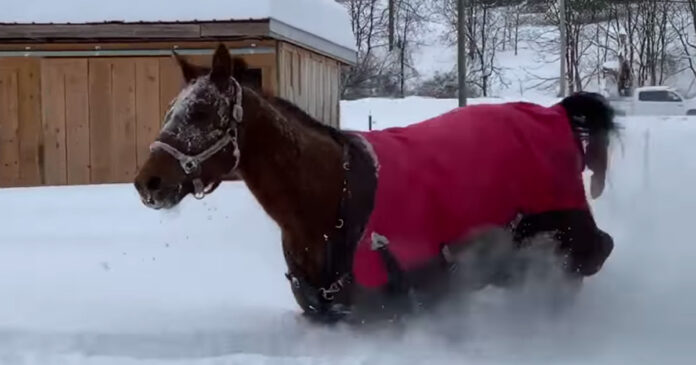 A video of a horse "dashing through the snow" in New York State, USA, has brought joy to millions around the world. Watch below to see the pure unadulterated delight of the animal as it plays and frolics in the deep snow.
The video was uploaded to Facebook by Rachelle Huston on 17 December and she was shocked when it reached 15,000 views. A week later she couldn't believe it had reached 3,5-millions views. By today it was millions more!
Rachelle also posted videos of her dog and another horse having fun in the three-feet deep snow, but it was Payday who attracted most of the views as he happily submerged himself in the snow, even eating it at times.
Rachelle's friends thanked her for bringing joy to an otherwise bleak festive season, as the US battles the coronavirus pandemic. One friend said: "Love this!!!Apparently, I am only 1 in a million!"
On the first day, when a friend pointed out what great exercise it was, Rachelle joked: "He might be tired enough for me to ride back to the barn later! 🤣🤣"
WATCH VIDEO: Horse plays in snow for the first time
Rachelle says: "Now you all can enjoy the big kids' antics! 😂🤣"