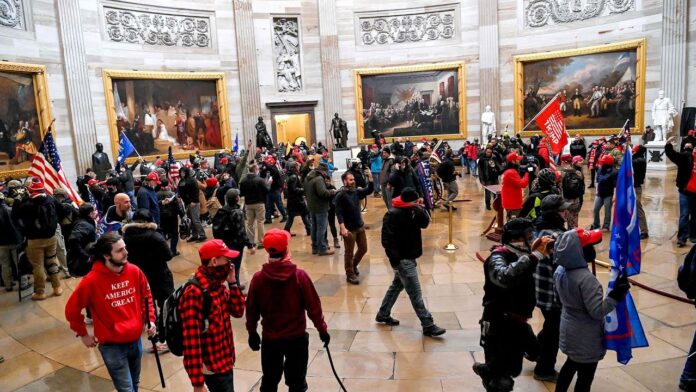 Violent scenes of chaos broke out at Capitol Hill in Washington DC today as pro-Trump protestors stormed the building, resulting in the fatal shooting of one woman. The female protestor was reportedly shot by a law enforcement officer after she tried to climb onto a ledge above a doorway to enter the congress room, according to NBC. She passed away in a DC hospital two hours after being shot. Three others also passed away during the horrific attack on America's iconic building, from medical emergencies.
The riot broke out after President Donald Trump held a rally outside the White House with tens of thousands of supporters, where he again falsely claimed he had won the US Presidential election.
His angry and armed supporters stormed the Capitol building to stop congress where a debate was being held in the House and Senate to confirm Joe Biden's election win. Rioters smashed windows, climbed walls, forced doors open, and took photos of themselves inside offices.
A riot was officially declared and the capital was put under Lockdown, with a curfew that started at 18h00 local time and ends at 06h00 tomorrow morning. At least 1,100 guardsmen from the DC National Guard were deployed, on an instruction from Vice-President Mike Pence. The VP was praised for his handling of the situation. He said: "Peaceful protest is the right of every American but this attack on our Capitol will not be tolerated and those involved will be prosecuted to the fullest extent of the law."
At least 13 people have been arrested so far as police in riot gear attempt to clear the building. Some police have had to be treated for injuries. A police spokesperson said they have also seized at least five guns, and that all of the arrested people are from out of town.
Facebook and YouTube have each removed a Trump video for fuelling violence in the US. YouTube said the video "violated our policies regarding content that alleges widespread fraud or errors changed the outcome of the 2020 U.S. Election".
Trump's Twitter account has also been locked for 12 hours. Twitter flagged one of Trump's tweets as a "risk of violence". In the video Trump, instead of denouncing the violence, said: "We had an election that was stolen from us. It was a landslide election and everyone knows it, especially the other side. But you have to go home now."
Trump has been criticised for being slow to respond and ask the protestors to peacefully leave the area. President-Elect Joe Biden called on Trump to "step up". Trump finally released a pre-recorded message and tweeted: "Please support our Capitol Police and Law Enforcement. They are truly on the side of our Country. Stay peaceful!" And an hour later: "I am asking for everyone at the U.S. Capitol to remain peaceful. No violence! Remember, WE are the Party of Law & Order – respect the Law and our great men and women in Blue. Thank you!"
According to the BBC, "several Democratic lawmakers said they support impeaching Trump again after today's insurrection carried out by Trump supporters". Biden is due to be sworn in in two weeks' time.
Earlier today, the Republicans were further upset when the Democrats won both Georgia runoff Senate seats… meaning that the control of the Senate now goes to the Democrats.
Members of Congress are currently in a safe place at a secure location, and are reportedly determined to get back to on the Senate floor as soon as possible to complete their work tonight.
WATCH National Guard Troops Arrive at Capitol to Restore Order
Breakingviews – America's safe-haven status gets violent test https://t.co/O6yZHl7Wba pic.twitter.com/7JPNzCrn1A

— Reuters (@Reuters) January 6, 2021
President-elect Joe Biden slams 'assault' on the U.S. Capitol by pro-Trump supporters, says the 'scenes of chaos' don't reflect 'true America' pic.twitter.com/g15ZjV9MUS

— Reuters (@Reuters) January 7, 2021
I've seen a lot of photos today but this one really pisses me off

The underlying privilege seen in this picture is disgusting and I'm still infuriated with how today's events were handled compared to the BLM protests over the summer. America is far from great. pic.twitter.com/kOThGnxiKF

— Mat (@matchu_chutrain) January 6, 2021
Governors respond to violence at Capitol: "I never thought I'd see a day like this in America" https://t.co/XEKny1zqHL pic.twitter.com/o9WLamo3JI

— The Hill (@thehill) January 6, 2021
This is the America you want? If so, congratulations. People will start dying and suffering again. Violence, aggression and terrorism is not and never has been a good solution. What is currently happening in my country scares me. pic.twitter.com/nStT2XH9Nj

— azzie☆? (@WorldaboutAspen) January 7, 2021