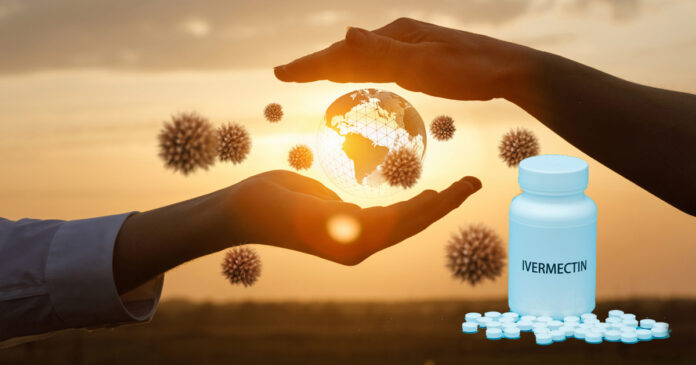 In June 2020, the first Ivermectin news that received public attention was a report that Ivermectin inhibited the replication of SARS-COV-2 in monkey kidney cells (1)… writes Justin Ward. This sparked considerable interest in the drug and over the next six months, many studies were completed including randomized controlled trials (RCT) as well as prospective and retrospective observational studies. None of these trials were funded by governmental institutions or pharmaceutical companies and thus the study sizes were relatively small.
In December 2020, Ivermectin began to gain traction in news articles worldwide. On the 18th December, a meta-analysis was published by Dr Pierre Kory of the Front Line Critical Care Group, a grouping formed to share information on the treatment of Covid-19 (2). In this meta-analysis, Dr Kory referenced 14 randomized controlled trials, 11 observational studies and 4 case studies and concluded that ivermectin should be recommended for the prophylaxis and treatment of COVID-19 and should be globally adopted with the achievable goal of saving countless lives and reversing the rising and persistent transmission rates in many areas of the world.
On December 21, The National Department of Health published a rapid review on whether Ivermectin should be used for managing COVID-19 patients compared to no intervention or an alternative intervention. Inexplicably, they only reviewed 4 of the 25 available studies and concluded that" the evidence of efficacy and safety is very uncertain at this point and that early phase studies were of very low quality and did not demonstrate any clear evidence of efficacy and safety"(3).
Ivermectin included by WHO as essential medicine
No clear evidence of safety? Ivermectin is included as an essential medicine by the World Health Organization (WHO) and has been used since 1987 in humans for the treatment of parasitic infections. It is estimated that more than 3.7 billion doses have been used in hundreds of millions of people.
On the 3rd of January Dr Theresa Lawrie of the Evidence-Based Medical Consultancy in the UK, published an independent meta-analysis including 15 of the available trials (4). She concluded "Ivermectin substantially reduces the risk of a person dying from COVID-19 somewhere in the region of 65-92%. "The only uncertainty in the evidence relates to the precise extent of the reduction, not in the effectiveness of ivermectin itself. Similarly, when Ivermectin is used as prophylaxis amongst health care workers and contacts, it is clear Ivermectin substantially reduces COVID-19 infections, probably in the region of 88% (82% – 92%)."
On 6th January 2021, The South African Health Products Authority (SAHPRA) issued "SAHPRA's Guidance on the use of Ivermectin in the Prophylaxis or treatment of COVID-19" (5). This recommendation was based primarily on the preliminary results of a meta-analysis of 18 RCT's conducted by Dr Andrew Hill of Liverpool University (6) in which Dr Hill stated that in 2282 patients Ivermectin treatment resulted in a 75% improvement in survival, faster time to clinical recovery and signs of dose-dependent effect of viral clearance. He did add however that "Despite the encouraging trend this existing data demonstrates, it is not yet a sufficiently robust evidence base to justify the use or regulatory approval of Ivermectin." Neither the FLCCC meta-analysis nor the meta-analysis of Dr Lawrie appear to have been taken into consideration by SAHPRA.
35 Ivermectin trials completed
To date, 35 trials including 17 randomized controlled trials have been completed and results made available (7). When looking at the weight of combined evidence in all of these trials it is very difficult to deny that Ivermectin reduces SARS COV-2 infections and mortality, although to what extent cannot be reliably determined at present.
On 27th January, under severe pressure from the public, health professionals as well as political parties and civil organizations, SAHPRA held a press conference and announced that it would allow Ivermectin to be used to treat COVID-19 in very exceptional circumstances and in an environment that is controlled. Healthcare professionals will be able to apply for a batch that can be used on particular patients when they can see the situation cannot be controlled using regular methods!
Thousands of South Africans needlessly died
SAHPRA this is too little and too late! Thousands of South Africans have needlessly died while our health authorities have postured, flexed their muscles and proved they are in charge. Ivermectin is most effective when used for prophylaxis and early treatment and less effective when the patient is really ill. By making health care professionals wait until the situation is out of control before seeking approval for emergency use is nothing short of stupidity and seems to be designed specifically to ensure the failure of the treatment.
Once again I have to remind SAHPRA of section 37 in the World Medical Association Declaration of Helsinki to which South Africa is a signatory (8):
"In the treatment of an individual patient, where proven interventions do not exist or other known interventions have been ineffective the physician, after seeking expert advice, with the informed consent from the patient or a legally authorized representative, may use an unproven intervention if in the physician's judgement it offers hope of saving lives, re-establishing health or alleviating suffering. This intervention should subsequently be made the object of research, designed to evaluate its safety and efficacy. In all cases, new information must be recorded and, where appropriate, made publically available."
The question we need to ask is whether SAHPRA is facilitating the application of section 37 above or putting hurdles in the way of the Doctors obligation to apply section 37 for the good of their patients?
Justin Ward has a background in engineering and biochemistry and is an avid follower of new trends in science and biochemistry.
References:
Caly, et al. (2020)  The FDA-approved Drug Ivermectin inhibits the replication of SARS-CoV-2 in vitro. Antiviral Research DOI: https://doi.org/10.1016/j.antiviral.2020.104787
Kory et al., FLCCC Alliance, Review of the Emerging Evidence Demonstrating the Efficacy of Ivermectin in the Prophylaxis and Treatment of COVID-19, https://covid19criticalcare.com/wp..axis-and-treatment-of-COVID-19.pdf
Therapeutic Guidelines Sub-Committee for Covid-19: Rapid review of Ivermectin for COVID-19_21 December 2020.
Lawrie et al., Preprint, Ivermectin reduces the risk of death from COVID-19 – a rapid review and meta-analysis in support of the recommendation of the Front Line COVID-19 Critical Care Alliance, https://b3d2650e-e929-4448-a527-4e..b655bd21b1448ba6cf1f4c59f0d73d.pdf.
SAHPRA's Guidance on the Use of Ivermectin in the Prophylaxis and Treatment of COV-19. 06 Jan, sahpra.org.za
Hill et al., Research Square, doi:10.21203/rs.3.rs-148845/v1, Meta-analysis of randomized trials of ivermectin to treat SARS-CoV-2 infection, https://www.researchsquare.com/article/rs-148845/v1.
WMA Declaration of Helsinki – Ethical Principles for Medical Research involving Human Subjects, wma.net