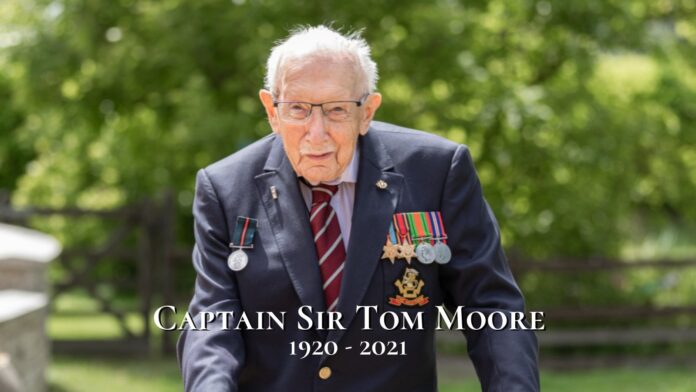 Queen Elizabeth II led tributes on Tuesday evening for Captain Sir Tom Moore, the 100-year-old war hero with youthful zest and determination who captured the heart of the nation, and the world, with his daily walks (with his zimmer frame) around his garden during the UK's first Lockdown, which raised almost £33-million for the NHS (National Health Service).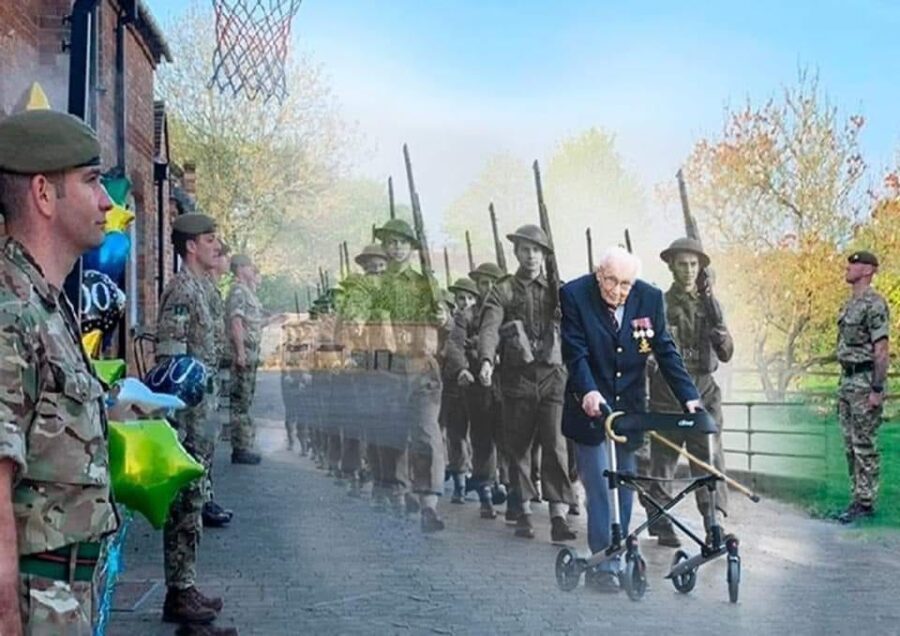 Sadly Captain Tom passed away today, Tuesday, in hospital after being admitted on Sunday because he was "requiring help with his breathing". He was surrounded by his family who said he had been suffering from pneumonia (and therefore missed out on getting a Covid-19 vaccine), and had tested positive for the coronavirus.
Tonight the Union Flag is flying at half mast in memory of the hero's life.
The Royal Family Twitter page said:
The Queen is sending a private message of condolence to the family of Captain Sir Tom Moore. Her Majesty very much enjoyed meeting Captain Sir Tom and his family at Windsor last year. Her thoughts and those of the Royal Family are with them.
The Queen met Captain Moore last year, on 17 July, when she conferred the Honour of Knighthood on him at an Investiture at Windsor Castle.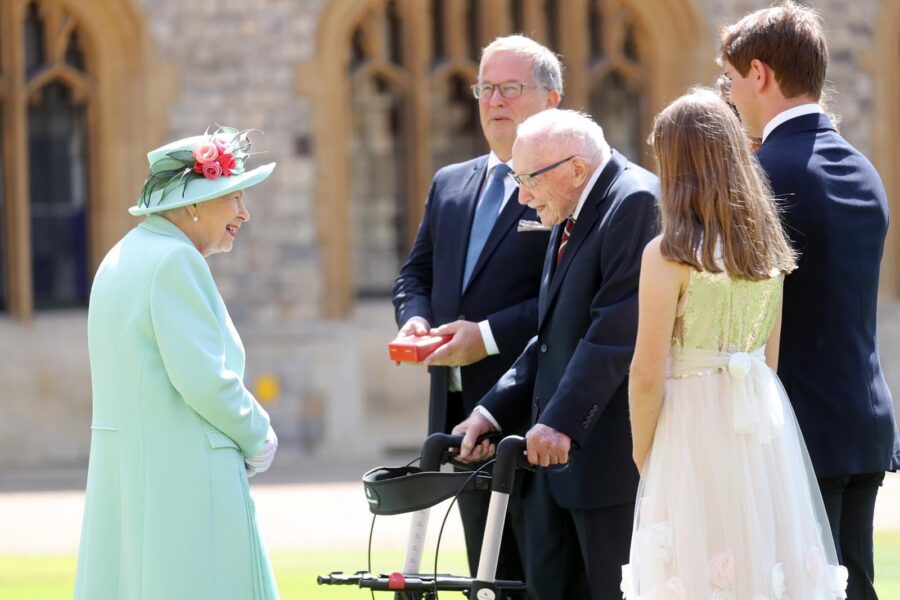 UK Prime Minister tweets
The UK's Prime Minister Boris Johnson said this evening that Captain Tom's legacy will long live after him. Johnson said:
Captain Sir Tom Moore was a hero in the truest sense of the word. In the dark days of the Second World War, he fought for freedom, and in the face of this country's deepest post-war crisis, he united us all, he cheered us all up, and he embodied the triumph of the human spirit.

It is quite astonishing that at the age of 100 he raised more than £32 million for the NHS, and so gave countless others their own chance to thank the extraordinary men and women who have protected us through the pandemic.

He became not just a national inspiration, but a beacon of hope for the world. Our thoughts are with his daughter Hannah and all his family.
He lived his life to the full, visiting Barbados just before Christmas to tick it off his 'bucket list'.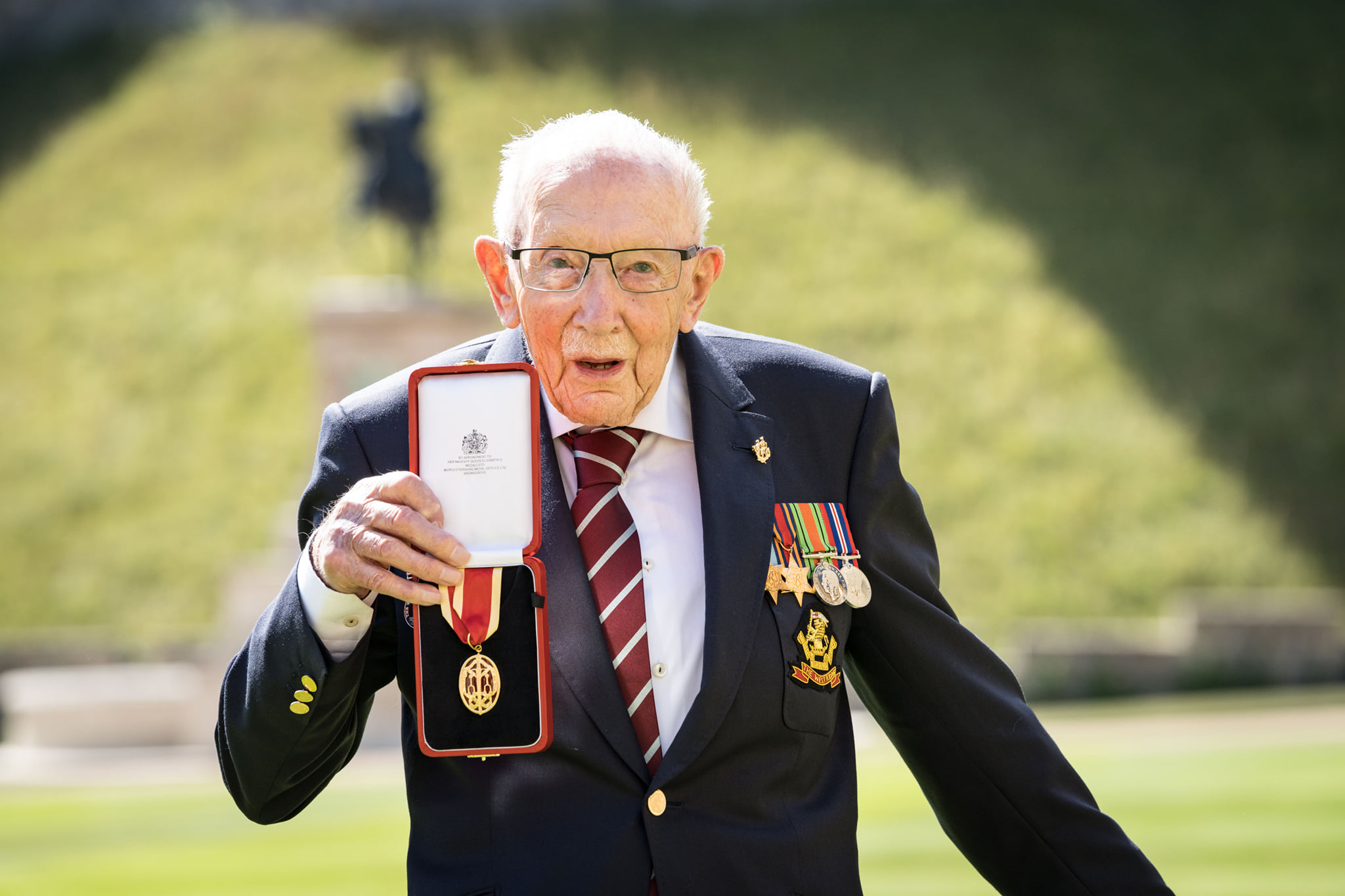 Tributes for Captain Sir Tom Moore
Tributes have poured in from royalty to politicians to everyday people who were inspired by his indomitable  spirit. Here are just some of the comments from ordinary citizens:
"Stand down Sir Tom, your mission is complete 😕 RIP"
"In the Arms of the Angels.. Captain Tom has left a legacy of kindness thoughtfulness and courage .. Rest In Peace x"
"Sad news but he reached a wonderful age and did so much especially in his last year."
"My thoughts are with his family but he is an inspiration to be followed in his memory for all of us. Rest easy Sir.x"
"RIP Captain Sir Tom Moore. An officer and a gentleman. A national hero and inspiration. I read your book and what an amazing life to have led. Fly high with the angels. 😢 xx"
Captain Sir Tom Moore was a hero in the truest sense of the word. His legacy will long live after him. pic.twitter.com/0Zn56gThCC

— Boris Johnson (@BorisJohnson) February 2, 2021
Surge testing in England where South Africa variant identified
Meanwhile in some parts of England, surge testing is being undertaken where the Covid variant that was discovered in South Africa, has been identified in 11 sample patients (meaning far more actually have it). The UK's Health Secretary Matt Hancock has asked people in those areas to stay at home.