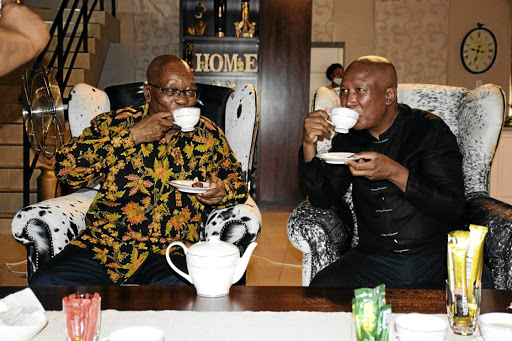 The DA has written to the Speaker of the National Assembly, Thandi Modise, requesting a full investigation into exactly how and who paid for an "extravagant" trip by Economic Freedom Fighter (EFF) Julius Malema and others to the home of former South African President Jacob Zuma in Nkandla, KwaZulu-Natal, on Friday. The insinuation is that it was perhaps tax payers who footed the bill for Malema and his entourage to helicopter in for the 'tea party'.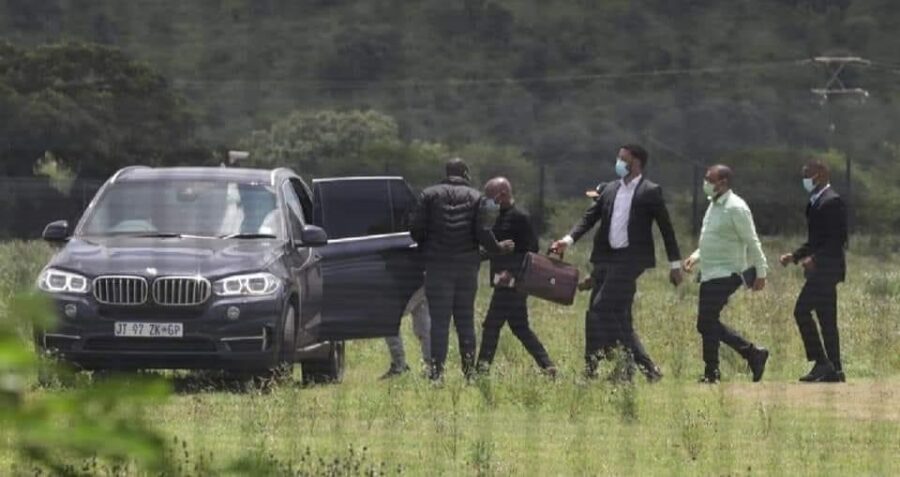 DA Chief Whip Natasha Mazzone said in a statement that the Speaker has the authority to request investigations into all travel claims made by members of Parliament, and to report any abuse of resources allocated to any current or former MPs.
The DA's letter comes following the appearance of several photos and video in the media, and on social media, where Malema is seen, accompanied by a large delegation, at Zuma's notorious home.
According to a City Press report, it has been alleged that Malema's trip to Nkandla was "to persuade former president Jacob Zuma that cooperating with the Zondo commission would strengthen the fight against President Cyril Ramaphosa, a concerted battle that the red berets would gladly join."
President Ramaphosa has said that Zuma should be given time and space to make a proper decision about appearing before the State Capture Commission, according to the SABC.
Mazzone listed the following government employees seen in the photos at Nkandla:
Julius Malema MP (Member of the National Assembly and leader of the EFF party);
Cllr Mzwandile Masina (Mayor of Ekurhuleni Metropolitan Council);
Vuyani Pambo MP (Member of the National Assembly);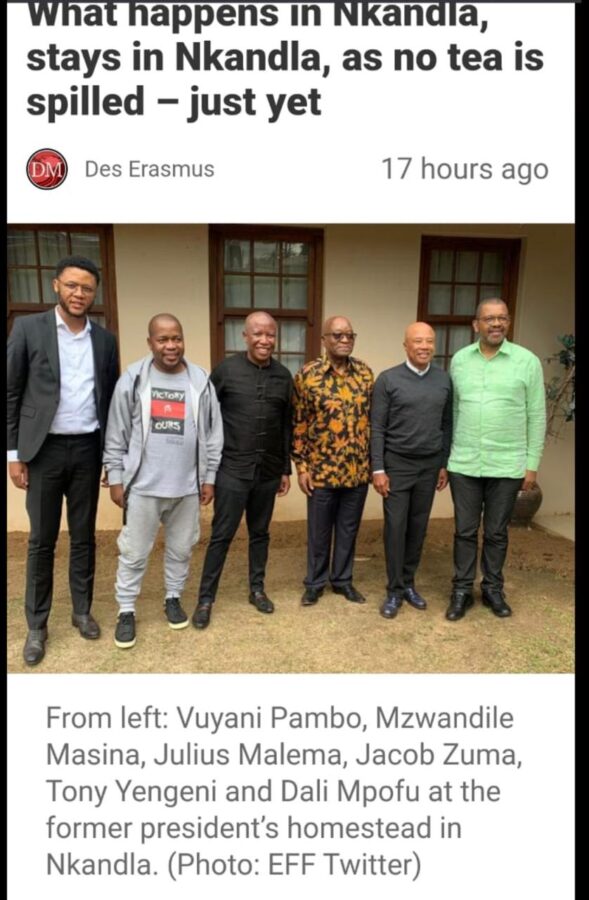 Others in the photos include:
Ex-President Jacob Zuma;
Tony Yengeni;
Dali Mpofu
Nkandla Tea Party questions requiring urgent attention
Mazzone says the following questions require urgent answers:
Were any official travel entitlements used to fund the visit?
Were any vehicles of VIP protection service used to transport any of the guests to and from Nkandla?
Were any benefits received in terms of travel or hospitality that require a declaration to be made in the register of Members Interests in Parliament.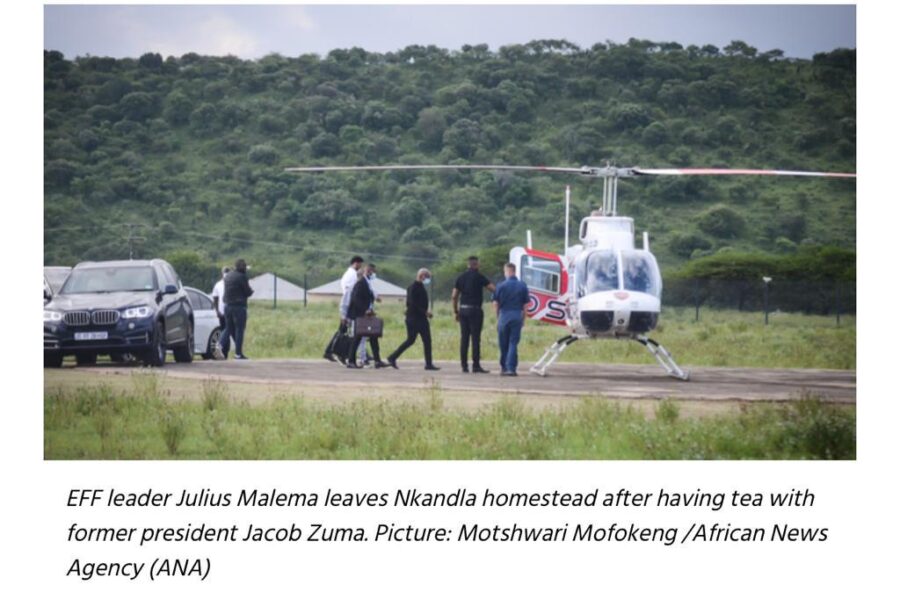 Mazzone said: "As members of Parliament, we have an absolute responsibility to ensure that at no time is the South African taxpayers' money abused or wasted. We have a duty to ensure that this tea party in no way, cost the economy of South Africa a single cent, that could have been used to purchase vaccines for the people."
In response to the DA's question as to who funded the Nkandla Tea Party, Malema has apparently told the official opposition party to "voetsek", according to News24.
The South African Council of Churches and others have warned of serious implications if Zuma does not appear at the Zondo Commission. Tonight Carte Blanche investigates what it means if the person who once occupied the country's highest office and swore to uphold the Constitution, can ignore a ruling of the highest court to answer questions on his conduct and decisions in office? Zuma claims he is being victimised by the state, harking back to apartheid judicial practices that targeted specific individuals. As he signals his defiance of the Commission of Inquiry into Allegations of State Capture to appear before it from the 15th of February, Carte Blanche tonight (Sunday 7 February) previews the Commission's options as it sets out to lay a criminal complaint against Zuma. Watch in SA on DStv Now | If you live abroad: Watch the show from Tuesdays on Showmax International 
WATCH: Earlier, after landing in a helicopter, EFF leader Julius Malema, accompanied by Dali Mpofu, entered the Zuma homestead in Nkandla where he's having tea with former president Jacob Zuma. #ZumaMeetsMalema #TeaWithZuma pic.twitter.com/SdVqOqT3Zt

— EWN Reporter (@ewnreporter) February 5, 2021