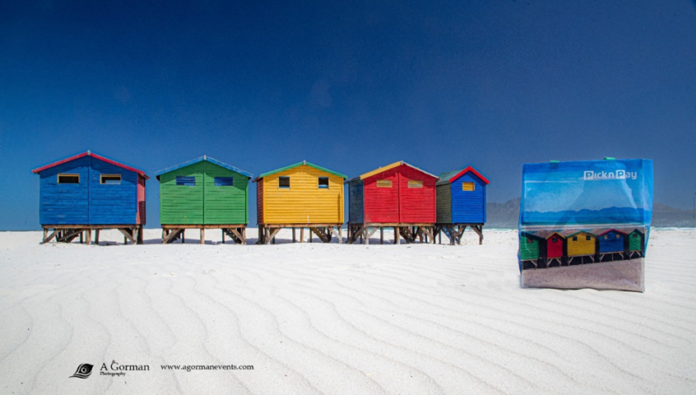 Pick n Pay is today launching a fantastic new recycled shopping bag to raise funds for the 'Save our Beach Huts' initiative, a project aimed at restoring the iconic 36 beach huts in Muizenberg and St James which have fallen into disrepair.
The huts, which are strongly rooted in Cape Town's heritage, are featured frequently in tourists' Instagram posts, and used to advertise SA's beautiful beaches abroad, but their future was in jeopardy until Southern Suburbs photographer (and regular SAPeople contributor) Angela Gorman launched the Save Our Beach Huts campaign in September last year. One hut has already been saved and restored to its former glory, thanks to the donation of time, labour and services by various companies.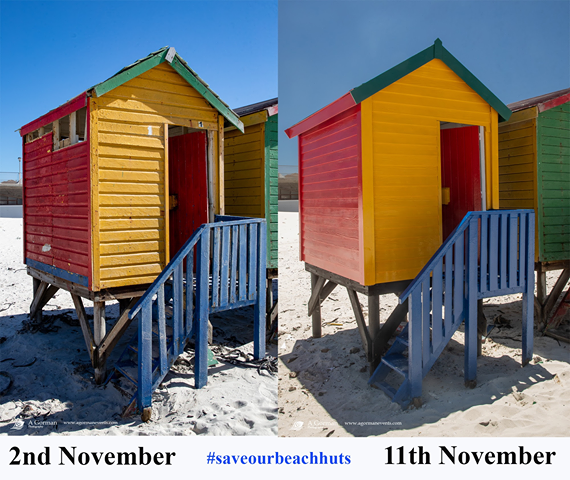 Today the campaign gets a nationwide boost with Pick n Pay's limited edition reusable bags… which each showcase a beautiful print of the iconic beach huts. The PnP bags will be available in selected stores nationwide for just R30.
"The Save our Beach Huts reusable shopping bags will help protect a landmark in Cape Town – favourably known and recognised by locals and tourists alike – but also do an important job of protecting the environment," says Andre Nel, PnP's General Manager: Sustainability.
"Pick n Pay's range of reusable bags are made from 100% recycled PET plastic and through the sale of these bags, we have been able to support a range of causes, ranging from environmental, food security or those with a social impact."
Angela is appealing to the community to support this project and immediately thought of Pick n Pay after they did a limited edition RPET bag for SANCCOB last year which raised funds and awareness. She therefore approached PnP to create a Save our Beach Huts statement bag of its own.
"Proceeds from each bag goes to Save Our Beach Huts," Angela told SAPeople. "So with their contribution we will be able to refurbish two more huts!!"
The cost to restore each beach hut depends on the severity of damage, and Gorman says many are in a terrible state of despair. "From a distance, the huts may appear fine, but on closer inspection, you can see the years of neglect. There are up to three different layers of paint peeling, planks are missing and stair treads are broken. Some huts no longer have doors or windows, or floorboards and side planks have disappeared."
She says that they are taking a different approach to the restoration to ensure longevity. "Instead of sanding and repainting the huts, we are completely cladding the huts in Nutec board which is light in weight and watertight, as well as fire, fungus and rodent resistant too.
"It is amazing to see how communities are rallying behind our project," says Gorman.
Companies rally to support Save Our Beach Huts
The Butterfly Art Project in Vrygrond have offered to make ceramic earrings depicting the beach huts to sell with a percentage coming to the project, and a sewing group in Nyanga will make tea towels with embroidered beach huts on them. Everite SA have also undertaken to supply all the Nutec board for all of the huts. The City Council has offered to paint five huts, and two Muizenberg paint contractors have offered to supply paint and labour for a hut each!
Angela told SAPeople: "I would love other companies to come on board and either offer their services or donate to our fund. We would love to complete all 36 huts by the year end."
Any corporate or individual wishing to get involved can contact: saveourbeachuts@gmail.com / 079 504 1933, or donate here: https://www.backabuddy.co.za/champion/project/save-muizenberg-beach-huts