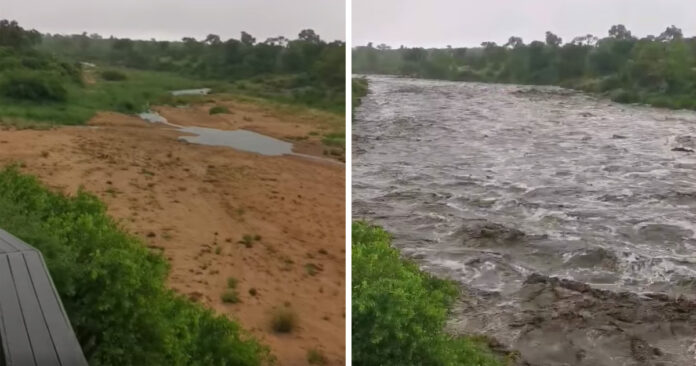 A family from Hoedspruit have captured the amazing moment that a Kruger National Park river, in South Africa, went from being a dried-up river bed to a raging torrent. Watch the video below.
Rulene Stephens told SAPeople: "It was an amazing once-in-a-lifetime experience! I've seen many rivers come down, but nothing like this."
The incident took place on 31 January at the Biyamiti River, just north of Afsaal, during the recent rains that fell following ex-Tropical Cyclone Eloise. In just four minutes the river was flooded from the picture on the left (above) to that on the right.
"We have a family member that works at Jock Safari Lodge," Rulene says. "He was taking us on a game drive when he heard on the radio that the river was coming down. We rushed to the lodge to watch, and were just on time!"
Some of Rulene's classic comments can be heard in Afrikaans – "hier kom hy – flip, dis baie water" (here it comes, flip it's a lot of water) and 'Jussie, dis amazing'. As she says there was 'verskriklik baie water' (an awful lot of water).
Rulene's husband, nine-year-old daughter and friends' children can be heard excitedly in the background as they witnessed their best sighting of the day!
WATCH VIDEO Kruger National Park Biyamiti River Flood
If your device cannot view the video above, please try below: