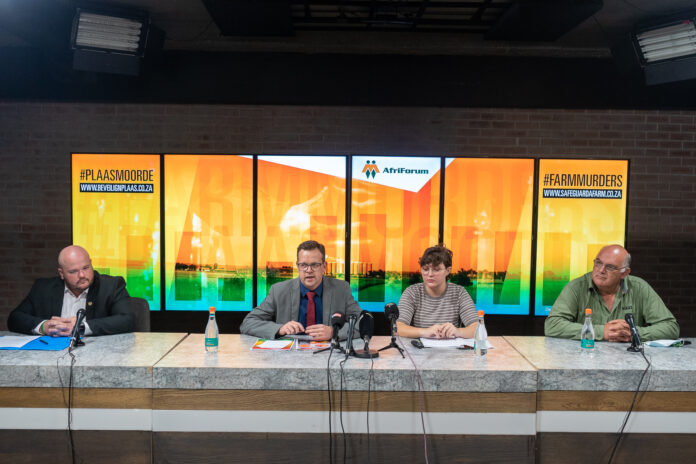 The latest farm attack and farm murder statistics for South Africa show that the crime continued relentlessly despite the Coronavirus pandemic and ensuing Lockdowns leading to an overall decrease in most other crimes.
AfriForum on Wednesday released comprehensive farm attack and murder statistics for 2020, revealing that there were almost 20 more farm murders in 2020 than the previous year.
"AfriForum's research reports 63 farm murders in 2020, as opposed to 45 farm murders in 2019," says Andrea Muller, a researcher at AfriForum.
AfriForum's findings on SA farm murders in 2020 included that:
Despite many protests, including in Senekal, the SA government has still not classified farm attacks as a priority crime; and while the police minister did visit some victims, nothing has been done to prevent further farm attacks, says AfriForum.
There were 382 confirmed farm attacks during 2020, which is a decrease from 511 farm attacks that occurred in 2019. This drop is attributed to Lockdown.
The attacks were not less violent. Many attacks were extremely violent in nature, and victims were tortured and left traumatised.
There were 63 confirmed farm murders during 2020, which is a sharp increase from 45 murders in 2019.
January was the only month in which no farm murders were recorded, while most murders occurred in December.
Most farm murders were committed in KwaZulu-Natal (KZN), Gauteng and the Free State. No farm murders were committed in North West (although there were attacks).
The high incidence of farm murders in KZN is great cause for concern. Fifteen farm
murders were recorded in 2020, compared to six in 2019.
Gauteng follows closely in second place with 14 murders during 2020, an increase from five farm murders in 2019.
Most of the incidents were committed on Mondays, followed closely by Saturdays. Wednesdays saw the lowest number of attacks.
Most farm murders were committed between 19:00 and 03:00… when most victims are vulnerable – most likely asleep – and are caught off guard.
Almost a quarter of murder victims were between 60 and 69 years old, whereas the majority of victims (63%) are older than 50 years.
On average, there were between two and three attackers per incident, while the number of attackers varies from one to five attackers per incident… although victims may not always remember clearly or have seen attackers that were perhaps waiting outside.
At least one form of torture was inflicted on victims in 20% of the incidents. Forms of torture include burning, beating or stabbing the victim to death. In some incidents the body of the murder victim was displayed by the perpetrators (on a pole or tree).
Weapons used in the attacks vary from firearms and knives to blunt objects. Some victims were also beaten and/or kicked to death. Attackers often use any available object to kill their victims. Attackers also use household items to tie victims up, such as phone chargers, shoelaces or any wires or cables available to them.
In 25% of incidents, vehicles were stolen. The attackers often use the vehicle only to flee the scene, and the vehicles are later found abandoned. Cell phones and firearms (pistols, shotguns and rifles) were the second-most stolen objects. In four incidents, nothing was stolen from the scene.
Safeguard a Farm campaign
AfriForum also announced its strategy to curb farm attacks and launched the Safeguard a Farm campaign in cooperation with Saai. The campaign aims to provide farmers with the necessary training to enable them to take their safety into their own hands.
"Although farmers are increasingly more vigilant, it is AfriForum's aim to make them and their families more defensible against farm attacks. AfriForum will continue to drive projects, actions and campaigns to improve the safety of our farmers and support them where we can," says Marnus Kamfer, AfriForum's Legal and Risk Manager.
The training includes:
Safety assessment of farmsteads
Training in basic first aid
Weapons training
Supplying analogue radio systems and radio training
"Government cannot continue to ignore the impact of farm attacks and murders on its victims and their communities," Muller concluded.