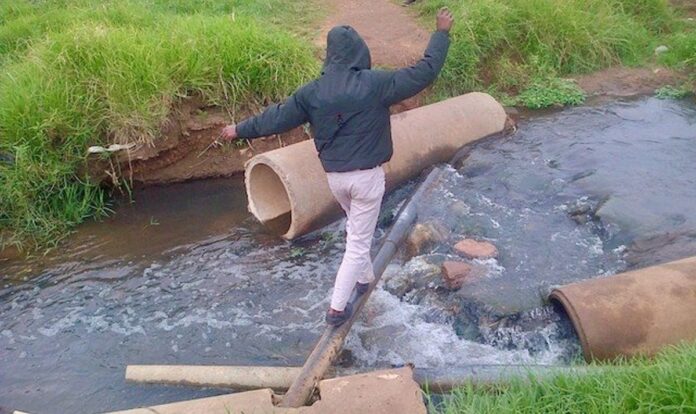 In June last year, GroundUp wrote about pensioner Amos Khumalo, who used his state pension to build a bridge so that his wife could safely cross a fast flowing stream to Bara taxi rank from Elias Motsoaledi informal settlement in Soweto.
A bridge built by a pensioner in a Soweto informal settlement has washed away.
PPC cement is willing to replace the bridge with a more secure one, but has been waiting for months for approval from the city council.
People now have to cross balancing on a thin pole, making it nearly impossible for many to cross.
All the 62-year-old wanted was ten bags of cement to complete his ambitious project. Construction giant PPC read our story and offered to help by rebuilding the Khumalo bridge from scratch. The company offered its proposal to Councillor Grace Badi, but is still waiting for approval from the city council.
Meanwhile, in the second last week of November, after holding up for months, the incomplete bridge was washed away, once again cutting the community off.
"A tractor was working on a sewage pipe from Bara hospital … the water pressure from the unblocked pipe was too much for my bridge. It was nearing midnight when I heard a loud bang coming from the collapsing bridge, but there was nothing I could do," said Khumalo.
Resident Bulelani Bandla said, "Since the bridge collapsed last year November our toilets are overflowing because the toilet truck used the very same bridge built by Khumalo to cross over."
People now cross, balancing on a thin pole across the stream. It is hardly possible for elderly people.
Elias Motsoaledi informal settlement is a vibrant area at the back of the famous Chris Hani-Baragwanath hospital, near the two giant iconic Soweto towers where tourists bungee-jump.
"I'd really like to rebuild my bridge with the help of PPC since they promised to lend a helping hand last year when they came to inspect my bridge. For now I need six pipes, concrete beams, steel pipes, bricks and ten bags of PPC cement; three workers that I'll pay at least R100 per day from my R1,760 state pension," said Khumalo.
"PPC said they will get back to me, but I have not heard anything from their side," said Councillor Grace Badi. "That land is under Human Settlement development and I have no say at all."
But PPC general manager of inland sales Rajesh Harripersadh said: "Since August 2020, PPC has engaged with Councillor Badi to request permission to assist in the building of the footbridge in Elias Motsoaledi informal settlement. PPC has been provided with a recommendation letter that has been submitted with PPC's proposal by Councillor Badi on our behalf to Johannesburg Property.
"While we wait to get the relevant approval from Johannesburg Property we would like to assure Amos Khumalo and the residents of Elias Motsoaledi informal settlement of our commitment of empowering the community to experience a better quality of life. This commitment will be fulfilled, should we get the relevant permission and approval to begin working on the footbridge."