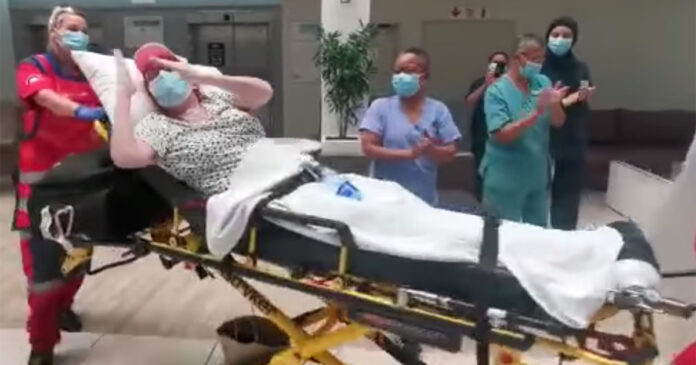 The most heartwarming video to come out of South Africa this week has been the footage of Kathy Wootton being wheeled out of the Intensive Care Unit (ICU) at Kingsbury Hospital in Cape Town… waving gratefully, and being cheered on by healthcare workers, after two months in ICU.
Posting the video to Facebook, Kathy said simply: "My Covid experience is too surreal to talk about but this I have to share. It's me (on the gurney) leaving Kingsbury after a record breaking 65 days in ICU. I will never forget this ❤️"
Her sister, well-known writer and editor Helen Moffett, wrote "Sometimes, there are happy endings" on her Facebook page, where she had already praised the staff at Kingsbury for the "heroic measures they took to save Kathy's life – they fought like tigers to save her. How do you thank people for something this huge?"
She quoted the words of the poet Sheenagh Pugh: "Sometimes things don't go, after all, from bad to worse… The sun will sometimes melt a field of sorrow that seemed hard frozen; may it happen for you."
Kathy has been transferred from ICU to "step-down care".
The video captures the moment she was wheeled out of ICU to discover about 30 staff cheering her on… and another 30 on the mezzanine level. That wasn't all.
Helen wrote: "When the lift doors opened on the ground floor, almost the entire hospital staff were waiting, whistling and cheering and applauding in the foyer. It must be so wonderful for them to have a happy ending. Their real joy is overwhelmingly moving."
Helen added that she wished she was "rich enough to send an Uber delivery of delicious food to the family of every single person who looked after her, from the porters and cleaners to the cardio-thoracic surgeons to the physiotherapists."
WATCH Hospital Healthcare Heroes Cheer Recovered Patient After 65 Days in ICU
As Helen says, these dedicated healthcare workers are heroes! She urges people everywhere to please "wear a mask and stay home if you can – for their sake."
So far, there are over one million people in South Africa (1 403 214) who have beaten COVID-19, representing a recovery rate of 93.6%. Thank you to all the healthcare workers helping make this possible!