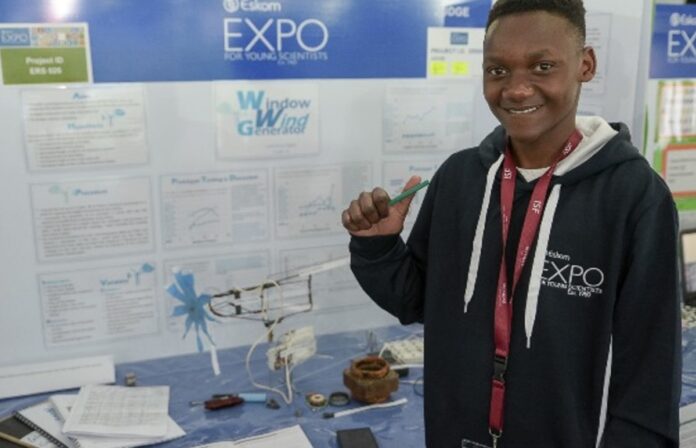 Lebohang Ngake from Botshabelo in the Free State has received raving reviews for a video he created introducing the popular TANKS coding game in a fun, creative way. "We know that our target audience is learners, and therefore we are extremely excited with the video Lebohang created," says Prof Jean Greyling from Nelson Mandela University, who coordinates a project aimed at introducing learners and teachers to coding.
Video Director and Producer, Mark Klein says: "Refreshing to see how creative (Lebohang) is with simple equipment and effects. It is an amazing promo, which has enlightened me enormously regarding what kids want now." Mark is a Winner of the Golden Camera Award from the US International Film & Video Awards in Hollywood.
Speaking at the 2021 Virtual Basic Education Lekgotla last week, President Cyril Ramaphosa said the Department of Basic Education is making headway in the national roll out of the new Coding and Robotics Curriculum for schools.
According to Prof Greyling, the biggest challenge regarding the roll out of this plan, is thousands of schools without computer labs, as well as the vast majority of teachers who do not feel equipped to teach Coding and Robotics. However, there is a solution. Prof Greyling says: "We have just completed a series of four online workshops aimed at introducing coding without the need of a computer, as well as empowering teachers who do not have previous coding experience. The response was overwhelming with over 500 registrations. Consequently, we are now planning physical workshops across the country.
After the very successful Zoom series, Prof Greyling will next week start with his CODING UNPLUGGED road show, visiting eight different venues across the country. See details below the video.
Lebohang's previous achievements
Lebohang has shown his talents before through achieving in two national competitions. As a grade 10 learner from Setjhaba-Se-Maketse Combined School in Botshabelo, he came up with a brilliant idea: he used rubbish from the dumpsite next to his shack to build a prototype that is clipped onto a window of a moving vehicle. "When the wind particles collide with the turbine, it creates kinetic energy which is converted into electrical energy by the generator. The regulator is used to regulate the power generated to charge a mobile device," Lebohang explains. (See the project here.)
He won a gold medal for his project and was awarded the Eskom Expo Best Development Project at the 38th International Science Fair. 512 finalists from 35 regions across South Africa and other countries such as Mexico, Ghana, Namibia, Kenya, Nigeria, Zimbabwe, Mozambique and Tanzania competed.
In 2020 Lebohang was one of two national winners in the #EskomExpoTurns40 Video Competition. The aim of the video competition was to celebrate Eskom Expo for Young Scientists' 40th anniversary and for past Eskom Expo participants to inspire aspiring young scientists to take part in Expo.
YouTube has been Lebohang's inspiration
Lebohang grew up in Botshabelo. YouTube has been a great inspiration for him – he also learnt from YouTube how to make movies. His slogan is "Knowledge! I learn, you learn, win win, feeding the brains. It's brain time!"
He has used videos not only to share school work related content, but also, for example, how to make something useful from e-waste found on rubbish dumps. "My future dreams include to become a movie director and producer as well as reaching out to more people, finding simple ways to explain complex physics problems. I believe we struggle to tell a story with scenes that are interesting to watch. We also need to create our own movie culture – blending it with Western or Hollywood culture is not good enough."
WATCH VIDEO: This Game Called TANKS Makes Computer Coding Easier
Coding Unplugged Roadshow
After a very successful Zoom series introducing unplugged coding, Prof Greyling will soon start with his CODING UNPLUGGED road show, visiting 8 different venues across the country. Details here: