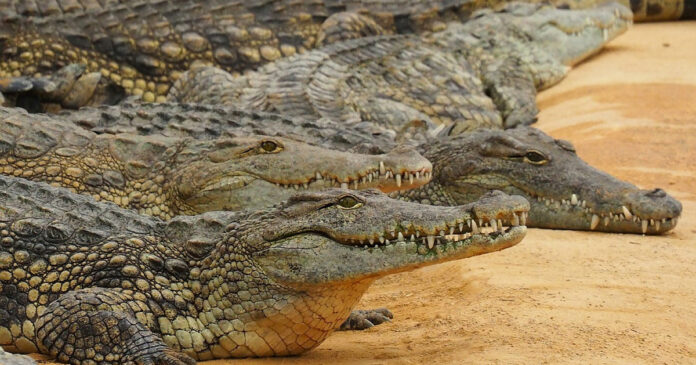 Yesterday – Wednesday, 3 March 2021 – an unknown number of juvenile Nile crocodiles escaped from a legal breeding facility outside of Bonnievale in the Western Cape of South Africa, and although some have been recaptured it's not known how many are still on the loose!
In a message on social media, Cape Nature says the public is "urged to not attempt to approach any crocodiles". Swimming in the Breede River over the next few days is also discouraged.
Cape Nature is leading a team effort with the facility owner, local landowners and the South African Police Service (SAPS) to recapture the escaped crocodiles. So far 27 crocodiles have been recaptured and returned to the facility.
Locals are particularly urged to stay clear of the Breede River up to 5km upstream towards Robertson and 5km downstream towards Stellendam. This is the team's key area for surveillance and capture.
Landowners and community members on the riverbank in this part of the Cape Winelands district have been informed of the situation.
SABC reports that Western Cape Environmental Affairs spokesperson, James-Brent Styan, said the young crocodiles range in size from one-point-two metres to one-point-five metres.
He said: "They have in all likelihood found their way into the Breede River, which does pass close by the vicinity of where these crocodile managed to escape. (Humane) Cages and traps have been set to catch the escapees who remain on the run. The operation will continue until all the crocodiles have been captured. People in the vicinity are urged to keep an eye out for crocodiles and to contact the authorities in the event of spotting any of these animals."
If you're in the area, please report any sightings to the Bonnievale SAPS on 023-616 8060 which has set up a dedicated task team to deal with this incident.