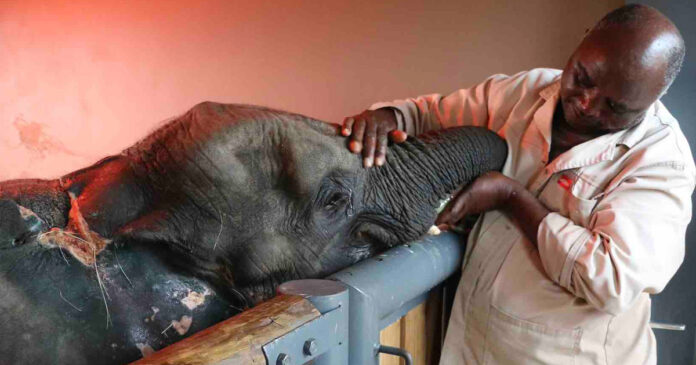 The orphaned elephant calf, Fenya, who captured the hearts of locals in Hoedspruit, South Africa, and social media users worldwide with her brave battle to survive – after falling victim to snaring – has tragically passed away, leaving the team who valiantly tried to save her absolutely gutted. Watch a tribute video to Fenya below.
South Africa's first elephant orphanage, HERD (Hoedspruit Elephant Rehabilitation and Development), announced in a statement:
"It is with deep sadness that we share the passing of Fenya, an orphaned elephant calf that was found and rescued on 17 February 2021. The young calf fought so hard and so did our team, who worked tirelessly over the past few weeks to try to save her precious life."
The young elephant was brought into HERD's care by a resident of Mahlathini Private Game Reserve, located close to Phalaborwa, who rescued her.
Adine Roode, founder of HERD, together with wildlife veterinarian Dr Peter Rogers and the dedicated team of elephant carers at HERD fought day in and day out to gain her trust, and provide her with treatment and care.
Blood tests were taken which showed very low albumin levels and a low red blood cell count which accompanied her severe dehydration and emaciation… from being alone with the snare around her neck for an estimated one to two months.
The wounds were extremely deep and wide, with bad degradation by maggots that were eating the rotting flesh, both inside and outside the wounds, the worst being around her trachea, leaving a gaping wound, 15cm wide, said HERD.
A blood transfusion was given from one of the older female cows from the Jabulani herd, to assist with her albumin levels. This made a positive impact for short periods of time, but her condition continued to weaken in the days that followed, despite numerous drips and supplements given by the veterinarian team.
"On Thursday, 11 March 2021, Fenya sadly succumbed to the horrific wounds caused by a poacher's snare and the effects of numerous weeks of dehydration and starvation that ensued her entrapment, as it seems she had either been separated or abandoned by her herd," said HERD in the statement.
"Elephants are highly emotional animals, with stress and trauma having extremely adverse effects on their physical wellbeing being too."
WATCH Herd's Tribute to Elephant Orphan Fenya
The HERD team, who went above and beyond to save Fenya's life, say they will learn with "greater insight into these types of unprecedented delicate situations with elephant calves". (Donate to HERD here.)
Devastating impact of snare hunting, a growing problem with unemployment
Sadly, illegal snare hunting is on the increase, with the growing percentage of unemployment and increasing population numbers in South Africa being a major factor.
"Many communities are hungry and desperate and will continue to hunt our wildlife through snaring, to be able to survive," says HERD. "It is a rising threat to our precious and vulnerable wildlife populations and one that sadly claimed Fenya's life."
HERD said: "Fenya's body has been laid to rest on the reserve. We are grateful for the phenomenal support of our experts, partners, donors and supporters around the world. We hope this loss will help to cast a greater light on the devastating effects of snaring."
HERD's Founder pays tribute to Fenya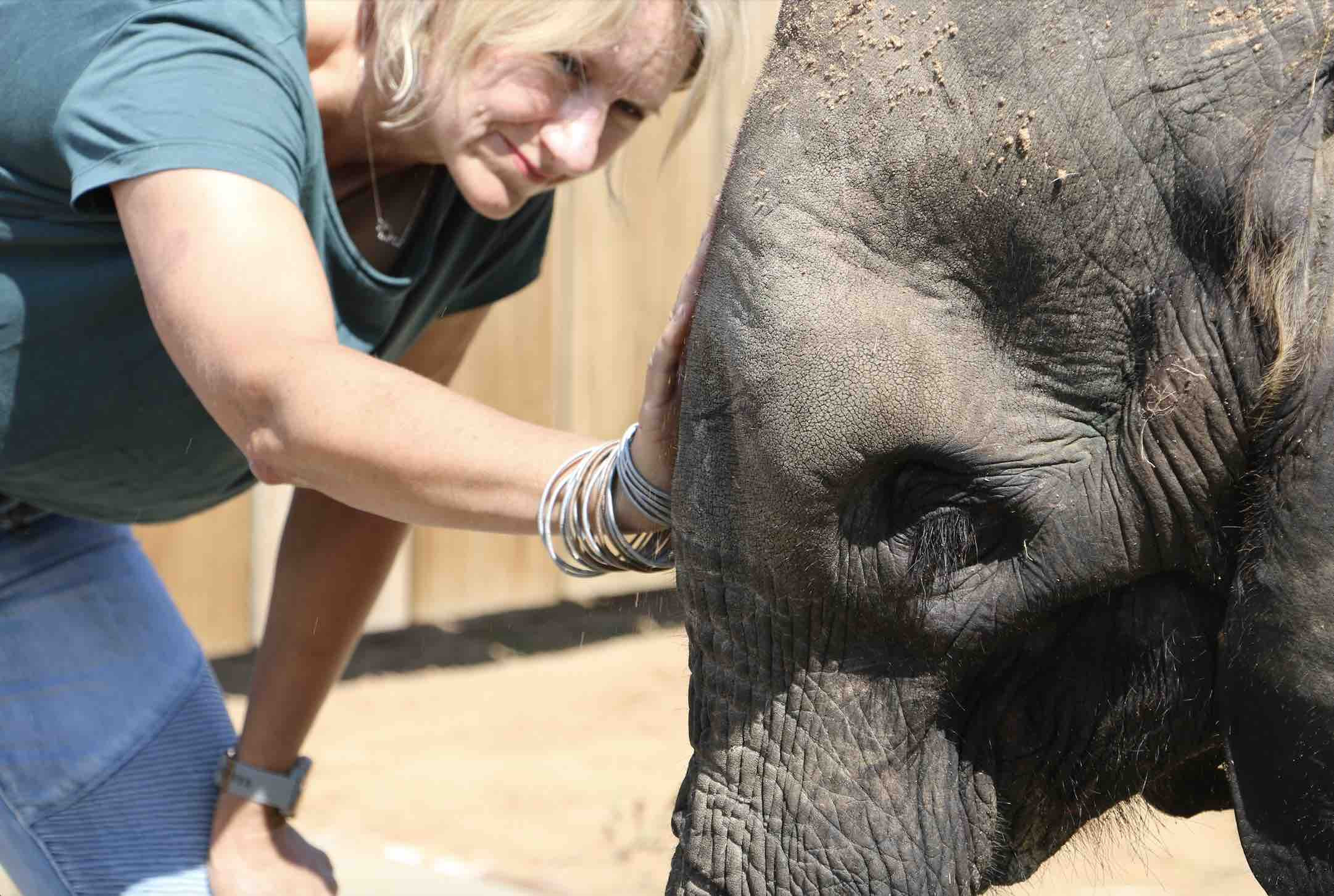 Adine Roode explained that Fenya means Survivor. "It's ironic, but we knew that the little calf had already faced almost two months of being a Survivor, surviving the grip of the poacher's snare, alone, starving and injured, and we wanted to believe with our whole hearts that she could survive the months and years ahead. We wanted to believe that she had it in her, that spirit to fight. But her body was just too battered to keep up with her soul. She is a soul survivor, in my eyes.
"It wasn't easy to become her friend in the beginning. It wasn't easy later on either. I realise in hindsight that she didn't really want to become friends with us, not fully, not with her whole guard down, as she might have known, felt and seen more than we ever have when it comes to the cruelness of the world.
"Hindsight is always the best sight, Dr Rogers says. At times I really thought that she would pull through and I think she felt that too. That will to heal. Those were the times when she took the bottle with ease and drank great mouthfuls, when she allowed me to clean her deep wounds which were bigger than my two fists together. The trauma cream helped ease the pain; she would often close her eyes as I applied it and I could almost feel her relief. The HERD team worked hard without stopping. We worked in a heat wave, when the power went out, through lunch and dinner, when Fenya needed immediate assistance, and we did it for her. Not for any other reason.
"I'm so in awe of the selflessness of my team and for the around-the-clock care and support they provided, along with the incredible assistance from Dr Rogers and his team. We do this work because we believe that we must contribute to help make this battered world a better place. Although I am extremely saddened by Fenya's loss, as are my entire team, I am confident that we did our best and that her body was simply too battered to carry out the dreams that we all had for her. The power of one is boundless, imagine the power of many.
"This power can be used to do such good, as we have seen, but it can also destroy. The power to destroy has fatal consequences and the reality is devastating. This is what ended the life that Fenya was meant to lead, with her herd in the wild.
"People are hungry. People are desperate…"
"People are hungry. People are desperate and will do what they can to survive. But we can't stop trying to right the wrongs.
"Fenya'tjie, you filled and absorbed our hours, our days, our weeks. You taught us so much and showed us great glimmers of the beauty of your species. Even in the sadness, we continue on… to help those still with us, to care for them, witness the joy of life through them and with them. You never met your new herd, trunk to trunk. But they were aware of you and you were aware of them. They were waiting for you to recover, to make it through the ICU. They huddled around, stayed close, waiting to embrace you.
"The herd didn't get to meet Fenya close-up, tusk to tusk, and I'm relieved for them that they don't have to mourn her, that, being such sensitive creatures, they don't have to share our pain. It's never good to rush the process. You need to feel to heal. I hope you all take some time.
"Personally, I will be with my human children for a few days. I am grateful for everyone who has sent wishes, advice, questions and opinions. Thank you for your research, for sharing and caring. Every bit will assist in the future. I am focused on writing it all down… Fenya's journey, the ups and downs, the immense data gathered by my team and me over the past three weeks.
"Our HERD team will continue sharing content with you, from Fenya as well as Khanyisa and the herd, for you to watch and follow and enjoy, while we all recoup and heal over the loss of the little life lost. Once again thank you for every prayer, thought and wish. 🙏🏽💖🙏🏽"