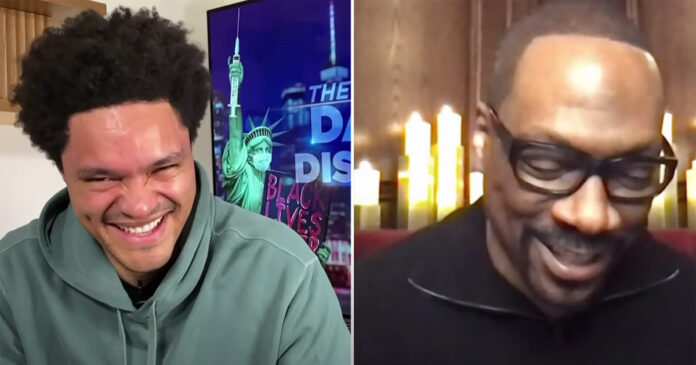 Watch below as South African comedian Trevor Noah blushes bright red when legendary US comedian Eddie Murphy says a certain word… not once, but twice!
Trevor, host of The Daily Show, was interviewing the American star about his latest movie – 'Coming 2 America' – which is currently showing on Amazon Prime. The film is a sequel – 33 years later – to Eddie's hugely successful 'Coming To America'.
The film has been welcomed by South Africans for its celebration of Africa and the fact that it features Trevor Noah in a cameo role (as Totatsi Bibinyana*, host of a news show), SA actress and businesswoman Nomzamo Mbatha, as well as SA music (including Mi Casa) and fashion. (*Trevor revealed to Eddie during the interview that he gave himself that name as an inside joke for South Africans – 'Bibinyana' sounds similar to 'small penis'.)
But it was a question about Eddie's previous movie three decades ago that made Trevor turn red. He had heard from Eddie's co-star Arsenio Hall how Eddie would go out as an old man to see if he could pull it off. Eddie confirmed he did indeed go out and flirt with older women to test that the make-up, to make him look elderly, was working. Watch Trevor blush (and laugh) profusely when Eddie responds to his question about whether it worked! Trevor was speechless. "Oh man!" he just manages to say.
Eddie also talked to Trevor about his decision to make "Coming 2 America," his future return to stand-up comedy, how his lifestyle hasn't changed with the pandemic (he's a clean freak who doesn't love going out that much anyway) and how without his moustache he would be not just a regular guy, but an ugly regular guy! He also took the opportunity to congratulate Trevor on all his accomplishments.
WATCH Trevor Noah interview Eddie Murphy on Coming 2 America
Watch from around 3′ to see Trevor turn red…