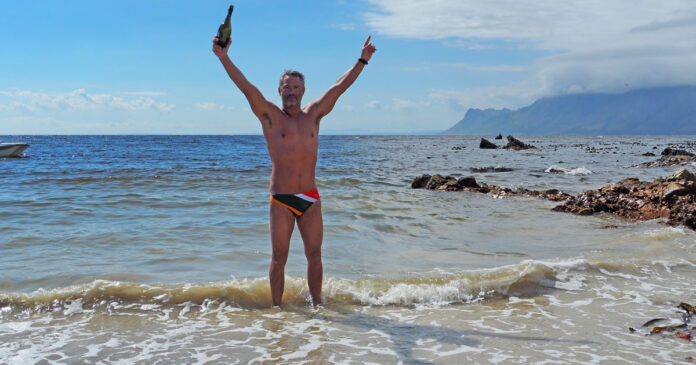 Cape Town extreme open water swimmer and motivational speaker Ryan Stramrood (46) has broken a World Record for a False Bay Crossing, completing the 33km swim solo in just 8 hours and 39 minutes on Thursday 18 March.
More than 25 people have attempted the gruelling swim – across shark-infested waters – but Ryan is only the sixth to succeed. He's also the first to ever do it from Millers Point to Rooi-Els rather than the other way around.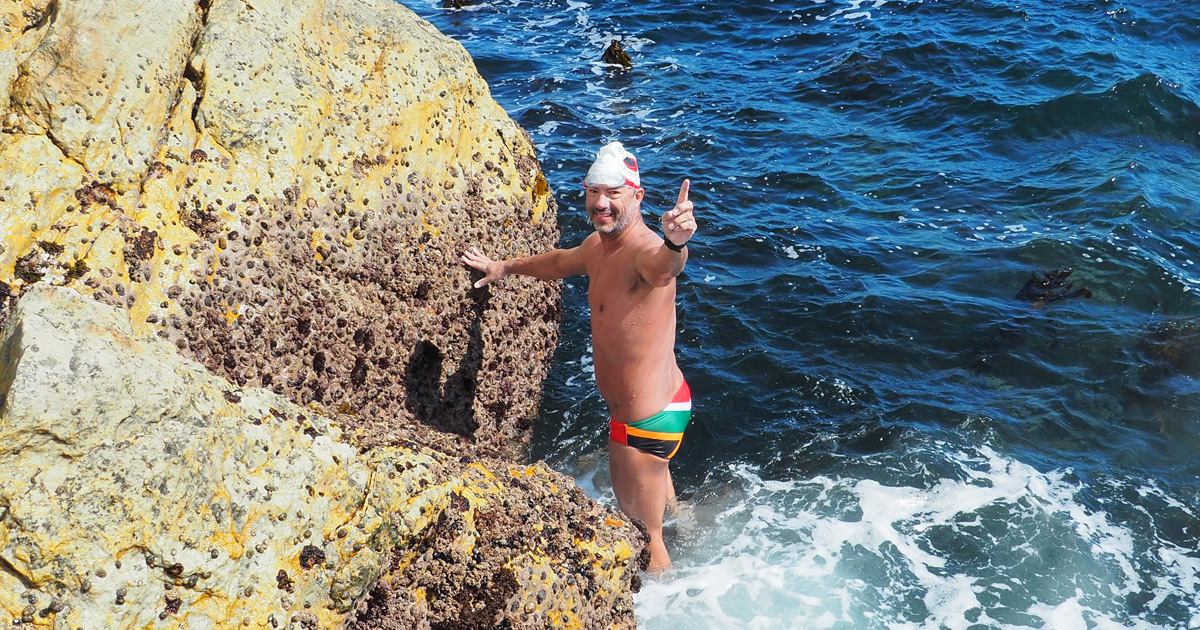 The mindset trainer told SAPeople he had many scary and amazing experiences along the way.
False Bay reputed to hold one of world's largest white shark populations
"FalseBay is a breeding ground for the great white shark and is reputed to hold one of the world's largest white shark populations," says Ryan. "That's bound to cross one's mind. I hit a horrible number of blue bottles whose sting is brutal; I am scared and had to just dig deep to get through.
"There was a large swell whipped up by the wind making swimming very difficult. But, as this is a mental game, I made sure I stayed positive and found positive thoughts." (He estimates the swim was about 80% mental and 20% physical.)
Preparation – Total Body Confusion
Ryan's preparation for the extremely challenging swim – which is just 1km less than the English Channel crossing (something Ryan has also accomplished) – took years of hard training in the pool and ocean, he says.
He used 'Total Body Confusion' training, which entails training in all the elements – warm water, cold water, rough water, calm water, daylight, pitch dark, fresh, salt water and other variations.
"The real training is in the head…"
"Many kilometres of fitness was needed," he explains. "But the real training is in the head, and one needs to figure out the right mindset."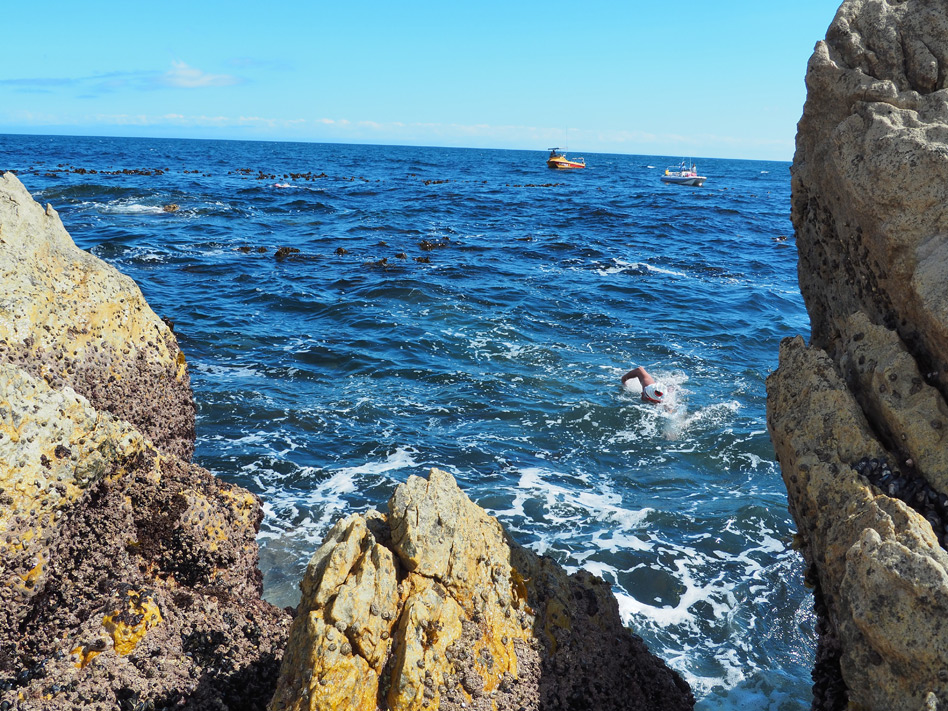 The water temperature was 18,5° Celsius… a lot warmer than the World First Official Ice Mile he swam in Antartica where it was a very cool Minus 1°C!
Ryan, who is a born and bred Capetonian, took on the swim as a personal challenge. He admits he was "petrified" and that the success probability was small. His achievement is huge. Swimming solo he had two support boats alongside him with official observers to make sure the rules were followed, but he wasn't allowed to touch the boat or receive any help apart from having a water bottle thrown into the sea for him for water or nutrition.
The Unintended World Record
Ryan cut over half an hour off the record 9h 17 mins, which Barend Nortje had set  back in March 2007. But it was never his intention, and in fact at around the 16km mark, with waves bashing him around, he had a conversation with himself to slow down and conserve energy.
But when he stopped for a feed, one of the people on the boat – Derrick Frazer – told him "if you keep this pace up, you might even contend for the record". That he says set the cat amongst the pigeons.
"With 17kms to go after 16km completed, the thought of pushing hard from here was daunting. I said I'm not interested in the record and put my head down. I also know the excellent swimmer Barend Nortje is, the previous record holder and I am not him. A 'finish' is what I really want. 30min later at the next feed, Derrick prodded me again with this info, which in all honesty was now forefront of my mind. I said, well let's see where we are when I have 10kms to go. After 23km swum, Derrick announced that I am in with a good chance IF I push as hard for the last 10kms. Part of me wished I didn't know this info and the other part knew that if I didn't give it a go, I would not forgive myself.

"It's probably only the expression on my face that changed (as my Garmin splits actually confirm), but I felt like I was speeding up like a rocket. I did the last 10kms in 2h37min and met land with energy to spare, knocking 39min off the record."
The single dad's nine-year-old son was allowed out of school early to watch the final moments of his dad's attempt. A very special moment for father and son.
Nominated for the 2020 World Open Water Swimming Man of the Year Award, Ryan has several accomplishments under his belt (or SA speedo, which he proudly wears!) – including the Antartica and English Channel swims, breaking the Robben island crossing record (and swimming it a further five times!), and swimming twice from the Straits of Gibraltar from Europe to Africa.
He says Cape Town is fast becoming a popular destination for extreme swimming. Speaking to the SABC, Ryan said: "We've got some really really good swims here, some scary swims, some icy waters, it's an incredible physical and mental challenge…"
Thanking his friends on social media, Ryan said: "Such incredible support, I am blown away, humbled and emotional. THANK YOU ALL SO MUCH."
#InspiringSouthAfrican #InspiringTheWorld