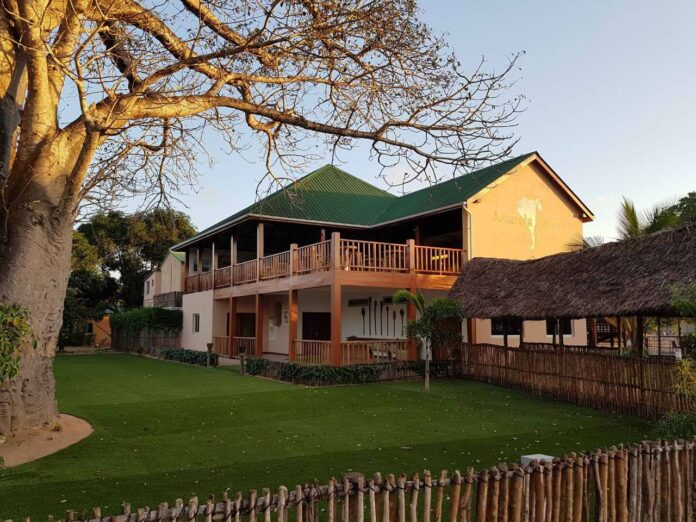 At least one South African has been killed in Mozambique holiday resort town, Palma, after a terrifying terrorist attack; and other SA expats are still missing. The South African government confirmed it has reinforced its Mission in Mozambique in the wake of attacks.
The attack began on Wednesday when Islamist Militants attacked the town including shops, banks and a military base in Palma, according to the BBC. One South African woman, talking to the SABC, described being able to hear bombs and shots going off while she was on the phone after 4.15 pm on Wednesday (watch below). The cell phone connection then died. She said the insurgents have many military weapons.
Hundreds (or thousands, according to some reports) fled into nearby forests and villages with about 180 foreigners, including South Africans, and local gas workers hiding out at the Amarula Palma hotel, said the BBC. Helicopters that tried to fly into the area to rescue the people were initially shot at and unable to complete their mission, according to the woman who spoke to the SABC. Reuters reports that at least 20 people have now been flown to safety, and a BBC source said several people have been evacuated to Pemba over 400km south of Palma. Dozens of people are still unaccounted for.
The South African man, confirmed dead, is believed to have been the driver of an escape vehicle that was part of a convoy which was ambushed as they tried to leave the hotel grounds. He has been identified only as "Craig's son". There are reports of at least seven others being killed, although according to local Mozambique reports those are only the foreigners and there are many more locals who have perished during the siege. According to an eNCA broadcast on Sunday, the hotel is now empty.
France's Le Figaro reports that the jihadist attacks began soon after French oil company Total announced its intention to resume construction work at its gas site in the northern part of Mozambique, where Palma is becoming the base of LNG (liquified natural gas). Following the attacks, the company said on Saturday that it is again suspending its operations.
In November 2020, at least 50 people were reported to have been killed, many beheaded, in the same province of Mozambique, Cabo Delgado. As reported by Carte Blanche in September 2020: "A dark shadow has stealthily crept over popular dream-holiday destination of Cabo Delgado province in northern Mozambique over the last three years." The show investigated the escalating conflict in the province.
According to Carta de Mocambique, it's alleged that the reason for the Palma incursion was "to ease the military grip on the siege under Mocímboa da Praia (still in the hands of the terrorists), to allow the traffic to flow of 360 kg of heroin and menthol" which they believe is destined for terrorist bases in the province.
The SA Department of International Relations and Cooperation (DIRCO) said in a statement:
"The Government of the Republic of South Africa has noted with concern the recent attacks in Palma, northern Mozambique, against foreign nationals which took place on Friday, 26 March 2021.

"It is with grave concern to note that South Africans were also affected by these attacks.

"In this regard, South Africa, through its Mission in Maputo is working with the local authorities on verifications, as well as providing the necessary consular services.

"The Mission in Mozambique is being re-enforced with additional staff in order to handle the work at hand of locating, identifying and responding to the respective needs of the affected.

"South Africa stands ready to work with the government of Mozambique in pursuit of lasting peace and stability."
WATCH Attack on Palma, Mozambique