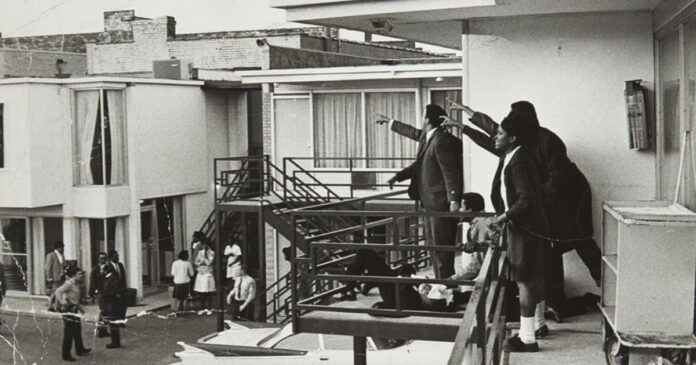 Fifty three years ago, on 4 April, 1968, Martin Luther King Jr. was assassinated as he stood on his balcony at the Lorraine Motel in Memphis, Tennessee. Barely sixty feet away was the only photographer on the scene, South African Joe (Joseph) Louw, who was staying in a nearby room and making a documentary about the Baptist minister and civil rights activist.
Louw, on hearing the shot, ran out onto his balcony and saw King lying on his. Only the previous night, Louw had been talking to King as they both stood on their balconies watching an approaching storm.
Louw told LIFE magazine at the time that when he realised he couldn't help King, he rushed back into his room to retrieve his camera. He said: "At first, it was just a matter of realizing the horror of the thing. Then I knew I must record it for the world to see." What he captured was one of the most historic events in US history.
Louw had come to be in the US after being jailed in South Africa for six months for contravening the Immorality Act in 1961 when he – a classified 'Coloured' man – had an 'illegal' relationship with a white woman. After serving his sentence, he moved to Tanzania where he was awarded a scholarship to the USA, according to SAHistory.org.za.
It was just a year before he took one of the century's most famous photos that he graduated from Columbia University. He was with a film crew and working for Public Broadcasting Laboratory (PBL) in New York, when the assassination happened.
One of the photos in the series became a powerful and iconic snapshot of the 20th Century. Louw said he never photographed the unconscious Dr King in the face because "I felt I had to keep my distance and my respect." (View more photos here.)
Louw said at the time: "As I looked at Dr. King, I could almost feel the wound myself." He didn't make any money from the photos. Together with PBL, it was decided that all profits would go to the kinds of organisations that Dr King had supported.
King had become famous for his crusading for equal rights, joining and leading many marches, including the now famous march on Washington in 1963, where he delivered his "I Have a Dream" speech. He was the target of rightwing activists, and had already survived a knife attack ten years earlier.
The room in which he stayed at the Lorraine was apparently used by his entourage often, so people knew he stayed there. One of them was James Earl Ray, a fugitive who fired the fatal shot. King was only thirty-nine.
Louw finally returned to South Africa where he worked for the SABC. He passed away in Johannesburg in 2004. He was 64-years-old.
On 7 April, 1968, the American public station PBS broadcast Louw recounting the horrific  events of the day, and showing incredible footage that Louw took of King lying wounded and being attended to by people like Andrew Young and Ralph Abernathy, while the police searched the area for the assassin. Watch below.
Watch Video: Joe Louw recalls the events of one of the 20th Century's most famous photos:
WATCH VIDEO: Pride U2 Martin Luther King Jr